SPECIAL

By Arkaprabha Chakraborty
Another year another transfer season. But then this is a really special one for more reasons than one. Other than the fact that this might be the last transfer season we'll ever see if the Mayans were actually right, it's been pretty topsy-turvy in football as well. Thiago Silva, who wanted to end his career at AC Milan has been made a sale of necessity by the Rossoneri. Potential Arsenal legend Robin van Persie has thrown away any chance of earning that status by announcing that he will not sign a new contract. Didier Drogba has gone from Chelsea 'Chowk' to China. And most surprising of all, Real Madrid hasn't bought anyone for an obscene amount of money yet.
But most importantly, this season is going to be the first one where UEFA begin to monitor the spending of clubs in accordance to their Financial Fair Play (FFP) rules. With that in mind, we have tried to make a list of the most important articles of these rules and simplify them for you. So, here we go...
All licensees that have qualified for a UEFA club competition must comply with the monitoring requirements i.e. with the break-even requirement and other monitoring requirements.
Simply put:
There's no way out for anyone who's applied for/possesses a UEFA licence (i.e. top clubs)
The following clubs are exempt fron the break-even requirement
a) a club that qualifies for a UEFA club competition on sporting merit and is granted special permission
Simply put:
The way Birmingham qualified for the Europa League 2011-12 season after beating Arsenal in the League Cup and requested UEFA for permission to participate. Same thing.
b) If relevant income and relevant expenditure is under €5m for the two years before it participates in the competition.
Simply put:
If a club has that little operating income and expenditure, it doesn't need to worry about FFP.
The acceptable deviation is the maximum aggregate break-even deficit possible for a club to be deemed in compliance with the break-even requirement.
Simply put:
UEFA understands that it won't be possible for every club to comply in a flash, so it allows clubs to have X amount of loss (defined later) in the first few years of FFP.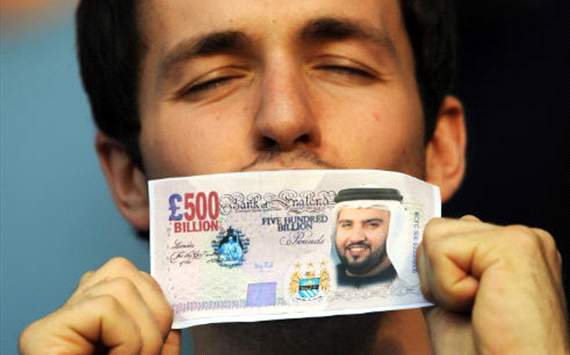 Black gold |
Man City can't keep spending if they want to stay in European competitions
The acceptable deviation is €5 million. However it can exceed this level up to the following amounts only if such excess is entirely covered by contributions from equity participants and/or related parties:
a) €45 million for the monitoring period assessed in the licence seasons 2013/14 and 2014/15;

b) €30 million for the monitoring period assessed in the licence seasons 2015/16, 2016/17 and 2017/18;

c) a lower amount as decided in due course by the UEFA Executive Committee for the monitoring periods assessed in the following years.
Simply put
: A club can only have 5m operating loss UNLESS they have a benefactor(s) (read: owner(s)) to help out. If they do then they are allowed to have a loss of €45m in the seasons 2012/13 (monitoring period for the 2013/14 season) and 2013/14 (monitoring for 2014/15). Then a loss of €30 million in 2014/15 (monitoring for 2015/16), 2015/16 (monitoring for 2016/17) and 2016/17 (monitoring for 2017/18). Amount of loss after that will be decided later.
Relevant income is defined as revenue from gate receipts, broadcasting rights, sponsorship and advertising, commercial activities and other operating income, plus either profit on disposal of player registrations or income from disposal of player registrations, excess proceeds on disposal of tangible fixed assets and finance income. It does not include any non-monetary items or certain income from non-football operations.
Simply put:
Gate receipts
are tickets sold for games each week (i.e. excluding season tickets).
Broadcasting rights
are a fixed amount+position based bonus given by the television company the league has made a deal with.
Sponsorship and advertising
are self-explanatory.
Commercial activities and operating income
include season ticket sales, merchandise sales, sale of naming rights, matchday food sales etc.


Operating income
also most prominently includes prize money for the league and tournaments.
Disposal of player registration
implies the transfer income of players sold.
Tangible fixed assets
most importantly mean a stadium and training facilities, i.e. the income generated by selling a stadium or training facilites.
Finance income
is anything gained through the bank or from the stock market if the club has been floated.
It does NOT include, say the income from a stadium based restaurant or guided tours.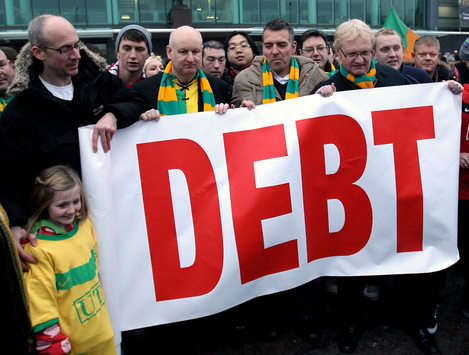 Not entirely |
Non-footballing income won't count for FFP but it will for the Glazers
It is important to understand here that the money from restaurants, tours etc. still goes into a team's income and annual statement and can be used to say, finance Chelsea's new stadium or ease out Manchester United's OVERALL debt, but that amount will not be considered by the UEFA when they make their calculations on the break-even margin per season.
Relevant expenses is defined as cost of sales, employee benefits expenses and other operating expenses, plus either amortisation or costs of acquiring player registrations, finance costs and dividends. It does not include depreciation/impairment of tangible fixed assets, amortisation/impairment of intangible fixed assets (other than player registrations), expenditure on youth development activities, expenditure on community development activities, any other non-monetary items, finance costs directly attributable to the construction of tangible fixed assets, tax expenses or certain expenses from non-football operations.
Simply put:
Cost of sales
is how much merchandise manufacturing costs and other small costs like ticket printing prices, matchday food ingredients/material etc.
Employee benefits expenses
include the wages of both players and staff. Under this is a sticky term of 'exceptional costs' for teams like Chelsea where Roman Abramovich is notoriously trigger-happy. Exceptional costs include the compensation paid for employees relieved of their duties, like sacked managers.


Cost of acquiring player registration
is the transfer fee paid. Here we come across an important term
amortisation
which shall be explained in greater detail following this.
It does NOT include (and this is important to know) any depreciation in the value of the stadium or training facilities. Intangible fixed assets are those assets whose value cannot have a definite number to it, e.g. trademarks, patents, trade secrets and player values. They are worth as much as you pay for them. So the UEFA will not count the depreciation in the value of any of these. They will only count the amount a player is bought for.
They will also not count expenditure towards youth development. Therefore. the whole cost of academy facilites and expenditures are to be written off. Also to be written off is community development. Say a club decided to build a hotel in the area, the cost of construction is written off. These two factors are huge boosts as the amount spent on youth and community development can range anywhere from €15m to €25m a year.
Finally, and this is a huge boost to teams who are looking to build and move into a new stadium, "non-monetary items, finance costs directly attributable to the construction of tangible fixed assets" implies the construction of stadiums or training facilities. i.e. the entire amount spent on building a new stadium will not be considered by UEFA.
So, let's talk a bit about
amortisation
. And if you want to know about FFP expenses, it's crucial knowledge. Amortisation is very simply, the amount paid as a transfer fee spread over the duration of the player's contract. This is the form UEFA will consider as an expense. So, to take an example, Eden Hazard was signed for €38m on a 5 year contract. To UEFA, his expense isn't €38m in 2012/13. Instead, it is €7.6m per year till 2017/18. And the same for every other transfer.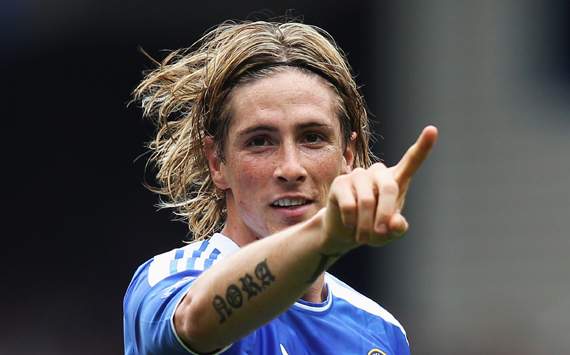 Remember, it's €10m a year |
Torres won't be considered a €50m bomb for just 2010/11
UEFA will consider the sum total of all other amortised transfer fees for a single season. So to take the example of Chelsea, in 2012/13, they are (In UEFA's eyes) paying A, B, C, D... amounts for Juan Mata, David Luiz, Gary Cahill, Oriol Romeu, Raul Meireles, Kevin de Bruyne, Marko Marin, Romelu Lukaku, Daniel Sturridge, Thibaut Courtois, Fernando Torres AND Eden Hazard (and we haven't even considered the youth players bought).
For the purpose of the first two monitoring periods, i.e. monitoring periods assessed in the seasons 2013/14 and 2014/15, the following additional transitional factor is to be considered by the Club Financial Control Panel: Players under contract before 1 June 2010.
If a licensee reports an aggregate break-even deficit that exceeds the acceptable deviation and it fulfils both conditions described below then this would be taken into account in a favourable way.

i) It reports a positive trend in the annual break-even results (proving it has implemented a concrete strategy for future compliance); and

ii) It proves that the aggregate break-even deficit is only due to the annual break-even deficit of the reporting period ending in 2012 which in turn is due to contracts with players undertaken prior to 1 June 2010 (for the avoidance of doubt, all renegotiations on contracts undertaken after such date would not be taken into account).
Simply put:
This is quite a great clause for several teams. It says that for the first two monitoring periods, if a club is beginning to reduce its deficit and its deficit exceeds the €45m acceptable deviation because of the wages of those who got a contract/new contract with the team before June 1, 2010 then those will NOT be considered in the expenses.
The rules also state that they cannot have any sum overdue to any football club, former employee or social/tax authority as of 30th June of the year.
Simply put:
Pay what you're supposed to whoever your supposed to. All transfer fees, compensation, taxes, donations etc. must be cleared as per conditions agreed (if it is in monthly installments, then the installments due per month have to have been regularly paid till June 30).
How do you stay up to date with football when on the move? With

http://m.goal.com

– your best source for mobile coverage of the beautiful game.