The 2011-12 season can be considered a failure for Football Club Barcelona when compared with their previous seasons under Pep Guardiola. They failed to defend their Champions League crown and gave up the La Liga title to bitter rivals, Real Madrid. They did manage to recover some pride at least by winning the Copa del Rey, FIFA Club World Cup and UEFA Super Cup.
As the new season will be soon underway, the Catalan faithful will expect their club to forget the past season and scale the same heights of greatness that fans and players alike expect to see.
Goal.com
takes an in depth look as how the Blaugrana are preparing for the mission at hand...
Back to work from 16th July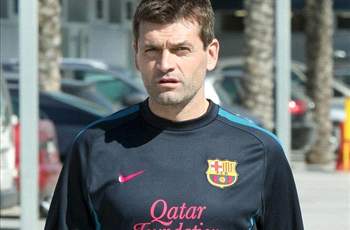 The first team will be back at work from Monday July 16, when they will take medical tests. Due back at the Ciutat Esportiva Joan Gamper that day are fourteen players: Dani Alves, David Villa, Alexis Sanchez, Lionel Messi, Thiago Alcantara, Jose Pinto, Javier Mascherano, Ibrahim Afellay, Adriano, Cuenca, Fontàs, Bartra, Dos Santos and Muniesa. Carles Puyol, after several weeks of recovery, will be back a week later on the 23rd.
They take to the pitch for the first time on Tuesday 17, and will be working in unison with Barcelona B. The first week is lined with training and conditioning as well as player interactions with the media.
Barcelona's pre-season friendlies start on 24th July. They will play a total of 7 matches, 5 friendlies and two competitive fixtures against Sampadoria in the Joan Gamper Trophy and against Espanyol in the Supercopa de Catalunya.
Goal.com
looks at the pre-season matches that Barcelona will play before the new season begins...
| | |
| --- | --- |
| | Hamburg SV vs FC Barcelona |
Date: 24th July, 2012

Venue:

Imtech Arena, Hamburg



Kick Off: 6 PM local time
9.30 PM IST


Barcelona will travel to five different countries as they will start off their pre-season trials by travelling to Hamburg in Germany which would be the first match where Tito Vilanova would be in charge of the senior team.
It's the German club's 125th anniversary and they had specifically invited FC Barcelona to play the friendly to commemorate the occasion.
The venue will be the Imtech Arena, a FIFA 5-star stadium, built in 2001 with a capacity for 57,000 spectators and one of the venues used at the 2006 World Cup.
About the opposition-


Hamburg SV or Hamburger SV has a proud history of being the most consistent club in Germany having never been relegated from the Bundesliga since its inception in 1953. They were also European Champions in 1983.
However recently, they are going through one of the worst phases of their 125 year old history as last season was their lowest finish in the Bundesliga, just escaping relegation by finishing 15th. Michael Oenning was fired midway into the season for the poor displays and was replaced by former player Thorsten Fink at the helm.
Gokhan Tore,
the young Turkey starlet, will be the man to watch out for. Manager Fink has been said to be irritated with the youngster's attitude and this will be a match to prove him wrong and show him that he still wants to play for them.
| | |
| --- | --- |
| II | Raja de Casablanca vs FC Barcelona |

Date: 28th July,2012

Venue:GrandStade, Tangier, Morocco

Kick Off: 10 pm (local time)

29th July 2012
2.30 AM IST

This will be FC Barcelona's fourth match in Morocco, where they had played thrice before in Casablanca, Morocco.
The first time FC Barcelona played in Morocco was on August 30th 1969, when they played for the Mohammed V Trophy in Casablanca. Their first opponents were the Brazilians São Paulo and Barça won 0-2 to go through to the final against Bayern Munich, who they beat on penalties.
Five years later, on May 1st 1974, the team were back in Casablanca for a friendly against the Moroccan team W.A.C., which they won 0-3.
After 38 years, Morocco will again welcome Tito Vilanova's Barcelona as they take on Raja Casablanca in the 45,000 seater GrandStade.
About the opposition-
Raja Club Athletic of Casablanca is the strongest side in Morocco, and has won the national championship ten times, the last time in 2010. They have also won the CAF Champions League on three occasions as well as six Moroccan Cups.
However last season the club could only finish fourth in the domestic league. They hold the unique distinction of being the only Moroccan club and the first club from Africa to participate in the Club World Cup when in 2000 they played against Sao Paulo and also Real Madrid.
Yassine Salhi
, the 24 year old Moroccan International and forward for the Green Eagles, will be a thorn for any defense. He has been in great goalscoring form for his country too scoring 6 goals in 5 appearances for the Moroccan national team.
Date: 31st July, 2012

Venue: Montjuic, Barcelona

Competition: Supercopa de Catalunya

Kick Off: 9 pm (local time)

1st August
12.30 am IST


After journeying to Germany and Morocco, FC Barcelona return to familar turf in Barcelona where they will contest the traditional Supercopa de Catalunya against Catalan rivals, Espanyol.
The Supercopa is a competition held for the two strongest teams of the Catalan region with FC Barcelona and RCD Espanyol both tied for winning the competition a record 6 times.
About the opposition-
RCD Espanyol has always lived in the shadows of its more illustrious neighbour in the Catalan region. As regards to trophies, it has four Copa del Reys to its name with the latest coming in 2006 which also allowed them to participate in the UEFA Cup next season.
Surprisingly, for a club without many stars, they proved their doubters wrong and reached the final of the UEFA Cup undefeated in the tournament and went down to Sevilla in the penalty shootout. They thus became the first time to remain unbeaten in the UEFA Cup and yet ending the tournament empty handed.
Last season was a disappointing one for the Catalan club as they barely escaped relegation and finished 14th after being plagued by several injuries, having to bring Kalu Uche as a replacement forward.
Joan Verdu
will be the man to watch, who was by far Espanyol's best player last season. A versatile player who can play the role of a deep lying playmaker as well as a more advanced attacking midfielder, he had been in fine form for Espanyol last season.
Date: 4th August, 2012

Venue: Parc dels Princeps, Paris

Kick Off: 8 pm (local time)
11.30 pm IST


4th August will be the date when the 'Best' team in Europe (according to UEFA co-efficients) will be taking on Paris Saint-Germain, who have been quite active in the transfer market in their quest to win their domestic and Champions League. The two clubs also have the Qatar connection as Barcelona have Qatar Foundation as their shirt sponsors while Qatar Investment Authority (QIA) own the French club.
Barcelona
will be taking part in the first edition of
Le Trophée de Paris
organised by Paris Saint-Germain.
About the opposition-

Paris Saint-Germain had already announced the beginning of the French Revolution with the €43 million signing of Javier Pastore last summer. However in 2012, after the winter capture of Carlo Ancelotti as their new manager, things are looking even better for the Le Parisiens.

Having already signed Ezequiel Lavezzi and Thiago Silva, two world class players they are all set to complete the signing of AC Milan ace Zlatan Ibrahimovic too who led the Serie A goal scoring charts last season.
Ezequiel Lavezzi, who has joined from Napoli, will be a tough nut to crack with his pace and trickery. Not only does he have a great shot in him, but he is equally good in the role of a playmaker, feeding balls for the forward to latch on to.
| | |
| --- | --- |
| V | FC Barcelona vs Manchester United |
Date: 8th August, 2012

Venue:

Ullevi Stadium, Gothenburg

.

Kick Off: 8 PM (local time)
11.30 pm IST


Gothenburg, Sweden. Get Ready. This match
between Barcelona and Manchester United – two of the world's biggest clubs is going to be a cracker.
They met in pre-season last year, where United gained a small element of revenge for those Champions League final defeats by winning 2-1 in the USA, and they are set for a pre-season rematch in Gothenburg this time.
The match is certain to attract crowds as the beautiful city of Gothenburg is famous for holding international football tournaments. Both clubs have a lot of fan following in the country so one can surely expect the stadium to packed and tickets will be tough to get. This match is not worth missing for sure.
About the opposition-
Manchester United have had a terrible season in 2011-12 crashing out of all competitions and finishing trophyless at the end. Having been expelled from the Champions League in the group stages itself, they also shocked their followers by getting ousted in the Europa League too by Athletic Bilbao.
As the new season began, Sir Alex Ferguson has already signed two new players, Bundesliga star Shinji Kagawa from BVB Dortmund and Nick Powell from Crewe Alexandria. They are not done yet in the transfer market, as Ferguson himself said that he was on the lookout for one or two more players.
Shinji Kagawa
will be the man to watch, as the new signing will look to impress his new club as well as his manager in order to earn himself a permanent role in the starting XI in the new season.
| | |
| --- | --- |
| VI | Dinamo Bucharest vs FC Barcelona |
Date: 11th August, 2012

Venue: National Arena, Romania

Kick Off: 8.15 pm(local time)
10.45 pm IST


This will only be third time that FC Barcelona have ever played in Romania. They first went east in 1971, managed at the time by Marinus Michels, to face Steaua in the round of 16 of the Cup Winners Cup. A side featuring stars such as Rexach, Asensi (scorer of the only FCB goal), Alfonseda, Fusté and Costas lost 2-1 and crashed out of the competition.
They returned in 1977, and once again to face Steaua Bucharest, this time in the UEFA Cup round of 32. During Michels' second spell as manager, FC Barcelona won 3-1 to ensure passage to the next round, with the goals courtesy of Cruyff, Asensi and Sánchez.
About the opposition-
FC Dynamo Bucharest along with their bitter rivals Steaua are two of the top teams in Romania. Dynamo have won 18 Romanian League 1 titles as well as 13 Romanian Cups. They also reached the semi-finals of the European Champions Cup in 1983-84.
However off late, they have not been as competitive as they would like to in the league. Their least league triumph was in 2005. However last season even though they finished 5th in the league, they did win the Romanian Cup and in the process qualified for the Europa League.
Ionel Daniel Dănciulescu
is the player to watch out for. Although now 35 years of age, the veteran striker in his second spell at Dinamo has been in fine goal scoring form having scored 13 goals in the previous season.
| | |
| --- | --- |
| VII | FC Barcelona vs Sampdoria |
Date: 20th August, 2012

Venue: Camp Nou, Barcelona

Kick Off: To be decided.


Sampdoria will be FC Barcelona's opponent in the 47th edition of the Joan Gamper Trophy, which will be played on Monday, August 20, at Camp Nou. This edition of the Gamper coincides with the 20th anniversary of the Champions League title won at Wembley. The Italian team was invited to participate in the summer tournament to commemorate the club's historic achievement 20 years ago.
The Joan Gamper Trophy is traditionally held before FC Barcelona starts its new season as a season opener. It is held in honour of Joan Gamper, a former player and president of the club. In last season's iteration, FC Barcelona emerged victorious defeating another Italian club, Napoli 5-0.
About the opposition-
Sampdoria have returned to the top flight of Italian football after spending a year in Serie B. This will be the Italian side's second Joan Gamper appearance. The first time Sampdoria featured in the Joan Gamper was 15 years ago. Barçelona won that match in a penalty shootout.
After a disastrous campaign in the 2010-11 season, Sampdoria had been demoted to Serie B but they bounced back immediately and qualified for Serie A in 2012-13 through the play-offs.
Nicola Pozzi
will be the man to watch as he led the charge for the Blue Ringed with a tally of 15 goals to bring back Sampdoria to the top flight.
FC Barcelona's Man to Watch
Ibrahim Afellay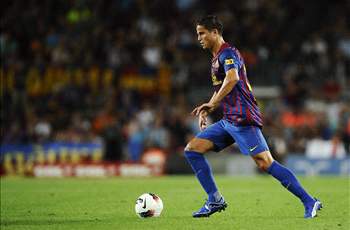 Ibrahim Afellay
knows that its do or die time for him. Already 26 years of age, the Dutch winger spent most of last season for Barcelona on the sidelines with an injury. He needs to be fit and raring to go to be a part of Tito Vilanova's plans for the coming season.
With no dearth of talent, the Dutchman's favoured position on the left is hotly contested with David Villa back in action and the familiar faces of Pedro and youngster Isaac Cuenca gunning for the same spot.
If he does not show his worth, probably by making a big enough splash in the pre-season itself, Barcelona might cash in on the player who has spent most of his Catalan career in the infirmary.
What the Bench-warmers need to do...
Ibrahim Afellay and the new La Masia graduates will need to show that they fit in the plans of Tito Vilanova in the new season as they would look at the pre-season encounters to sufficiently impress the new coach.
In defense, Marc Bartra, Andreu Fontas and Martin Montoya will look to stake their claim to be the ideal replacement for the ageing Carles Puyol.
Pedro who had been sidelined most of last season with an injury will have to present Tito with vastly improved performances especially with Alexis Sanchez and David Villa fit to return to the first team fold.
Follow Kaustav Bera on

How do you stay up to date with football when on the move? With http://m.goal.com – your best source for mobile coverage of the beautiful game.