The sleeping giant has awoken with the likes of Didier Drogba & Seydou Keita moving to the Far East on big money but will all this spending see the CSL emerge as a top competition?
COMMENT
By Ben Somerford | Asian Football Editor
The Chinese mid-season transfer window closed on Thursday, but one wonders whether the incessant speculation linking star names with the Far East will end along with it? These rumours seem to have become an obsession in recent months, but there is some actual substance to it.
Indeed, Didier Drogba, Lucas Barrios, Frederic Kanoute, Yakubu Aiyegbeni and Seydou Keita are some of the names to pioneer the switch to the Middle Kingdom, having all made the move in the past two months. Juan Roman Riquelme and Tim Cahill are two of the other big names to have had offers from Chinese clubs recently, while
Goal.com
revealed last week that Frank Lampard had been offered a stunning €290,000-a-week after tax to join an unnamed CSL side
. In many eyes, China is becoming the new reference point; the new emerging league; for some, the new destination for ageing stars wanting one last pay packet.
The CSL's recent rapid rise has been extraordinary and for a country known as the sleeping giant of football, incredible potential comes with it along with a fair share of fear about how it may affect the balance of power in football in the long-term.
The emergence of the CSL has prompted comparisons with competitions such as Qatar's Stars League, UAE's Pro-League or USA's Major League Soccer, where ageing players are perceived to go for one last pay cheque. However, the quality of some of the new recruits to the Super League must be noted; only months ago Drogba scored in the Champions League final with Chelsea, while Yakubu netted 17 goals last season in the Premier League. Barrios, who like Yakubu is under 30, played a large part in Borussia Dortmund's back-to-back Bundesliga titles over the past two years. These players still have plenty to offer.
TOP 10 EARNERS IN CHINA'S SUPER LEAGUE

| | | |
| --- | --- | --- |
| Name | Club | Annual Salary (US) |
| Didier Drogba | Shanghai Shenhua | $15.19m |
| Nicolas Anelka | Shanghai Shenhua | $15.19m |
| Lucas Barrios | Guangzhou Evergrande | $8.23m |
| Yakubu Aiyegbeni | Guangzhou Fuli | $7.85m |
| Dario Conca | Guangzhou Evergrande | $7m |
| Moises | Shanghai Shenhua | $3.5m |
| Giovanni Moreno | Shanghai Shenhua | $3m |
| Davi | Guangzhou Fuli | $2m |
| Frederic Kanoute | Beijing Guoan | $2m |
| Cleo | Guangzhou Evergrande | $1.5m |
*Figures from Sohu
In China, however, there remain question marks about the long-term willingness of teams to offer these lucrative contracts when there's no evidence yet of one club making a profit out of it. Profits, though, may not be a major issue for the owners of many CSL clubs: largely wealthy property development companies with endless pockets of cash to spend. Then again, the novelty of splashing out on football talent is still relatively new in China, however the evidence of countries like Qatar and UAE shows it eventually wears thin.
Former Chengdu Blades and Chongqing Lifan coach Lawrie McKinna told Goal.com that he believes the jury is still out on whether this model of recruitment is sustainable for the growth of the CSL. "Long term I don't know if it is going to have a lasting affect, because these players might be there for a year or two and find it difficult living there. It's not living in London, or France, or Spain, it's not easy to settle in there," said McKinna, who returned to Australia in May after his spell with Chongqing whom he left after management begun intervening with team selection.
McKinna added he believes the success of the likes of Drogba, Barrios, Yakubu
et al.
will have a major bearing on the persistence of the policy and he has his reservations. Anelka's first six months in Shanghai have gone far from swimmingly, having scored only twice for a side who sit near the relegation zone.
"I watched a lot of Anelka when he first started and he didn't get it his own way ... It's not easy to move to a league where some of the players around them aren't up to their level"



- Ex-CSL coach Lawrie McKinna

"I watched a lot of games of Anelka when he first started and he didn't get it his own way ... It's not easy to move to a domestic league where some of the players around them aren't up to their level," McKinna explained.
The CSL currently enforces a five-man foreign quota per club, which, as Anelka's example shows, restricts the ability of these big-name recruits to show their quality. This topic is one of the major discussion points currently for Chinese football, with many arguing the money being splurged on foreign recruits would be better spent on improving the youth development system, which McKinna describes as currently "non-existent".
Last season's champions and current leaders Guangzhou Evergrande, who many point to as the club who initiated the push towards large-scale investment in foreign recruits, are the example many Chinese clubs are trying to follow. The Guangdong-club, who were a second tier outfit until the powerful Evergrande Real Estate Group took over ownership of them in February 2010, signed the best local talent and filled their foreign quota with quality players, such as Dario Conca, and had immediate on-field success. They recently appointed Marcello Lippi as their coach and are in the running to become 2012 Asian champions with a Champions League quarter-final against Al Ittihad to come in September.
Their example has encouraged fellow CSL clubs to follow suit. With the majority of CSL clubs currently owned by property developers, such as Keita's new side Guizhou Renhe or Yakubu's new outfit Guangzhou Fuli, they are able to do so. However, Evergrande as a football club, backed by their owner's deep pockets, are not profitable. Their on-field success depends entirely on Evergrande chairman Xu Jiayin's desire to keep pumping money into the club.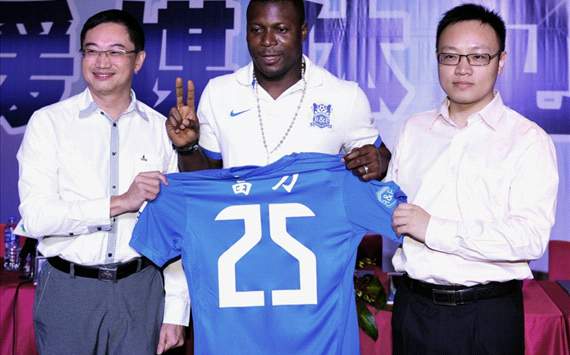 Yakubu | Guangzhou Fuli unveiled their new signing earlier this week
Another factor in the contemporary push for high-profile foreign recruitment has been the recent crackdown on match-fixing and corruption in Chinese football.
Former Chinese Football Association chief Nan Yong and his predecessor Xie Yalong were both sentenced to 10-and-a-half years in jail in June
, while there have been several other cases occurring involving players and officials. It is clear China is trying to clean up its act. It is a step in the right direction for the integrity of the game in China, while McKinna argues the financial investment in the Super League is about trying to fast-track their bid to repair its reputation.
"They are quite a proud nation and they are embarrassed with what happened with the match-fixing, so they are very reactive with what they do. These clubs can afford it, so they went big," McKinna said. "They're trying to promote the game as the number one game in China and when you see them bringing these huge names over, it's proven a point."
The habits of Chinese clubs, for their various reasons, is clearly an expensive one. The jury is out on whether they will continue to have the incentive to maintain investment in the near future and see the CSL become a genuine top league in the world, upsetting the current balance of power.
Follow Ben Somerford on

Follow Goal.com Asia on

and

for the latest in Asian footballing news, features, and analysis