Its been a long time since we saw Manchester United finishing a season trophyless. The loss to their city rivals in the title race must have really pinched them as Manchester City stole the league away from them by clinching a 3-2 win in the dying minutes against QPR.
Manchester United suffered a shock exit from the group stages of the Champions League and were dumped out of the Europa League by eventual finalists Athletic Bilbao. Their domestic cup run was also dismal and Sir Alex Ferguson would really be looking to start off on a high. The Red Devils have acquired the services of Shinji Kagawa from Borussia Dortmund and will expect a lot from the Asian in their pre-season campaign.
Back to work from 5th July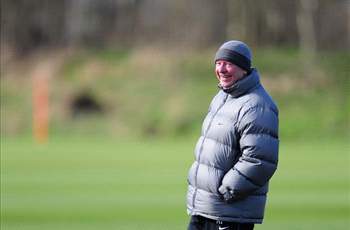 The players returned to training on 5th July at their training ground Carrington but new signing Shinji Kagawa
had to miss it as his work permit was stuck in the Philippines.
The Manchester United players had a spring in their step with everyone looking fresh and ready to go. Rio Ferdinand returned to training while Nemanja Vidic was asked to wait a few more days before he could make a full fledged return. First day involved a little running, medical testing and some ball work.
There were two more training sessions on 6th and 7th as Vidic returned to training. A double training session was conducted on the 11th July where Shinji Kagawa had his first shot with his new team-mates. The same training drill was followed and it ended with a cool-down session in the swimming pool.
Manchester United's pre-season campaign kicks off on July the 18th in Durban, South Africa where they will be playing AmaZulu FC. They will play a total of 6 matches in 5 countries up till the 11th August.
Goal.com
looks at the friendlies that Manchester United will indulge in before they begin their season.
| | |
| --- | --- |
| | AmaZulu FC vs Manchester United |
Date: 18th July, 2012

Venue:

Moses Mabhida Stadium

, Durban.

Kick Off: 9 pm (local time)

7 pm GMT
11:30 pm IST
Manchester United return to South Africa for the fourth time where they will square off against AmaZulu FC on July 18th at Durban and Ajax Cape Town three days later. United has a huge fan-base in South Africa and all their previous games there have been highly competitive.
The match will be the first of the two games that are part of the Soccer Challenge to highlight the aims of Mandela Day. The Moses Mabhida stadium is a multi-purpose stadium. It was one of the host stadiums for the 2010 FIFA World Cup. The stadium has a capacity of 54,000.
The match will be contested tightly as both teams are looking to have a good start to their pre-season campaign. Lots of crowd will be expected to turn up as this match promises to be an exciting encounter.
About the opposition-


AmaZulu is a
South African football club based in the city of Durban. The club was formed in 1932 by Zulu migrant workers and was originally known as Zulu Royals
.
The club's nickname, Usuthu, is a Zulu war cry.
They play in the Absa Premiership League and the club is coached by Roger Palmgren from Sweden. They have been consistent performers and have won the league once in 1972. They have been champions in few other cup competitions and finished 7th in last year's season.
Donovan Thompson
, their No. 9, is the player to watch out for as the striker did manage to put in some good performances for his side in the 2011-2012 season.
| | |
| --- | --- |
| II | Ajax Cape Town vs Manchester United |
Date: 21st July, 2012

Venue: Cape Town Stadium, Cape Town.

Kick Off: 4 pm (local time)

2 pm GMT
6:30 pm IST
Local fans are in for a football treat when Manchester United plays Ajax Cape Town as part of the "MTN Football Invitational" at the Cape Town Stadium on July 21, 2012. United visited South Africa in 2006 and 2008 and the reason that it brings them back again is the fantastic support from the fans.
Cape Town is getting ready to roll out the red carpet for the visit. The city plans to re-open the Fan Walk as it did during the successful 2010 FIFA World Cup, South Africa. The team's visit to Cape Town would be a flying one as they will arrive 36 hours before the game, and leave soon afterwards for their next destination, China.
One would expect a tough encounter as Ajax Cape Town are well known to put a good fight to their opposition.
About the opposition-
Ajax Cape Town is a young club formed in 1999 from the merger of two local sides, Seven Stars and Cape Town Spurs, under a franchise agreement with Ajax Amsterdam, who wanted to build an academy in South Africa to tap into local talent.
Last season was patchy for the club as they finished a dismal ninth in the league having almost won it the year before. They fluffed a golden chance to win the league title for the first time, drawing at home with Maritzburg United in the final game which meant that Orlando Pirates were crowned title winners after their 2-1 win against Golden Arrows.
Only one familiar face in former Liverpool goalkeeper Sander Westerveld, but this is a team dedicated to the development of young talent and they're led by exciting 23-year-old attacking midfielder
Granwald Scott
who will be the key player to look out for.
| | |
| --- | --- |
| III | Shanghai Shenhua vs Manchester United |
Date: 25th July, 2012

Venue: Shanghai Stadium

Kick Off: 9 pm (local time)

10:30 am GMT
03:00 pm IST


Manchester United travel to China to battle one of the world's most talked about clubs in Shanghai Shenhua on the 25th July at Shanghai Stadium. With an approximate 659 million fans around the globe and 109 million in China alone, all eyes will be fixed on this top clash.
Shenhua fans are a passionate lot, and with United having a long-established and fervent following in Shanghai, this game promises to have a super atmosphere.
Shenhua striker, Didier Drogba, fellow former-Chelsea star, Nicolas Anelka, and the rest of Shanghai's team will be playing hard to proudly represent the new era of Chinese football.
About the opposition-
The Chinese outfit began life in 1951 as East China before changing its name to Shanghai FC in 1957. It became one of China's first fully professional teams in 1993 when it took on sponsorship and the name of a local company Shenhua.
Their current season has not been great to be frank. They made a shaky start under Frenchman Jean Tigana, who paid with his job for just two wins in the first seven games. They are now managed by Sergio Baptista and are currently in mid-table. They finished 11th last season.
Didier Drogba finds himself in a pretty fluid situation at Shenhua where he has another chance to have a solid go at Manchester United away from the Premier League. He is one of the powerful personalities at the club already, and his performance on the night will be crucial as he can really create problems for the United defence as he has done throughout in the past.
| | |
| --- | --- |
| IV | Valerenga vs Manchester United |
Date: 5th August, 2012

Venue: Ullevaal Stadium, Oslo.

Kick Off: 8 pm (local time)

6 pm GMT
10:30 pm IST


Come 5th August and Manchester United will be travelling to Norway for the first time in 10 years to play Valerenga in their fourth pre-season game at Oslo's Ullevaal stadium. Valerenga's official supporters club boasts around 10,000 members – the biggest in the country. 'Klanen' ('the Clan') are proud of their singing and claim to be "the best mixed choir in Norway".
United has a massive fan support in Norway -the Scandinavian supporters' club is the biggest anywhere in the world with over 40,000 members.
About the opposition-

The Norwegian game owes them a considerable debt – as long as you're not a Rosenborg fan. When Valerenga won the title in 2005, it broke Rosenborg's 13-year stranglehold on the Norwegian league, since when three other teams – Brann, Stabaek and Ole Solskjaer's Molde - have taken the title in a division of much-improved competitiveness.
Last season, they came seventh, but reached as high as third after a strong run in the latter part of the campaign. They never really threatened Molde, though, who were top for the whole of the second half of the season. The club is managed by Martin Andresen.
Lively 21-year-old striker Pedersen is the man to watch out for. He is on loan from Vitesse Arnhem, having signed for the Dutch side in 2010 after two impressive seasons in Norway for Stromgodset. He has given strong performances with four goals in 12 matches that he has played for the club.
| | |
| --- | --- |
| V | FC Barcelona vs Manchester United |
Date: 8th August, 2012

Venue:

Ullevi Stadium, Gothenburg

.

Kick Off: To be Decided.


Gothenburg, Sweden. Get Ready. This match
between Barcelona and Manchester United – two of the world's biggest clubs is going to be a cracker.
They met in pre-season last year, where United gained a small element of revenge for those Champions League final defeats by winning 2-1 in the USA, and they are set for a pre-season rematch in Gothenburg this time.
The match at the Ullevi Stadium will be only the Reds' second game in the Swedish city during Sir Alex Ferguson's time as manager - the previous occasion was in November 1994.
The match is certain to attract crowds as the beautiful city of Gothenburg is famous for holding international football tournaments. Both clubs have a lot of fan following in the country so one can surely expect the stadium to packed and tickets will be tough to get. This match is not worth missing for sure.
About the opposition-
Futbol Club Barcelona also known as Barcelona and familiarly as Barca is a professional football club based in Barcelona, Catalonia, Spain. Founded in 1899 by a group of Swiss, English and Catalan footballers led by Joan Gamper, the club has become a symbol of Catalan culture and Catalanism, hence the motto
"Més que un club"
(More than a club). The official Barcelona anthem is the "Cant Del Barca".
Barcelona is also the only European club to have played continental football every season since 1955, and one of the only three clubs never to have been relegated from
La Liga, along with Athletic Bilbao and Real Madrid. In 2009, Barcelona became the first Spanish club to win
the treble consisting of La Liga, Copa Del Rey and the Champions League.
| | |
| --- | --- |
| VI | Hannover 96 vs Manchester United |
Date: 11th August, 2012

Venue:

Ullevi Stadium, Gothenburg

.

Kick Off: To be decided.


Manchester United's sixth and final match of the pre-season tour - against Hannover 96 will be played on Saturday, 11 August in Hannover, Germany. This Chevrolet Cup match falls just nine days before the Reds kick off the 2012-13 campaign.
Hannover
will have a truly international start to their season. Just two days after their return leg in the 3rd Qualifying round of the Europa League and two weeks ahead of the start of the Bundesliga campaign against FC Schalke 04, they will host Manchester United in the "Summer of Champions".
The winner will receive the Chevrolet Cup.
About the opposition-
Hannoverscher Sportverein von 1896, commonly referred to as Hannover 96, Hannover or simply 96, is a German association football club based in the city of Hanover, Lower Saxony. They play in th
e Bundesliga, the top league of German football.
Hannover 96
was founded on 12 April 1896 as Hannoverscher Fußball-Club 1896, upon the suggestion of
Ferndinand Wilhelm Fricke, founder of the Deutscher FV 1878 Hannover. They finished seventh in the Bundesliga last season and their manager is Mirko Slomka.
The match against Hanover 96 will see former Manchester United players Mame Biram Diouf and Ron-Robert Zieler, play against the Red Devils for the first time.
Mame Biram Diouf
will be the key player to watch out for as he will surely look to put in a good performance in front of his previous club as he did for the club in the last season.
Manchester United's Man to Watch
Shinji Kagawa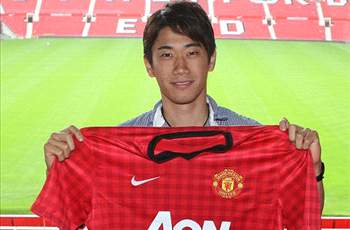 United have had creative problems in midfield over recent seasons, with many fans pointing to their lack of class in the middle of the pitch as being crucial to their failure to beat City to last season's title. Shinji Kagawa has been signed from Borussia Dortmund for £17 million and fans of the Red Devils will be desperate to get their first glimpse of him in pre-season.

He is essientially a goal scoring midfielder who plays in the middle of the park as an attacking player or on the wings. His vision, technique, swift movement and deft passing for Borussia Dortmund got him huge praise from the footballing world and the prime reason behind the transfer to Manchester United.

On his arrival, he refused to wear the No. 7 Jersey and chose to wear No. 26 instead as he knows that he has a lot to achieve at a club as big as Manchester United which boasts of being the most successful side in England. He has a lot to learn and a lot to prove and pre-season campaign will be the perfect platform for him to make his mark.

What the Bench-warmers need to do...
Not only will Kagawa be looking to prove a point but also the benchwarmers from the last season would want to challenge for the starting place. Javier Hernandez who did not have the best of seasons last time due to constant problems with injuries will be looking to make amends and produce the same goal-scoring form he had in his debut season.
Paul Scholes has been terrific in the middle. Anderson will also be looking to challenge for the central midfield berth hoping to impress Fergie this time around. Nani too did not have the best of seasons and he too will have to better his performances if he has to challenge for a place on the wings against the likes of Ashley Young and Antonio Valencia. New signing Nick Powell hopes that he gets a few starts in pre-season to stake his claim.
In the defensive department, Nemanja Vidic is almost certain to make a complete comeback which means either Chris Smalling, Phil Jones or Rio Ferdinand have to give way as they were brilliant at the back for United last season. Fabio has already been sent out on loan and his brother Rafael will need to step up to guarantee a starting place.
How do you stay up to date with football when on the move? With

http://m.goal.com

– your best source for mobile coverage of the beautiful game.