The European champions are returning to action and touring the USA for the first time in three years. Goal.com's Adwait Bhattacharya takes a look at all the upcoming friendlies..
Chelsea FC finally got the monkey off their back last season when they clinched the Champions League for the first time in the club's history beating Bayern Munich on penalties. That feat confirmed their participation in this year's Champions League as defending champions after they had finished a dismal sixth in the league. A cup double does qualify as having had a successful season, but Chelsea would really love to make amends this time in the league by fighting for the title.
Back to work from July 5th.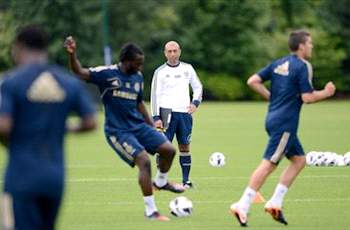 The players, fresh from basking in the glory of their Champions League triumph, returned to Cobham for their first pre-season training last week. A group of 25, made up of reserves, players returning from loans, new signings and some more established names, trained for a while and shortly afterwards were addressed by Roberto Di Matteo and his coaching staff.
Euro 2012 participants did not take part in the training while Daniel Sturridge, Frank Lampard and Gary Cahill also were given a rest. New signings Eden Hazard, Kevin De Bruyne and Marko Marin had their first taste of life as fully-fledged Chelsea players.
Second round of pre-season training was on 6th July where medical check ups of all players were taken and the same training drill was followed.
Chelsea's pre-season campaign kicks off on July the 18th in the USA where they will be playing four matches in the span of ten days.
Goal.com
looks at the friendlies that Chelsea will indulge in before the season starts in August.
| | |
| --- | --- |
| I | Seattle Sounders v Chelsea |
Date: 18th July, 2012

Venue: Xbox Pitch at Qwest Field, Seattle.

Kick Off: 6.30pm (local time).

Thursday 19 July:
02:30 am GMT.
07:00 am IST.


Chelsea return to USA after three years and their first pre-season friendly will be against Seattle Sounders who they last faced in the 2009 tour as well which they had won 2-0. The match is part of the Sounders FC full 18-game season ticket package and they will be hoping to attract a lot of fans on a Wednesday evening. Chelsea will be looking to take a full strength squad to their tour, so one will expect to see a strong starting line up as they take to the pitch against the MLS side.
Chelsea FC are a club known around the world, & Seattle has an established footballing fan-base. The fact that Seattle Sounders have enjoyed Cup success means that fans will be willing to watch their local team battle it out against world-renowned talent. All in all, the match should be an exciting one to watch.
About the opposition-
Seattle Sounders FC was established in November 2007 as part of the MLS expansion taking place at the time. They became the 15th team to play in the MLS. The city of Seattle has always had a strong fan-base for football, and it's evident even today. Every one of their league matches has been sold out, & they have constantly set records for average attendance in the MLS.
The MLS club have made the MLS play-offs in each of their first 3 seasons. They have also achieved domestic cup success, having won the U.S. Open Cup thrice. So one can expect a tough fight from the home team.
Fredy Montero
is the man to watch out for as he has been their profilic and main goal scorer. He is only 23 and has led the club in nearly every offensive stat in the last year.
| | |
| --- | --- |
| II | Chelsea v Paris St-Germain |
Date: 22nd July, 2012

Venue: Yankee Stadium, New York

Kick Off: 07:00 pm (local time).

Monday 23 July:
00:00 GMT.
04:30 am IST.


Chelsea will face French Ligue 1 Giants, Paris St-Germain in their second pre-season friendly of their US tour on Sunday, 22nd July at the new Yankee Stadium. The stadium is familiar with hosting high-priced talent. So it should come as no surprise that Yankee Stadium is the venue of choice for this pre-season friendly between two big spenders in Europe. The last time Chelsea faced PSG was in the 2004-2005 Champions League where they won 3-0 and drew 0-0 with the French outfit.
While considered a friendly, there are several underlying stories to the match. Roman Abramovich vs QIA money vs. old money, London vs. Paris, current European champion vs. up-and-coming contender, and Carlo Ancelotti vs. his former employer. These undertones will only add to the buildup of the game.
When the talented squads take to the pitch, there should be plenty of exciting moments during what looks to be an entertaining match for all.
About the opposition-
Paris Saint-Germain is a football club based in Paris, France. The club was founded on 12 August 1970 and has been playing in the Ligue 1 since 1974. Following QIA's takeover, Paris Saint-Germain became the richest club in France and one of the richest clubs in the world. PSG is the second best-supported football club in France after arch-rivals Marseille.
PSG came second in the 2011-2012 season as Montpellier were crowned Ligue 1 champions with a point gap of three. The title race ran right down to the wire but Montpellier kept their cool and clinched the trophy in a dramatic finale. PSG had a good season but they must have felt it was not enough as winning the league was the ultimate aim.
Nene will be the man to look out for as he was the side's most profilic goal scorer last season with 21 goals and also contributed with 11 assists.
| | |
| --- | --- |
| III | MLS All-Stars v Chelsea |
Date: 25th July, 2012

Venue: PPL Park, Chester, Philadelphia.

Kick Off: 08.55pm (local time)

Thursday 26 July:
01:55 am GMT.
07:25 am IST.
They meet again. Just six years after MLS All-Stars handed English Premier League powerhouse Chelsea FC a 1-0 defeat, the London-based club is coming back for another crack at MLS' best on the 25th of July at the PPL Park in Philadelphia.
For the second time, Chelsea will face an MLS team led by Peter Nowak, after the league appointed the All-Star site's hometown MLS coach as the team manager for the second straight year. Thierry Henry has been included in the squad along with David Beckham to face Chelsea and they will surely be the key men to watch out for as all eyes will be on them to see how they perform.
This game will attract supporters in plenty and it promises to be a cracker of a match.
About the opposition-
The Major League Soccer All-Star are a team that take part in an annual football game held by Major League Soccer featuring selected players from the league against various competitors. Five of the first six years adopted a traditional all-star game format used by other professional sports leagues within North America such as baseball and basketball and the National Hockey League, where the Eastern division squares off against the Western division. However, in recent years, this format has been altered by a match-up between the entire MLS All-Star team and an international club.
The MLS All-Stars will be hoping to reverse the recent All-Star trend which has seen them lose their first two matches against the same international opponent: Manchester United. The MLS squad was 5-0-1 against international club sides before dropping consecutive matches to the Red Devils.
David Beckham will be the player to watch out for as his trademark free-kicks and corners is sure to cause some trouble to the Chelsea defence and the 37 year old is surely waiting to make his mark.
Date: 28th July, 2012

Venue: Sun Life Stadium, Miami.

Kick Off: 06.30pm (local time)
11.30 pm GMT.

Sunday 29 July:
05:00 am IST.
Miami is ready for an encore. After more than 70,000 people jammed Sun Life Stadium last year to watch Chivas Guadalajara defeat FC Barcelona in a thrilling WFC encounter, South Florida's soccer fans will get another treat this summer as Euro heavyweights Chelsea and AC Milan do battle on 28th July in Miami.
July 28 will not be their first WFC meeting. In the tournament's first edition in 2009, Chelsea beat the Italian side 2-1 in front of a sell-out crowd of 71,203 at M&T Bank Stadium. The marquee match-up should prove an attraction in Miami. In fact, the only other meeting in recent history between the two sides came in the group stages of the 1999-2000 edition of the UEFA Champions League.
The Milan match will conclude Chelsea's North American tour.
About the opposition-
Milan is a professional Italian football club based in Milan, Lombardy that plays in Serie A. The club has spent its entire history, with the exception of the 1980–81 and 1982–83 seasons, in the top flight. They are the most successful club in world football in terms of international trophies along with Boca Juniors with 18 officially recognized UEFA and FIFA titles. Milan has won four world titles more than any other club in the world.
They finished the last season second only to Juventus who had an unbeaten season. AC Milan will look to start their campaign on a high and beating the current European Champions will be a huge boost to their confidence.
Riccardo Montolivo having joined the Milan ranks would hope to lift the spirit of the Rossoneri fans with his consistent performances from the middle of the park.
| | |
| --- | --- |
| V | Chelsea v Brighton & Hove Albion |
Date: 4th August, 2012

Venue: American Express Community Stadium

Kick Off: To be decided.


Champions League winning Chelsea are to face Brighton and Hove Albion in a pre-season friendly on Saturday 4th August a week after returning from their US tour. Gus Poyet will welcome his former club for the glamorous friendly two weeks before the start of the season. The capacity for the match will be just 18,000 due to expansion works that are currently taking place at the Amex.
Facing the European Champions will be excellent preparation for Brighton & Hove Albion ahead of the new season, and despite the limited capacity at the Amex, supporters will be very excited by the prospect.
About the opposition-
Brighton and Hove Albion Football Club is an English football club based in the coastal city of Brighton & Hove, East Sussex. It currently plays in the Football League Championship, the second tier of the English Football league system.
The team is nicknamed the "Seagulls" or "Albion". Crystal Palace is the club's main rival. Manager Gus Poyet wanted a very tough pre-season campaign ahead of a tough season, and Chelsea will be the ideal test for the championship side as they will surely have their task cut out right from kick off.
The signing of former Spain and Valencia star
Vicente
in September was a coup for Poyet and he will be the man to watch out for. His talent really shone in the home game against Derby County where he ran past 5 players with the ball after entering the opposition half only to end up hitting the crossbar. This lad has been consistent throughout his appearances for the club.
| | |
| --- | --- |
| | Chelsea's Man to Watch - Eden Hazard |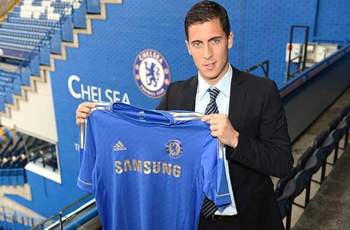 Chelsea have made three main signings but the major limelight will be on Eden Hazard as he is likely to make his debut against Seattle Sounders. The French Ligue 1 player of the year was the most valuable player for Lille last season and would love to continue his top form for Chelsea.

The Belgian opted to sign for Chelsea on a five year deal where the London club had to pay £32million
to acquire his services. He has the ability of picking out passes with ease, is fast and loves to have a go at the defenders. He can play through the centre, left as well as right playing as an attacking midfielder.
Chelsea fans will really be counting on him to make an instant mark in the upcoming pre-season campaign. His performance will be vital and Chelsea will hope that he gets accustomed to their style of play and the atmosphere by the time they face Manchester City in the FA Community Shield on 12th August.
What the Bench-warmers need to do...
Not only will the new signings be looking to prove a point but also the benchwarmers from the last season would want to challenge for the starting place. Romelu Lukaku would be eager to put on a show in front of his manager as he competes with Fernando Torres for the striker role up-front.
Players like Michael Essien who has lost his golden touch after an injury lay-off and the likes of Oriol Romeu would be waiting to put in solid performances to challenge for midfield positions. Chelsea have many players in the midfield department and it would be interesting to see who comes out on top after the pre-season campaign.
In the defensive department, Ryan Bertrand has to prove his worth to his manager in the same way he did last season if he has to challenge for left-back. Back from their loans, Yossi Benayoun and Josh McEachran will only be hoping they find their place amongst such depth in the midfield department and believe that they can contribute to Chelsea by getting a place in the starting line-up once the season starts.
How do you stay up to date with football when on the move? With http://m.goal.com – your best source for mobile coverage of the beautiful game.