Last Season's Performance



Premier League: Winners

UEFA Champions League: Group stage exit

FA Cup: Third round

League Cup: Fifth round
Positions that need reinforcements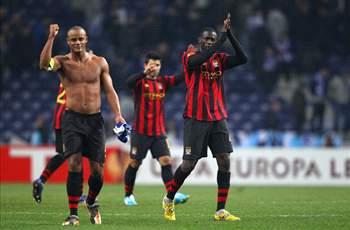 Kompany and Yaya Toure could do with some cover
Manchester City took the Premier League by storm last season. Yes, we all knew they were coming, but not many anticipated the dominance with which they would approach. They seem like the last team in England who need reinforcements. They were defeating teams with ease during the first half of the season and playing attractive football while they were at it. However, in the second half of the season, a few injuries coupled with the absence of Yaya Toure during the African Cup of Nations, saw the Sky Blues lose their way a bit and almost the title as well. David Silva has been the most creative force in the final third for City and the Spaniard looked physically and mentally drained towards the latter stages of the season. Samir Nasri shouldered the responsibility to a certain extent but Mancini's lack of faith in Adam Johnson and James Milner's relatively inferior attacking threat, means that City may be in the market for a penetrative player. Yaya Toure's power and drive from midfield is always missed when the Ivorian is not available while Mancini will believe that they can acquire a midfielder technically superior to Gareth Barry.

While being an inspirational leader, Vincent Kompany has also been a rock at the back and his stint out of the team due to injury left the defence looking frail. A young defender may be an intelligent buy to provide cover for Lescott and Kompany.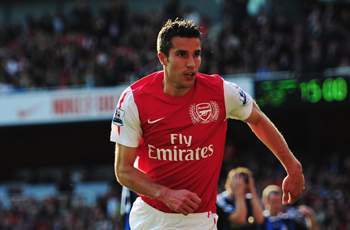 Javi Martinez is on City's radar after an exceedlingly impressive season with Athletic Bilbao. The Spanish club was all set to lose their eccentric manager, Marcelo Bielsa following a disagreement. The incident paves the way for some of their players to leave the club and the versatile Martinez would provide City with cover in midfield as well as defence. His passing and technique has attracted Mancini's interest but Barcelona are also keen on the youngster and the two clubs face a battle for his signature.

Manchester City is touted as Van Persie's most likely destination after the striker declared that he will not sign a new contract with Arsenal. However, there appears to be a conflict over his wages while his talks with Arsenal rages on.

If they fail to land Van Persie, City are also in the hunt for either Cavani or Falcao to boost their striking options with Cavani being the more likely of the two.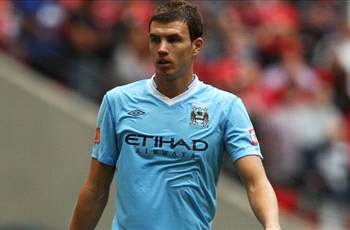 Departed : Emmanuel Adebayor is expected to complete a move to Tottenham while Roque Santa Cruz looks set to return to Real Betis on a permanent basis. Wayne Bridge has embarked on yet another loan deal and this time it's with Brighton for the length of the 2012-13 season.

Eden Dzeko seems to be on his way out after falling down the pecking order at the Etihad stadium. If another striker arrives then Dzeko's depature will be a certainty with AC Milan said to be in discussions over a possible deal.
David Silva is keen to sign a new deal with City but interest from Real Madrid could still turn his head following his impressive showing at Euro 2012.
Talks over Aleksandar Kolarov's move to AC Milan has stalled but there is still every chance of the deal going through despite Mancini insisting that he wants to keep the left-back.
GOALKEEPER

Joe Hart
(Costel Pantilimon)
RIGHT-BACK

CENTRE BACK

CENTRE BACK

LEFT-BACK


Micah Richards
(Pablo Zabaleta)


Vincent Kompany
(Kolo Toure)


Joleon Lescott
(Stefan Savic)


Gael Clichy
(Aleksandar Kolarov)

RIGHT MIDFIELD

CENTRE MIDFIELD

CENTRE MIDFIELD

LEFT MIDFIELD


David Silva
(Adam Johnson)


Yaya Toure
(Nigel de Jong)


Gareth Barry
(Javi Martinez?)


Samir Nasri
(James Milner)

CENTRE FORWARD

CENTRE FORWARD


Carlos Tevez
(Robin Van Persie?)


Sergio Aguero
(Mario Balotelli)

Sheldon Dias

I know City haven't been linked with him but I would love to see Luka Modric partner Toure in midfield. I appreciate Gareth Barry's contribution but if we're to move forward, Modric would be a huge step up in that department. I think it's vital to sign Javi Martinez, he's a sensational player and can play in midfield or defence. He would be a major signing.
Dwayne D'souza

Robin Van Persie would be the worst and most unnecessary signing for City. They already have a star-studded attacking line-up and even though he will find a place in the team, it won't be on a regular basis. Ideally, I would like to see a player like Xabi Alonso at City. Someone who can boss the midfield and has an incredible work-rate as well. Maybe Javi Martinez has the potential to be that player.
Who do you think Manchester City should sign this summer? Share your thoughts with us below.