It has been a long period of 19 years since Sergi Barjuán played his first game for the club that Barcelona have finally managed to have a homegrown left-back in their ranks. The arrival of Jordi Alba from Valencia
for €14 million
ends a wait of almost two decades where no academy player who played in that position has made the grade in the first team.
Sergi Barjuan, the last youth product to play for Barcelona at left-back was first summoned by first-team manager Johan Cruyff to a UEFA Champions League Group Stage game away against Galatasaray on 24th November, 1993. From then on, he became the side's undisputed first-choice, never playing less than 31 matches until 1999. He was partnered by Albert Ferrer, a youth graduate in the other defensive wing.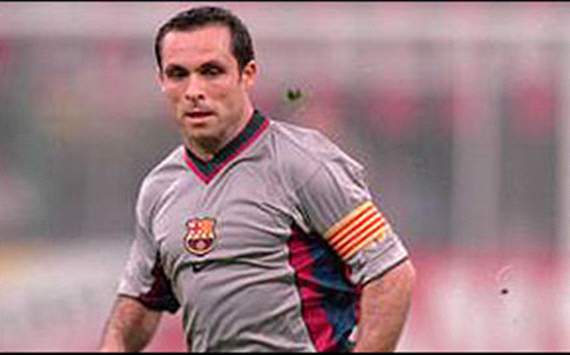 Sergi Barjuan, the last youth product to play at Left Back for Barcelona.
Fernando Navarro did actually play for a brief period of time under Louis Van Gaal at Barcelona, but only managed one season in the starting XI. Having come through the academy, Navarro was on the verge of replacing longtime leftback Sergi Barjuan who had left for Athletico Madrid in 2002, until a serious knee injury finished off his chances with his hometown club. He was thereafter loaned to Albacete for seven games, and after another loan spell at Mallorca he switched to the club permanently in 2006.
La Masia has produced goalkeepers, central defenders, midfielders, wingers and strikers, but it has been unable to produce a quality full back This run of bad luck ends with the return of Jordi Alba, although when he left the Barcelona academy, Alba wasn't yet playing as a left-back, but as an attacking midfielder.
Since 1997, Barcelona has spent €100m in its search for the perfect right or left sided defender. They bought above 20 such players capable of playing in the fullback position but none of these players could last for long. Most of them were very brief spells, many sent out on loans and the others weren't considered long-term solutions, until the club signed Eric Abidal and Dani Alves, who have both performed extremely well during their time at the club. Now finally they've opted for a home-grown player in Jordi Alba. Martin Montoya has also been called up to the first team as he along with Alba seem to be Barcelona's preferred long-term choice as a right and left sided defensive partnership.
Goal.com
now has a look at all the full-backs who played for Barcelona since 1993.
LEFT-BACKS.
1)
Lluís Carreras
(1993-1996)
- A product of FC Barcelona's famed youth system,
Carreras made his first team debut on 4 April 1993, appearing in a 3–0 home success against
CD Logrones in what would be his only first division
match of the season. He had only 19 appearances till 1996 as Barjuan was the preferred left-back.
2) Francesco Coco (2001-2002)
- Italian Defender who had a loan spell at Barcelona. Appeared 23 times and scored just 1 goal.
3) Fernando Navarro (2001-2006)
- Came through the Barcelona Academy, but a knee injury finished off all chances of being the perfect replacement for Sergi Barjuan.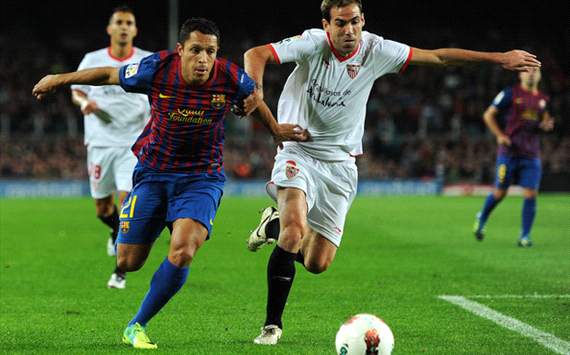 Having come through the academy, Fernando Navarro was a perfect replacement for Barjuan, but a knee injury dashed all hopes.
4) Juan Pablo Sorín (2003)
- Spent half a season of 2003 on loan appearing in 15 matches and scoring 1 goal. Then he moved to France to play for PSG.
5) Giovanni van Bronckhorst (2003–2007)
- After a one year loan spell at Barcelona, the Dutch footballer completed his move from Arsenal in May 2004 for a fee of €2 million, signing a three-year deal. In 105 appearances, he scored 5 goals and was instrumental in the club's successful time under Frank Rijkaard.
6) Sylvinho (2004–2009)
- In 2004, after a transfer fee of €2 million, Syvinho was bought by Barcelona and was part of the team that won three domestic league titles and two Champions league during his stay. Played second fiddle to Van Bronckhorst until the Dutchman left in 2007. After a series of good performances in 2008, he was given an extension until 2009.
7) Éric Abidal (2007- Present)
- On 29 June 2007, Abidal signed a four-year contract with FC Barcelona for £9 million. Since his arrival, Abidal was a constant starter for the La Liga giants and Barcelona had seemed to have filled the left full back position permanently although the club still could not boast of a home-grown left back in their ranks. He has had 120 appearances till date.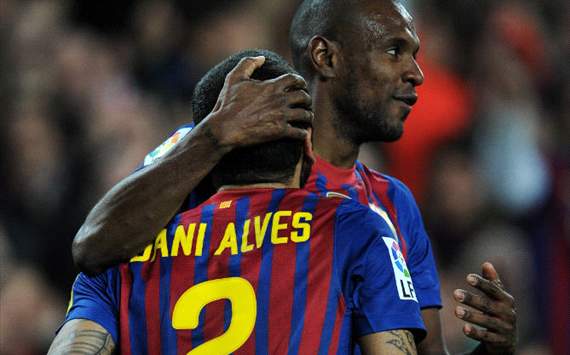 Eric Abidal was a regular starter for Barcelona at Left-Back until he was diagnosed with Liver Cancer
8) Maxwell (2009–2012)
- On 15 July 2009, it was announced that FC Barcelona and Internazionale had reached an agreement, with Maxwell joining the club for €4.5 million, plus €0.5M variable. He signed on a 5 year contract. He had an important role in the second part of the 2009 season when Eric Abidal was injured and helped Barcelona win the league. On 12 January, 2012 he signed for PSG. He made 57 appearances.
9) Adriano (2010-Present)
- On 16 July 2010, Adriano signed a 4+1 deal with Barcelona, for €9.5 million plus a conditional fee of €4 million; it also included a buyout clause of €90 million. Adriano spent the vast majority of his first season at Barca as a substitute. Due to the illness of first-choice left-back Eric Abidal he became a regular starter in the latter half of the season.
RIGHT BACKS
After the departure of Albert Ferrer in 1998, Barcelona's right back position always remained one that was continuously up for grabs. From 1997 to 2004 Michael Reiziger did have 173 appearances, but was never an undisputed starter under Louis Van Gaal. After the milennium, Barcelona did see the likes of Samuel Okunowo, Oscar Lopez and Damia but none of them could stay on for long. Lopez was a Catalan product but had only 8 appearances for the side.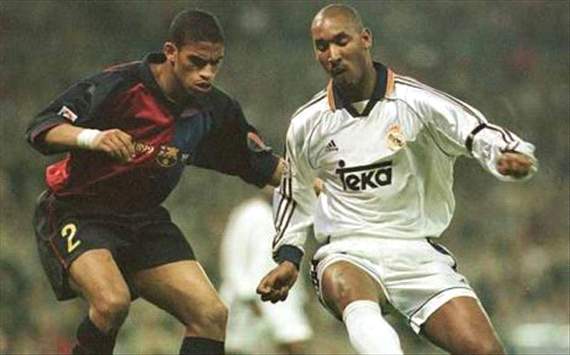 Despite 173 appearances, Michael Reiziger was never an undisputed starter.
French International Lilian Thuram joined Barcelona in 2006 for €5 million, but in his two year stay managed only 41 appearances. When Gianluca Zambrotta was signed, he was expected to create a big impact but that was not to be as in only two seasons with the club, he made 58 league appearances, scoring three goals, before his return to Italy with his performance being below par.
Martin Cáceres joined FC Barcelona on 4 June 2008, with a reported transfer fee of £16.5 million being paid to Villarreal. During his only season at Camp Nou, he featured sparsely, due to both injury and technical decisions. Even after his recovery, he was a fourth choice stopper back and no option at right back as Dani Alves had made that position his own after his arrival.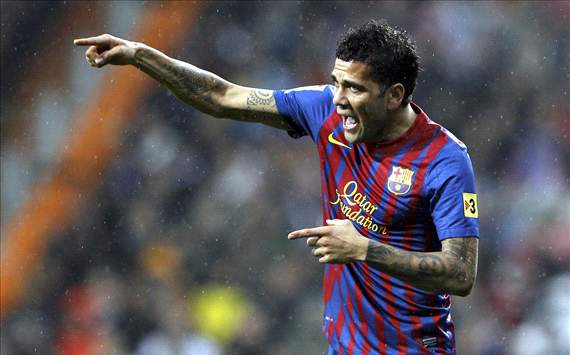 Dani Alves has made the Right-Back position his own since his arrival.
Dani Alves arrived in 2008 from Sevilla for a transfer fee of £23 million and has since then has put in splendid performances for the Catalan giants, which has made him a permanent right back all these years. With 131 appearances and 12 goals, Alves has been a regular in the Barcelona starting line-up and has been an integral part of the club's massive success in the last four years or so.
Barcelona have added Martin Montoya to their squad this year who has been a part of the La Masia youth system since the age of 9. Barcelona expect him to be Dani Alves' direct replacement in the future as the boy possesses immense talent.
VERDICT

With the arrival of Jordi Alba, Barcelona have ended their long wait for a left-back who is a product from their own academy. He knows the Barcelona philosophy already as he was signed for the academy at a very early age but was released by the club in 2005.
In a way, it feels like a repeat of the Cesc Fabreas or Gerard Pique story all over again: A player who learns the basic skills at La Masia, grows as a player elsewhere and ends up coming back to the Camp Nou after they pay a very hefty transfer fee.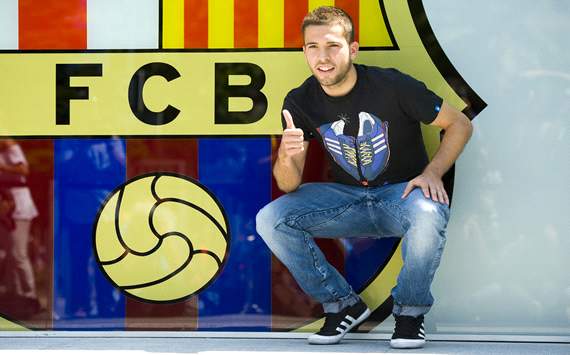 Jordi Alba, a product of La Masia academy was bought by Barcelona from Valencia for

€14 million

.
To many this may not not sound like a good business strategy but, honestly, the quality in the Barcelona youth ranks is such that there is simply no room for everyone. Credit to Alba to join Barcelona once again and to the club for acquiring the services of such an aspiring talent who has already shown what he is capable of on the international stage.
It is true that Barcelona desperately needed a left-back
and Tito Vilanova was right to prioritize the signing this summer. Sadly, Barcelona are still unsure of when Abidal will come back to the team (if he ever does) and, let's face it, Adriano is more of a reliable backup than a regular starter. Youngster Marc Muniesa will eventually join the first team this summer but he will have to earn his playing time gradually.
Jordi Alba is an excellent buy who can use his exceptional speed, strength and passing flair to become one of Barcelona's greats. At just 23 years of age, the Catalan road runner is surely capable of becoming their left-footed Dani Alves.
How do you stay up to date with football when on the move? With

http://m.goal.com

– your best source for mobile coverage of the beautiful game.