Luis Filipe Madeira Caeiro

Playing Position: Midfielder

Date of Birth: 4 November 1972

Birthplace: Almada, Portugal
Its rare to see a man who has played on both the turfs - the Nou Camp and the Santiago Bernabeu. Luis Figo belonged to the select few who defied the unspoken rule and played for both the teams. Figo was a Portuguese legend who played for Sporting Lisbon, FC Barcelona, Real Madrid and Inter Milan.
Goal.com
looks at how his illustrious career panned out..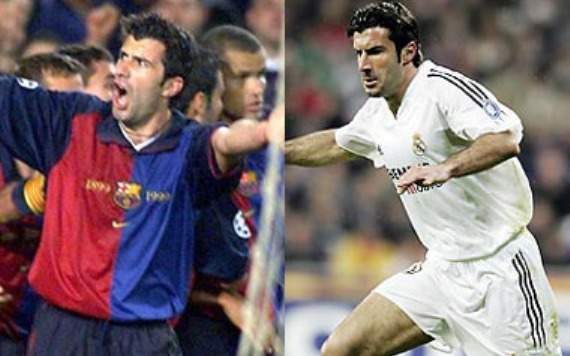 Luis Filipe Madeira Figo, more popularly known as Luis Figo, was born in a small town of Almada in Portugal. The only son of Antonio Figo and Maria Joana, Figo grew up playing street football before becoming a professional. Born in working class district, Figo had only one passion and that was football. Figo joined Sporting Lisbon at an age of 11.
Figo went on to attract quite a lot of attention from the footballing fraternity during his stay at Lisbon. This caused him to earn his first international cap for Portugal in 1991. Before his international cap he was an integral part of the Under-16 European Championships and the Under-21 World Championships for Portugal. This led to an interest from the two Italian sides Juventus and Parma.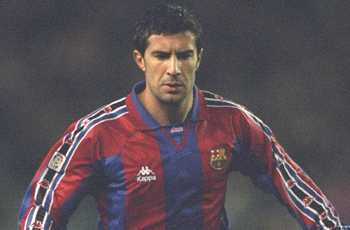 Figo controversially signed for both the Italian clubs, Juventus and Parma. This led to an Italian ban for the winger which meant he could not play in Italy for years to come. Johan Cryuff took advantage of this situation and took Figo under his wings in a £2.25m move to Barcelona, which was indeed a shrewd purchase by the Dutch master as he uncovered a jewel.
Figo showed his true class during 5 years for the Blaugrana. Under Cryuff, Figo went on to become one of the best players in the world then.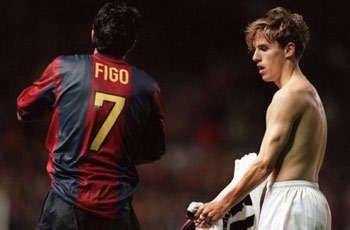 At Barcelona he won the La Liga twice, the Copa del Rey twice, UEFA Super Cup once, Supercopa de Espana once and UEFA Cup winners' Cup once. During his stay at the Nou Camp, he was given the nickname 'Lion King'. He also captained the Barcelona side and appeared 172 times for them scoring 30 goals.
Off to the Spanish capital
Luis Figo made a controversial and then record breaking £37 million move to Real Madrid on July 24th, 2000. Disheartening the Barcelona fans, Figo made his own niche in the 'Galacticos' midfield. His assists coupled with the 36 goals made him a young footballer's idol.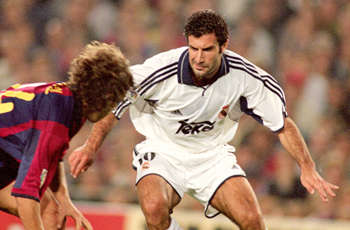 In the white T-shirt he won 2 La Liga titles, 2 Copa del Rey, 1 Supercopa de Espana, 1 Champions League, 1 UEFA Super Cup and 1 Intercontinental Cup. The club president, Florentino Perez, hailed Figo as one of the best wingers of all time. Soon Figo went on to become a Real Madrid legend. However his visit to Nou Camp as part of the Madrid squad wasn't taken too kindly and a pig head was thrown towards him while taking a corner-kick.
Figo finally got to play on the Italian soil as he was transferred for free to Inter Milan in 2005 after his contract with Madrid expired. He played at the San Siro for 4 years and retired after the 2009 season. He was a part of the great Inter side which went on to win the Scudetto 4 times in a row.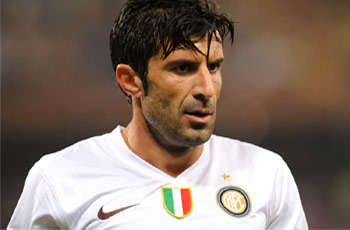 Moreover, he also won the Coppa Italia once and the Supercopa Italiana thrice. He played in 105 matches for Inter and scored 9 goals. Figo made an emotional announcement as he retired by saying, 'I am leaving football, not Inter'.
Luis Figo was a part of the 'Golden generation' for the Portuguese. He led the Portuguese side to the Euro 2004 finals and also to the 2006 World Cup semi-finals. He won a lot of trophies for the clubs he played for but unfortunately he could not translate the same for his country.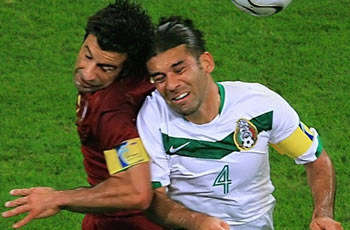 Figo announced his retirement from international football at the end of Euro 2004 but reversed his decision in 2006. Figo managed to win 127 caps for his country in which he scored 32 goals. He was also the captain of Portugal for a considerable time.
Figo married a Swedish model Helen Svedin, and has three daughters - Daniela, Martina and Stella. Figo was also a seat holder in the A1 Team Portugal in the A1 Grand Prix in the 2005-2006 season. As of today, he works closely with Inter as an ambassador for the club.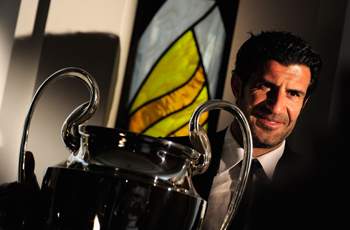 Club
Sporting CP
Taça de Portugal (1): 1995
Barcelona
La Liga (2): 1997-98, 1998-99
Copa del Rey (2): 1997, 1998
Supercopa de España (1): 1996
UEFA Cup Winners' Cup (1): 1997
UEFA Super Cup (1): 1997
Real Madrid
La Liga (2): 2000-01, 2002-03 Supercopa de España (2): 2001, 2003
UEFA Champions League (1): 2002
UEFA Super Cup (1): 2002
Intercontinental Cup (1): 2002
Inter Milan
Serie A (4): 2005-06, 2006-07, 2007-08, 2008-09
Coppa Italia (1): 2006
Supercoppa Italiana (3): 2005, 2006, 2008
National team
UEFA European Football Championship: 2004 Runner-Up FIFA U-20 World Cup (1): 1991
UEFA European Under-17 Football Championship (1): 1989
UEFA European Under-21 Football Championship: 1994 Runner-Up

Individual
Ballon d'Or (1): 2000
FIFA World Player of the Year (1): 2001
World Soccer Player of the Year (1): 2000
FIFA World Cup All-Star Team (1): 2006
UEFA Euro All-Star Team (2): 2000, 2004
UEFA Team of the Year (1): 2003
La Liga Foreign Player of the Year (3): 1999, 2000, 2001
Portuguese Footballer of the Year (6): 1995, 1996, 1997, 1998, 1999, 2000
Portuguese Golden Ball (1): 1994
FIFA 100
Orders
Medal of Merit, Order of the Immaculate Conception of Vila Viçosa (House of Braganza)