Joao Moutinho has emerged as a prime transfer target for many Premier League clubs after his performance in Euro 2012. Goal.com's Adwait Bhattacharya takes a look as to why...
Joao Moutinho's fantastic performance in Euro 2012 has earned him a major interest from the Premier League as top clubs such as Manchester United, Chelsea, Tottenham and Liverpool have enquired about the availiability and a possible summer transfer of the 25 year old Portuguese playmaker. Moutinho's accurate passing and ability to pick out forwards with ease has led to a sudden re-emergence in the transfer market and a belief that he has finally come of age and is ready to compete on a higher platform such as the Premier League.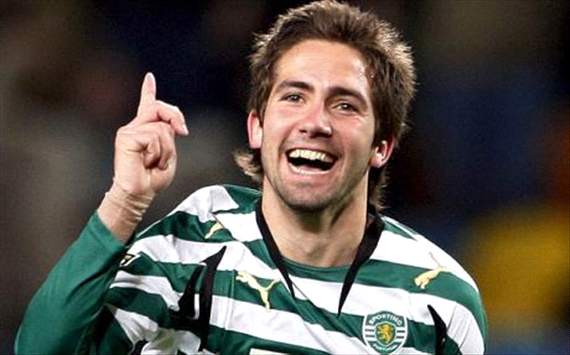 Joao Moutinho started his club career with Sporting CP where he scored 21 goals in 163 appearances.
Moutinho burst onto the scene during the 2004–05 pre-season when he was called by then-manager Jose Peseiro into the first squad, where he played some games, and began to display talent at only 17 years of age. However, he was sent back to the junior team, coached by Paulo Bento with players such as Miguel Veloso and Nani alongside.
On his league debut against Gil Vecente, Moutinho was handed the number 28 jersey previously worn by Cristiano Ronaldo. Thereafter, following some consistent displays, he wasted no time in establishing himself as a regular as he quickly grew into a polished performer, able to play in any position across a flat midfield or in a diamond formation. His box-to-box dynamism and tremendous determination quickly made him a firm fan favourite and many international scouts took a keen interest in him.
Sporting extended his contract by a year despite being linked to FC Porto and was made the vice captain at the age of 19 at the start of the 2006-2007 season. The following season he was named captain, the second youngest in the history of the club.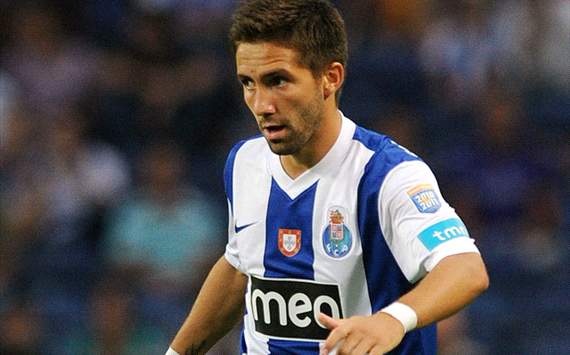 Moutinho moved to FC Porto for a transfer fee of 11 million Euros and has scored 3 goals in his 56 appearances.
On July 3rd 2010, Moutinho moved to FC Porto on a five year contract. He came under heavy criticism for forcing a transfer to a rival club after spending 10 years at Sporting, also being one of the team's star players and captain.
Despite all the brouhaha surrounding his transfer, Moutinho became an ever-present figure for Porto in his first season itself. He helped the team win the treble in 2010-2011 season capturing the League, Cup and the Europa League titles. He was on the radar of several clubs in the summer of 2011 and was almost certain to complete his transfer to Chelsea last season but the deal broke down following which he stayed at Porto and played his part in securing another league title.
What Makes Joao Moutinho a top transfer target this summer for the Premier League Clubs?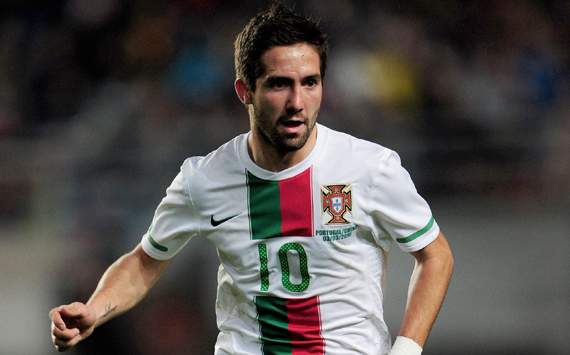 The 25 year-old has developed a big reputation for himself at Porto, where he was the playmaker in Andre Villas-Boas' successful team. He had yet to make a lasting impression on the international stage though he was picked in the previous edition of Euros but was left out of the squad for the 2010 World Cup. Since Paulo Bento took over, he alongside Miguel Veloso and Raul Meireles formed a three man midfield where they interchanged between defense and attack.
Moutinho's performance in Euro 2012 was nothing short of exceptional. His ability to track back to help his defense and also to join the attack was instrumental in the win against the Netherlands. His passing accuracy against Germany and his precise cross to Ronaldo for his goal highlights his abilities. He carried his good form into the semi-finals where his resilient and dogged display against Spain, cutting every attack, was important in Portugal's phenomenal display and taking the game to penalties.
Moutinho has obviously been looked at by most of Europe's elite clubs, Chelsea especially, and now Tottenham and Manchester United have come into the fray. Concerns about his size and the high asking price could have possibly stopped clubs from vying for his signature.
These traits of his that we witnessed during the Euros is the prime factor as to why Joao Moutinho has suddenly shot up on the transfer list of every manager and this transfer saga is sure to head into the deadline day with any of the top Premier League clubs opting to pay a heavy amount to acquire his services.
Where does Joao Moutinho fit in?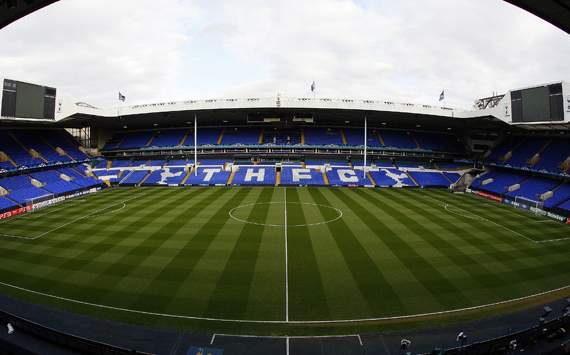 White Hart Lane seems to be the best possible destination after the arrival of Andre Villas-Boas
TOTTENHAM

For Joao Moutinho, Tottenham seems like the likeliest destination after the arrival of new manager Andre Villas-Boas who he has previously worked with at FC Porto. Moutinho was Villas-Boas' first signing as Porto manager and it won't be surprising if he ends up there as he is the kind of midfield ball-player that Tottenham are going to need to bring in this summer after already having secured the likes of promising Gylfi Sigurdsson for just £8 million.
The reason this transfer looks highly likely is because there is a huge possibility of Tottenham chief playmaker Luka Modric leaving the club for Real Madrid or Chelsea this summer, which would pave the way for Moutinho and would allow him to settle without any competition in that department. Disciplined, hard working and superb on the ball, Moutinho has the tools to step up and fill in Modric's boots.
Villas-Boas would be sure to make Moutinho an integral part of the team and he would secure not only guaranteed first team football at White Hart Lane, but a place in the 4-3-3 formation he is already so familiar with. Spurs can't compete with United and Chelsea wage wise, but Moutinho will perhaps not receive such footballing guarantees at either club, so Tottenham would be a smart choice if he wishes to move there.
CHELSEA
Chelsea are really looking to acquire the services of Moutinho this summer having already missed out on him the previous time. It will be a good signing for Chelsea as Moutinho has become a far better player over the period of one year and is now a versatile and hardworking midfielder.
Di Matteo likes to play a 4-2-3-1 formation, and if he sticks to that for the upcoming season, he can use Moutinho's ability in two ways. He can use him as an attacking player challenging the likes of Hazard, Ramires and Mata as he can play from the centre and also from the flank. If the manager opts to play him in a more defensive role, he could well replace Jon Obi Mikel or Frank Lampard ahead of the defense.
Moutinho will surely play a vital role for Chelsea and his versatility in the midfield department shows why the club is so eager to sign him.
MANCHESTER UNITED
Moutinho has the sort of tenacity and work rate that is rarely seen in a player of his technical calibre and Manchester United would love to acquire his services. Having already secured Kagawa, United would like to make another big signing but the proposed transfer fee could be a big issue. While Spurs view him as a potential replacement for Luka Modric, the Red Devils view him as the solution to their midfield woes.
With Paul Scholes unable to go on forever it's high time that Fergie looked into bolstering his midfield (which is probably why they lost the Premier League last season). Kagawa's signing is a step in the right direction but the feeling still remains that there is a lot of work left to do in that department.
LIVERPOOL
For Liverpool, the task is cut out. They need to make some top signings and do it fast if they want to start challenging in European competitions again. The fact that they lost out for Sigurdsson to Tottenham will only add to their worries as they haven't yet acquired any big player.
Moutinho will definitely boost their midfield but the only problem for the 25 year old could be the stiff competition at the club in the midfield area. Liverpool already have plenty of them and with Joe Cole and Alberto Aquilani returning to the squad, Moutinho's task of making it to the starting 11 will only get tougher. If he gets a start, Moutinho will have to make that count and put in some splendid performances.
The only problem for Liverpool though is their ability to compete with other top clubs in the league as they have to play the Europa League and if Moutinho decides to move to Manchester United or Chelsea in search of Champions League football and success, Liverpool and even Tottenham for that matter will lose out on them.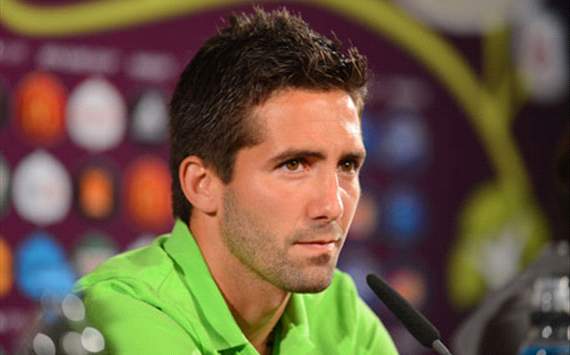 Move to the Premier League is imminent
It is safe to say that Joao Moutinho has come off age and after his performance in Euro 2012, he deserves his shot at playing at a higher level. A move to a Premier League club eventually is highly likely, but the question still remains as to where he would be playing next season.
The buy-out clause of £40 million in his contract should not be a problem for the clubs in Premier League as even the likes of Tottenham are rumoured to have given a £70 million transfer budget after Villas-Boas' arrival.
The hype around his transfer saga is not surprising as he deserves every bit of the credit for his hard work in the past few years. It is time he steps on to a bigger platform to shine.
How do you stay up to date with football when on the move? With http://m.goal.com – your best source for mobile coverage of the beautiful game.