COMMENT
By Jun Suzuki
It's quite possible that just one year ago, nobody imagined that Hiroki Sakai could transfer to a European club.
When Sakai declared that he "[wanted] to play in a lot of matches" before the 2011 season, it was not a statement of humility but rather recognition of his status as a back-up player. With just nine appearances for Reysol in the 2010 J-League Division 2 season, Sakai wasn't even listed on the bench for their 2011 opener against Shimizu. His nervousness showed in his first appearance against Omiya Ardija in Round 7, resulting in a performance generously described as unflattering.
| | |
| --- | --- |
| "[Sakai's] technique and tactical sense were still in the process of refinement, but his physical abilities combined with his speed, timing, and natural kicking accuracy revealed a natural gift" | |
However, Sakai had long been considered a player of great potential ever since joining Reysol's youth academy. His technique and tactical nous were still in the process of refinement, but his physical abilities combined with his speed, timing, and natural kicking accuracy revealed a natural gift.
As a result he was plucked out of his second year of high school into activities with the top team, and spent half of his first pro year training in Brazil; all decisions carried out by the club in order to bring about Sakai's awakening.
But Sakai had a fatal weakness: no matter how highly rated he was by others who praised his potential, the player himself had little confidence in his own abilities. He was a quiet player, not one to express himself easily. The lack of confidence weighed heavily; even when Sakai played he was unable to put his true abilities on display.
The change came in Round 10 against Urawa Reds. It was Sakai's fourth J1 appearance, and just 50 seconds into the match he sent his trademark high-speed cross to Hideaki Kitajima who scored the opening goal. Sakai went on to contribute on defence as well, all but shutting down the Reds on the left side. The youngster appeared to find his his long-lacking confidence with this victory in what would become a crucial turning point.
At the same time, it's impossible to forget the existence of team-mate Leandro Domingues on the right side. Sakai would often trust the ball to his possession-gifted Brazilian team-mate, allowing the two to create overlaps and drive forward. Whereas in the past Sakai often hesitated on the attack, Leandro brought the Japanese into the run of play and in turn reduced the starlet's hesitation.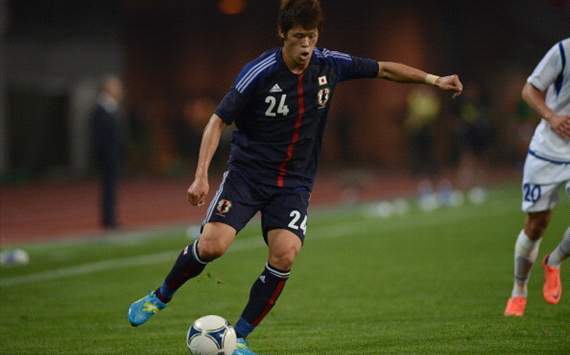 LONDON CALLING | Sakai's skills earned him an established role in Japan's Olympic squad
Through his sharp crosses, Sakai continued to accumulate assists. After repeatedly displaying his overlapping skills, he also caught the attention of Olympic coach Takeshi Sekizuka and national team coach Alberto Zaccheroni, distinguishing himself as one of Japan's top full-backs.
But the player himself would recall that it wasn't until December that his new, unshakable self-confidence emerged. Days after reports that Santos had expressed interest in a transfer, Sakai's Reysol would encounter the Brazilian giants at the Fifa Club World Cup.
That offer came as a result of Santos coach Muricy Ramalho's interest in the right-back. But Sakai himself wished to play for defending J-League champions Reysol and appear in the Asian Champions League and declined.
But his wish to play for Reysol and appear in the Asian Champions League despite the attention of a legend such as Ramalho, combined with his play against Monterrey and Santos in the Club World Cup, seemed to represent a sea change in attitude; Sakai was no longer the timid youth of old, but had found a mental strength to match that of his physicality.
More than anything, the experience caused Sakai to embrace the goal of a move overseas and was certainly a factor in his transfer to Hannover.
Though considered one of Japan's best full-backs, Sakai still has areas in need of improvement. But from another perspective, he could be concealing even more abilities than previously imagined.
"If I don't level up as a whole I don't think I'll get to play," said a carefree Sakai after the deal was announced. "I want to extend my capacity as a player in Germany."
Sakai has grown leaps and bounds mentally as a player, but his modest attitude and friendly smile haven't changed at all. His legend is only sure to grow further beginning this summer in the Bundesliga.
HIROKI SAKAI | Kashiwa Reysol, Defender, 22



J-LEAGUE DIVISION 1 STATS

Appearances
39
Goals
1
Assists
12

PLAYER FILE

Under-23 Caps
10
Contract expires
July 2015
Price tag
€1 million

Follow Goal.com Asia on

and


for the latest in Asian footballing news, features, and analysis