By Jamie Dunn
No days off on Jubilee weekend for Hodgson
While the rest of the country was basking in the pageantry of a Diamond Jubilee celebration for the Queen, it was a case of 'Another One Bites The Dust' for England when Gary Cahill was forced to pull out of the squad for Euro 2012 with a broken jaw.
So as the majority of England fans were enjoying an extra two days off work (not WWLTW, mind you) Roy Hodgson would have been locked away in a dark room with tactics boards, mulling over several posers ahead of the impending journey to Poland and Ukraine.
"Phil Jagielka or Joleon Lescott?" and "Why have I picked Martin Kelly?" were probably chief among them. That is, if our Roy could pull himself away from the Jubilee concert and the bizarre sight of Grace Jones keeping a hula-hoop in motion for the entirety of a song. Baffling scenes.
Still, after a cringe-worthy photo opportunity stood around a car that each member of the squad could probably afford a whole fleet of (see above), our boys arrived safely in Krakow on Wednesday evening.



Tweet of the Week

"Got to the station with time to spare then they change the platform with a minute to go, nearly miss it. British Rail at its finest"


- England are nearly forced into another squad change as somebody pulls a fast one on Joleon Lescott. We've all been there, Joleon.

The Football Association has opted to base the squad in the centre of the city in order to avoid the players going stir crazy during the tournament – a factor to which past failures have been partly attributed. That, and of course the bad football, which played a significant role at the World Cup in South Africa in 2010.
There is plenty to do in Krakow – WWLTW went there on a stag weekend, though some of the activities are the kind England players would be advised not to become embroiled in – but that move, however, has given birth to fears that Wayne Rooney and Co. will not be able to venture around the city without being noticed by the general public.
WWLTW suspects Kelly, Jack Butland and Jordan Henderson will go undetected by most, at least. Possibly Rob Green, too - providing he does not walk around with a football between his legs.
'Roy the Redeemer' is the ace up England's sleeve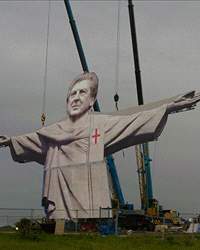 While England were preparing for Euro 2012 with unconvincing 1-0 victories over Norway and Belgium, the French laid waste to Estonia, scoring four beautifully-crafted goals, beat Serbia 2-0 and came from two down to secure a win against Iceland. To say things were looking ominous for Roy's Boys™ ahead of Monday's Group D opener would perhaps be an understatement.
But fear not, England fans, as bookmaker Paddy Power has struck a crucial blow prior to the game. Behold: ROY THE REDEEMER.
Standing over 108ft tall, the statue has been erected on the White Cliffs of Dover, depicting England's potential saviour as the 'Christ the Redeemer' sculpture that watches over Rio De Janeiro, Brazil.
But this bad boy is visible in France, standing across the sea, striking fear into the hearts of our cross-Channel rivals.
Forget that Hodgson, the man, is physically far from intimidating. Forget that our brand of 'you attack us, then we'll try to sneak one on the break' football is unlikely to terrify anyone. Forget that Laurent Blanc and his men have already left France. And forget that this thing is quite frankly ludicrous.
With Roy the Redeemer watching over our fair shores, WWLTW has no doubt that England will win the lot.
Forget the managerial merry-go-round… there's a love triangle forming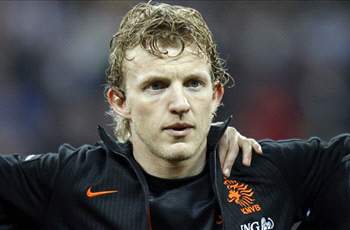 Quote of the Week

"Maybe I'd play with Dirk Kuyt as a right-back. Why not?"
- "Why not?" asks Johan Cruyff.
"Gregory van der Wiel," answers WWLTW

Last week, WWLTW toyed with the idea of Alex McLeish joining Norwich should Paul Lambert depart for Aston Villa, while suggesting Chris Hughton could be bound for West Brom. It was all part of this managerial merry-go-round bit – there were metaphors and everything.
Just seven days on, it appears this column was dangerously close to appearing prophetic, rather than 'pathetic' for once, which is the adjective more regularly reserved for describing WWLTW in the comments section.
Lambert completed his move to Villa Park over the weekend, but it was Hughton who arrived at Carrow Road to take the reins, rather than McLeish, who remains without a job.
But all that could change if Birmingham – now without a manager following Hughton's exit – opt to move for old boss McLeish, to create something of a managerial love triangle, an altogether more adult and sinister image than a managerial merry-go-round WWLTW is sure you'll agree.
They say you should never go back, but McLeish has a promotion and a ninth-place Premier League finish to his name at St. Andrews.
Forget the two relegations, the move to rivals Aston Villa and the subsequent awful season the fans endured under Big Eck. Make it happen, Birmingham.
HERE'S SOMETHING YOU DON'T SEE EVERY DAY...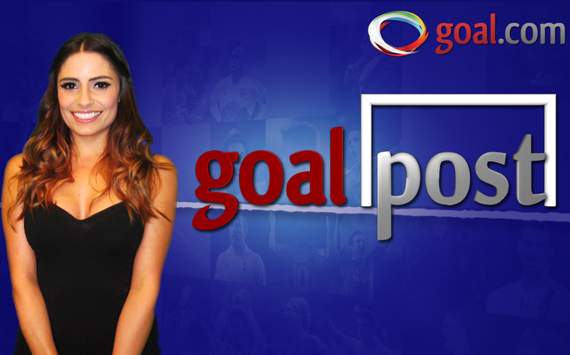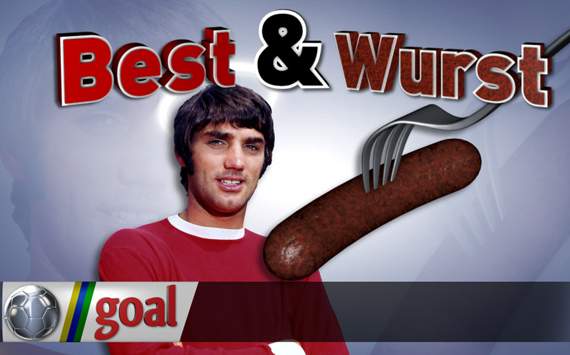 Starring Layla Anna-Lee with

Euro 2012 plans, Balotelli's barnet, and Kevin the psychic chicken





Funnies, bloopers & magic from the world of football


CLICK THE IMAGES TO WATCH ON OUR OFFICIAL YOUTUBE CHANNEL!