The expectations surrounding England to win this major tournament are at an all time low. Pundits are calling this 'the weakest' British squad travelling to the Euros. While other European stalwarts like Holland, Spain, France, Germany and Italy have been preparing for Euro 2012 for the last two years, England's preparations just kicked off a month ago after the appointment of a new manager - Roy Hodgson. Crisis management has been the pivotal job of any previous England manager and Roy is no different. Fabio Capello could hardly concentrate on the football with the likes of John Terry, Rio Ferdinand, Wayne Bridge, Ashley Cole and the media making his job an extremely traumatic one.
There was always a certain air of positive expectations everytime Alan Shearer, Michael Owen, David Beckham, Paul Scholes travelled to a World Cup or European Championship. A definite vibe of emerging victorious was felt. The new England has only a handful of the stars from the last decade - John Terry, Steven Gerrard and Ashley Cole. A combination of experience and youth can do wonders as seen in Chelsea's Champions League triumph. To replicate that, Roy Hodgson will have to view the squad through a shrewd tactical eye and utilize his resources to the maximum.
Goal.com
analyses their chances at this summer's footballing spectacle.
| | |
| --- | --- |
| | |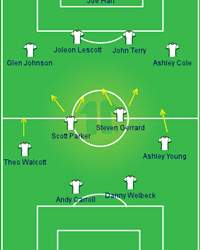 Roy has asserted the point that he does not believe in an anchor-midfield role who protects his back four. The former West Brom and Liverpool manager believes in collective defending, ie, the entire midfield helping out the defense. This tactic would involve a high working rate on the pitch from every member and dynamic levels of concentration. With Wayne Rooney suspended, Andy Carroll and Danny Welbeck are sure to start the forward roles. Though England could defend well against a youthful setup like Belgium (who did not take their chances), more efficient teams like Holland, Germany and Spain could rip them apart. Ashley Young and Theo Walcott (the likely starters) will have to track back to help out the defence. England defend in zones and the experienced likes of Terry and Ashley Cole will have the responsibility of organising the defence.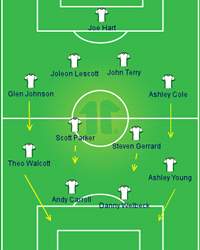 Over the years, England have preferred a 4-4-2 formation which slowly slipped into a more fluid 4-3-3 one. But under new gaffer Roy Hodgson, the Three Lions would shift back to the 4-4-2 and try to exploit the big and burly asset Andy Carroll up front. In the two friendlies against Norway and Belgium, we saw a very solid England outfit, very precise in their positioning and setup. The defense and midfield were extremely well organised. The flip side to these back-to-back 1-0 wins was that the midfield were wasteful in possession. In both the matches, the opposition enjoyed more possession of the football, with Belgium boasting 59%. England have to be more efficient on the ball and the responsibility to direct play will be with Scott Parker and Steven Gerrard. Seeing a tall striker up-front, the temptation to launch long balls forward will exist.
All fighting for the right winger slot

vs

vs

vs

On the wings, efficient and streetwise players like Oxlade-Chamberlain and Ashley Young would be better options than Theo Walcott who needs atleast 15 yards of space ahead of him to work magic. If the tactics seen in the 2 games under Hodgson continue at the Euros, England's only realistic chance at scoring goals will be on the counter-attack.
| | |
| --- | --- |
| | |
Strengths -
For many years England have yearned for a world-class goalkeeper. This time, their wish has been answered with Joe Hart among the top men between the posts around the world. Though Robert Green is in the squad, he is unlikely to be used after his blunder at South Africa in 2010. The other world class talent with England is Wayne Rooney, who will be fresh and ready to roar after completing his two-match ban.
Weaknessess -
England are a diminished lot, with the experienced players like Frank Lampard, Gareth Barry and Gary Cahill all ruled out of the Euros. England lack squad depth and are very inexperienced. Jordan Henderson, Stewart Downing, Danny Welbeck, Andy Carroll and Phil Jones will be facing their first major tournaments and have never felt such pressure before. England do not keep the ball well and are wasteful in possession.
Opportunities -
Engand must gain strength from Chelsea's Champions league win. Playing the defense-minded game with space for your wingers to get out in transition is the best way to upset the giants. It worked against Bayern and Barca, two clubs that hold half of the German and Spanish national teams, respectively, and in all likelihood, are the teams England will have to go through anyway to reach the late stages of the tournament.
Threats -
England have decided to retain their Polish base inspite of their matches being played in Ukraine. No other team face such lengthy plane journeys to play their group matches and it adds up to an organisational mess. This could tire the footballers and distract them. Racial chanting against black English players will have to be dealt with as it is a major problem in Poland and Ukraine.
| | |
| --- | --- |
| | COACH IN QUOTE |
| | |
| --- | --- |
| I haven't made hard and fast decisions yet. I think its important for me to use the best possible players available in the squad who can damage the opposition. | |
| | |
| --- | --- |
| | THE VERDICT |
England will struggle to get through the group stages, but will eventually limp towards the quarterfinals. Anything beyond the quarterfinal stage will be a miracle.
Follow Sarthak Dubey on

How do you stay up to date with football when on the move? With

http://m.goal.com

– your best source for mobile coverage of the beautiful game.