The temptation to write a satirical piece on Bollywood's King Khan joining hands with Indian football is too hard to resist. The exhilarating highs of SRK's career and fan following compared to the traumatic lows of Indian football, is as juicy a topic as rubbish Bollywood gossip. But one must think again before falling prey to the shackles of 'satirical temptation'. We football fans are talking about Shah Rukh Khan here - a gifted actor loved all over India, a powerful brand known worldwide and probably the only businessman who brings unprecedented media attention. And here's why we really need him.
Bhaichung Bhutia carried the 'national football icon' tag for atleast 15 years and now that he has retired, a regular cricket-loving Indian citizen doesn't know anything about Indian football other than this statement - "Indian football? LOL." Indian cricket is so well established that every member of the team is worshipped like idols. That is exactly what we dream for our young footballers. But all that will not happen unless somebody cares, somebody bothers to look and somebody gives them credit for their hard work. This is what Shah Rukh can bring - the "poster boy effect". SRK will become the new face of Indian football, bringing more fans to football stadiums to watch HIS team play, increase TV viewership and bring extra investment from advertising.
The players would get a huge lift when they know that SRK is watching them play or an opposition player would want to perform better against Shah Rukh's team to catch the superstar's eye. The psychological effect that the mere presence of a big personality brings on players is magical. Lets take the example of cricketer Manoj Tiwari who plays for Kolkata Knight Riders. Shah Rukh took the batsman out for dinner when he was underperforming and had a short encouraging conversation with him - "You are an amazing talent Manoj, you can do it." The KKR batsman promised the superstar that the next time he spoke to him, he would be holding the IPL trophy in his hands. And the rest they say, is history.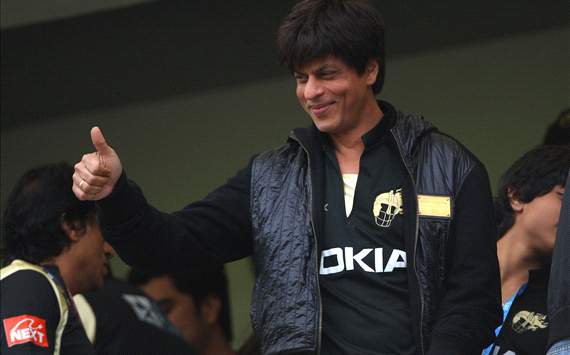 Shahrukh's brand equity will be very useful for Indian football
Indian football is crying for attention. Apart from the Goan giants and Kolkatan heavyweights, nobody really knows anything about Indian football. This lack of attention has an indirect effect on India's National team. The players certainly take pride in donning the Blue jersey, but there is no pressure from the country to perform. "Its Indian football after all, who cares?". When the players themselves are satisfied with merely qualifying for major tournaments and not aiming to win it, nobody will care. All that is about to change if the Bollywood superstar's deal with Srinivas Dempo goes through as planned. The glamour quotient available with the multi-award winning star is a crucial factor. A host of stars would like to follow in his footsteps.
A few years ago, Salman Khan had been approached by the AIFF to promote the game in India. He agreed and the AIFF officials were all praise for the filmstar and thanked him for his 'great gesture'. But have we seen Salman in any major football promotion campaign? Or even an I-League game? Nothing has been done so far. We have had no improvement in creating awareness about Indian football. Indian tennis legend Leander Paes had also been requested to help promote football, but as and when contract talks came into picture, the AIFF backed out. There was also the story of John Abraham planning to setup football academies across the country! Well, most certainly haven't seen any stars graduating from "the John Abraham football academy" till date. Shah Rukh has confessed that football was his first love, even before cricket. If the passion can be seen, the I-League will benefit from it.
The media loves to criticize the filmstar. Everytime his IPL team loses, everytime he breaks the law and everytime he makes a controversial comment - the media is the monkey on his back. The media would also love to analyse the luck SRK brings to Dempo and follow each of his team's matches. Most fans of the Bollywood Badshah would like to know what exactly is Dempo. When they read about Dempo, they would like to know more about their rivals. When they find out that a fierce rivalry exists between Goa and Kolkata, they would find out that Vijay Mallya's UB group owns and sponsors Mohun Bagan and East Bengal. And so on, the football knowledge expands.
Everybody does not like Shah Rukh Khan. People disliking SRK would follow teams other than Dempo to prove their point! In this way, we gradually build a fan following, of sorts. And it all begins with the superstar making that 50% investment in Dempo. The beautiful game needs support in India. It needs to grow and a boost is all we need. SRK's brand equity will be influential in promoting football. They call it "Ole time" in European football and we would soon call it "Korbo, Lorbo, Jeetbo Re time" in Indian football. Will the KKR fans give their loyal support to SRK's Dempo as well? We doubt it, but lets hope the pastures are greener for Indian football from now on...
Follow Sarthak Dubey on

How do you stay up to date with football when on the move? With

http://m.goal.com

– your best source for mobile coverage of the beautiful game.