Goal.com looks at why the man who led newly promoted Swansea to an enviable 11th placed finish is indeed the right man to revive Liverpool...
Flashback to August the 15th of last year, when a little known Welsh team made its foray into the top flight of English Football. Their first opponent - the free spending Citizens from the blue half of Manchester, who for the very first time were outright favourites to overthrow their neighbours from the red half of the city. To no one's surprise, this team, fondly known as 'the Swans', was comprehensively thrashed by four goals to none. Yes, it was the worst possible start to their first season in Premier League, but Swansea City had finally tasted blood. Collecting a meager 20 points in 19 matches, until December, their reputation as relegation favourites preceded them. But if there was one man who was not at all shaken throughout their run of bad results, it was their manager, Brendan Rodgers.
While the English media were busy plotting his side's relegation, he was a man quietly preparing his team for the more crucial phase of the season. A draw against an in-form Tottenham on New Year's eve and there was no looking back for the Swans. Picking up victories against the likes of Aston Villa, they went on to defeat the Gunners, before picking up a point against Chelsea.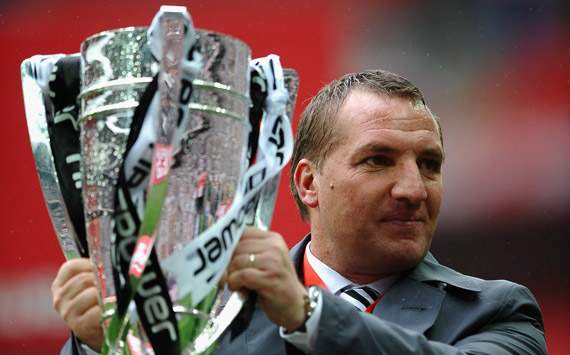 Come March 11th, and a circle had been completed – they had defeated Manchester City, the same team that thrashed them heartlessly in the opening round of the season. Swansea had finally arrived, and if there was anyone who deserved credit for this upswing in form, it had to be their manager from Northern Ireland. Not to forget, he had just won his first 'Premier League Manager of the month' the previous month, at the helm of the first ever Welsh team in the English Premier League and the rest as we all know is history.
The biggest gainer out of all this, however, is Liverpool. After splashing millions of pounds on players worth much less than what they were eventually acquired for and trying the likes of Roy Hodgson and Kenny Dalglish, the Reds seem to have finally landed their man who will soon sign on the dotted lines and immediately start plotting their ascent to a top four finish in English football.
Brendon Rodgers' similar records at the helm of Watford – he brought them back from the jaws of relegation to finish 13th in the Championship back in 2004 - and Swansea, only describe him as a man who doesn't crumble under pressure. Not many people know that he had been trained by the very best at the start of his managerial career while in-charge of the youth side at Watford. He was invited by none other than Jose Mourinho to coach the youth team at Chelsea in 2004, quickly being promoted to take charge of his reserve team back in 2006. While he acquired the Special One's winning mentality, he has however carved his own path to success.
As opposed to Mourinho's 'win at all cost' philosophy, he is an advocate of pass and move football, a brand perfectly suited to the style of play the Liverpool fans are so used to seeing at Anfield. That he started his career with smaller sides in the lower divisions, only speaks highly of a man, who has slowly carved a well thought career graph for himself and at only 39 years of age, already has a lot of experience under his belt. He was also given the special permission to visit the Spain training camp ahead of the Euro 2012 wherein he would meet the coaching staff of Vicente Del Bosque and exchange a few ideas.
"I like everything in him. He is ambitious and does not see football very differently from myself. He is open, likes to learn and likes to communicate."
-Jose Mourinho about his protege Brendon Rodgers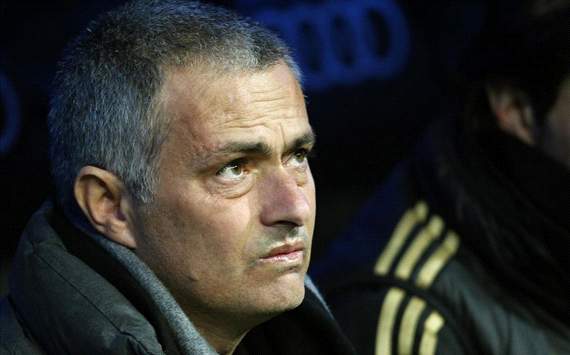 Fenway Sports Group (FSG) must understand that their young manager has to be backed by smart acquisitions in the transfer market unlike previous seasons and above all be given ample time to settle down for this 'project' to be a success. Fans need to be patient, as self-belief and backing their new manager will only help him settle down faster and churn out results to get Liverpool back to where they have always belonged – amongst the top four sides in England. He is taking over a team that's been in transition for the past two seasons, one that has taken far too long due to bad management.
The only drawback to his appointment will be handling the ego of the stars in the dressing room, something he is not used to, but in Steven Gerrard, he has a well-respected captain, who would definitely make that part of his job easier.
He is probably signing for arguably the toughest job in English football today, and even though he was not their first choice, this union was meant to be and hopefully will be here to stay for seasons to come. Brendon Rodgers will be doing what he does best - help the phoenix rise from the ashes, and at the age of 39, is definitely young enough to turn this one night stand into a torrid love affair.


Who would YOU want as Liverpool Coach? Is Rodgers the right choice? LET US KNOW...
How do you stay up to date with football when on the move? With http://m.goal.com – your best source for mobile coverage of the beautiful game.