Sergio Aguero's title-winning goal for Manchester City closed the curtain on a thrilling campaign in England's top flight, which shocked and amazed from start to finish
COMMENT
By Wayne Veysey | UK Correspondent
The greatest league season ever? Maybe. The barmiest and most dramatic in the English football annals? Without a shred of doubt.
From first kick to last, the campaign was littered with preposterous plot lines and results that would have had a Hollywood film director rejecting them for being too implausible.
It began in August, when Manchester United demolished Arsenal 8-2 and Manchester City went to Tottenham and battered them 5-1, and never let up as Champions League calibre clubs slugged out extraordinary goal-fests.
Like all good productions, the best was saved for last. By scoring two goals in added time just as Sir Alex Ferguson was preparing his 13th Premier League acceptance speech, City acted out the most compelling images seen on the final day of an English season.
Michael Thomas, whose status as scorer of the most famous title-deciding goal of them all had been secure for 23 years, now has to share top billing with Sergio Aguero, who struck a brilliant winning goal when the clock stood at 94 minutes.
The Argentine's historic strike sparked the kind of celebrations that only football can really inspire in the sporting world. It felt heart-warming. It felt like a watershed, too, given the oil riches upon which City's success has been built.
How the Premier League's executive men must have slavered. Its status as the greatest domestic show on earth is secure, despite the European misadventures of its leading clubs – Chelsea being a notable exception - this season.
"A crazy finish to a crazy season," observed a dazed-looking Roberto Mancini afterwards, sipping champagne with an Italy flag draped around his shoulders. "I have never seen a moment like this."
City's triumph might owe plenty to financial doping and the assistance of nearly £1 billion of Abu Dhabi's sovereign wealth but, after seven years of Manchester United and Chelsea title hoarding, they offer novelty value as well as the excitement of showcasing genuine world-class players. Among neutrals, they are popular winners.
Over a 38-match marathon, there is no fluke in being the first to cross the line, even if it takes two goals in injury time to confirm it.
By the time Aguero's shot flashed into the net and the sporting history of Manchester had been rewritten before the disbelieving eyes of a global TV audience of hundreds of millions, United's players were as powerless as their legions of followers across the world.
It has not been a vintage campaign for a Ferguson team that pales in comparison with some of its predecessors but they deserve great credit for running their neighbours and increasingly bitter rivals so close.
To be humiliated 6-1 at their Old Trafford fortress in late October and then draw eight points clear on April 8 when City lost to Arsenal and Roberto Mancini declared the title race was over (a phrase that was to become a mantra) was an astonishing achievement, especially given the disparity in quality between the two squads and the absence for most of the season of defensive leader and captain Nemanja Vidic.
United have been fighting against the twin threats of a greater economic power across the city and the Glazer family's own lack of investment in a team that is beginning to fray at the edges.
Perhaps the greatest demonstration of City's resources is that a combined 2011-12 Manchester select XI would feature perhaps only Wayne Rooney, Antonio Valencia, and maybe one of Jonny Evans or Rio Ferdinand from the red half of the region. At a push, an argument could be made for Michael Carrick to partner Yaya Toure in central midfield.
Yet the best player of the season was never involved in the title race at any point. That Arsenal finished third – albeit 19 points behind the top two - after their traumatic start to the season was mainly down to the brilliance of Robin van Persie, scorer of 30 goals, including a few out of the very top drawer, and provider of another 10.
Arsene Wenger's team spluttered over the final few hurdles, losing one and drawing three of their four matches leading up to the final day, but they have won from losing positions more often than anyone else this season and the comeback kings' 3-2 win at West Brom maintained the single point difference from Tottenham.
Harry Redknapp and his players will not know whether to spray champagne in joy or use it to drown their sorrows.
After an outstanding first half of the season, when they were breathing down the necks of the two Manchester clubs, Tottenham's momentum ground to a halt at the same time as the England manager's job become available.
Coincidence or not, the distraction appeared to overwhelm the staff and Spurs now have a week-long waiting game to find out if they will be jumping on board the Champions League gravy train.
There is little love lost between Tottenham and Chelsea, so it will not require too much effort from Spurs fans to be Bayern Munich supporters on Saturday, when the Champions League final will be staged.
It was entirely fitting that the race for top-four spots came down to the last day, even if the swing in results concluded in the teams being in the same position in the table at 5pm as they were at 3pm.
Outside of the top four, the story of the season was Newcastle United's re-emergence as a genuine force in the English game.
Alan Pardew's shrewd management, combined with outstanding scouting and value-for-money signings, enabled the Geordie Nation to begin the final day hopeful of clinching third position, which would have been about 10 places above where most observers originally expected them to finish the season.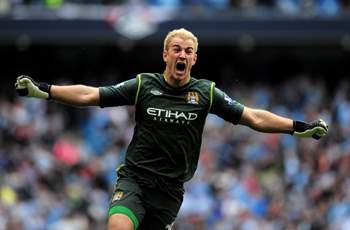 It all added up to nine months of quite extraordinary theatre, which simply could not be recreated anywhere else in the world.
In Papiss Demba Cisse, they recruited one of the most influential mid-season signings of them all, and the likes of Demba Ba, Tim Krul, Cheik Tiote and Fabricio Coloccini have proved themselves to be bona fide Premier League performers.
Chelsea and Liverpool began the season with hopes of mounting genuine title challenges but disastrous domestic campaigns were only partly sweetened by cup success. Kenny Dalglish's team won the League Cup and were beaten by Chelsea in the FA Cup final but strong rumours persist that it may not be enough to keep his job.
Roberto Di Matteo goes into the Champions League final unsure even whether delivering the club's holy grail will be enough for him to land the Chelsea job, despite displaying man-management skills that appeared beyond Andre Villas-Boas, his line manager up until early March.
There was plenty of excitement away from the big guns. Everton once again punched above their weight, ending the campaign with such style that they must wish the season ended, rather than began, in August.
Fulham have provided a tantalising glimpse in the last few months of a more expansive style under Martin Jol, while Swansea City's Taffy 'tiki-taka' has enabled them to dominate matches in a manner almost unrecognised from a newly-promoted club.
West Brom waved a fond farewell to new England manager Roy Hodgson, who organised them into a resilient outfit, while Stoke City and Norwich City were nobody's idea of a soft touch. Grant Holt began the season with doubts over whether he could cut it in the top flight. He could end it leading the line for England.
Sunderland's revival under Martin O'Neill bottomed out after they were knocked out of the FA Cup but it was a comfortable season on Wearside compared to that experienced at Aston Villa.
Alex McLeish was an unpopular appointment, and his relations with fans only soured as the weeks went by, with Villa only one defeat away from joining the likes of Leeds United and Sheffield Wednesday as giants of English football to sink into the lower league abyss.
By comparison, the stock of Roberto Martinez has never been higher after overseeing Wigan Athletic's extraordinary finish to the campaign, that eventually ended with them a barely believable seven points clear of the bottom three.
The drama at the top of the table was nearly matched by that at the bottom. QPR's reward for taking the brave decision to dispense with Neil Warnock in January was final day survival in the most extraordinary circumstances.
The signal from the touchline that Stoke had beaten Bolton Wanderers came seconds before Aguero's last-ditch intervention. Whether the players momentarily relaxed or not, only they know, but it felt fitting that such a compelling conclusion should end with both sets of players celebrating.
Of the three clubs that will rely on parachute payments to help extricate them from what promises to be the strongest-ever Championship next season, Wolves were dead and buried while most of us still had our radiators switched on for five hours a day. The Lancashire rivals Blackburn Rovers and Bolton put up better fights but walked the plank for most of the season before confirmation of their secondary status came in the last week.
It all added up to nine months of quite extraordinary theatre, which simply could not be recreated anywhere else in the world.
The Premier League is a unique spectacle. It comes, however, at a price. An exhausted England national team will no doubt pay for this at Euro 2012 but, for now, we should offer our thanks that these shores are home to the most watchable and competitive league on the planet.