Manchester City duo Sergio Aguero and Pablo Zabaleta feature in our final TOTW this season after they both found their names on the scoresheet in Sunday's dramatic 3-2 victory over QPR.
The right-back bagged Roberto Mancini's side's opening goal of the afternoon, and while the Hoops took a shock 2-1 lead, his Argentine compatriot capped a stunning comeback in stoppage time to seal City's maiden Premier League title.
Paul Scholes and Patrice Evra are both included in our XI following Manchester United's 1-0 win over Sunderland at the Stadium of Light, yet the three points were not enough to secure a 20th league championship for the Red Devils.
Black Cats goalkeeper Simon Mignolet makes his debut in our TOTW despite the defeat, with the Belgian pulling off a number of fine saves to ensure the deficit remained at just one goal.
Tottenham's Younes Kaboul lines up in defence for the sixth time this season after Harry Redknapp's side saw off Fulham 2-0 to finish in fourth place. Joining him is team-mate Aaron Lennon, who features in our side for the first time this season after he assisted Jermain Defoe for Spurs' second of the afternoon.
While the loss meant Martin Jol's side were unable to overhaul Liverpool into eighth place in the table, Moussa Dembele's exciting display will ensure he is high on a number of club's transfer lists when the summer window opens, and the 24-year-old is also included.
Rounding off our TOTW are Everton trio Nikica Jelavic, Steven Pienaar and John Heitinga, who all found the back of the net in the Toffees' 3-1 win over Newcastle at Goodison Park.
The on-loan South African opened the scoring for David Moyes' men, while the ex-Rangers striker bagged his 10th goal since arriving at the club in January to double the lead - in turn keeping goalscoring Norwich City duo Simeon Jackson and Grant Holt out of the side.
Heitinga, whose long ball led to Jelavic's goal before grabbing his side's third of the afternoon, rounds off our TOTW at centre-back.
Honourable mentions go to Arsenal's Andre Santos, Canaries midfielder Jonny Howson and Chelsea striker Romelu Lukaku, with the Belgian striker impressing in his first league start for the west Londoners.
MIGNOLET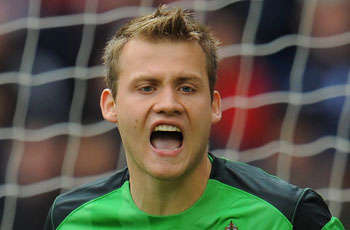 SUNDERLAND
vs Man Utd (H)
Player Rating:
8.5
TOTW Apps:

2

ZABALETA
KABOUL
HEITINGA
EVRA
MAN CITY

TOTTENHAM
EVERTON
MAN UTD

vs QPR (H)
vs Fulham (H)
vs Newcastle (H)

vs Sunderland (H)
Player Rating: 7
Player Rating: 7
Player Rating: 7
Player Rating: 8

TOTW Apps:

2


TOTW Apps:

6


TOTW Apps:

1


TOTW Apps:

3

LENNON
PIENAAR
SCHOLES
DEMBELE
TOTTENHAM

EVERTON
MAN UTD

FULHAM
vs Fulham (H)
vs Newcastle (H)
vs Sunderland (A)

vs Tottenham (A)
Player Rating: 7.5
Player Rating: 8
Player Rating: 8.5
Player Rating: 7.5

TOTW Apps:

1

TOTW Apps:

2


TOTW Apps:

4


TOTW Apps:

1


JELAVIC
AGUERO








EVERTON

MAN CITY



vs Newcastle (H)
vs QPR (H)



Player Rating: 7.5
Player Rating: 7.5



TOTW Apps:

2


TOTW Apps:

7