Goal.com is publishing exclusive extracts from Luca Caioli's new book, Ronaldo: The Obsession for Perfection. This eighth excerpt looks at his first league success in England
Goal.com is publishing exclusive extracts from Luca Caioli's new book, Ronaldo: The Obsession for Perfection, which charts the Portuguese forward's spectacular rise from a poor childhood in Madeira to superstardom with Sporting Lisbon, Manchester United and Real Madrid

With only three matches remaining, United have a five-point lead over Jose Mourinho's Chelsea, who have just been knocked out of the other Champions League semi-final at the hands of Rafa Benítez's Liverpool. On Saturday May 5, 2007, Ferguson's men face the first hurdle in their race for the Premier League title: the derby against Manchester City. The Blues do not have any great objectives as far as the league is concerned. But nothing would give the fans more pleasure than upsetting their eternal rivals after their European setback.
But that wouldn't happen – Cristiano Ronaldo and Edwin Van der Sar wouldn't allow it. And while it's a relatively quiet match for Wayne Rooney and Ryan Giggs, Cristiano lights up the Etihad Stadium.
Michael Ball makes life difficult for him, but Ronaldo's efforts pay off in the 33rd minute when the left-back fouls him in the box. The Portuguese steps up to convert the penalty, making it 1-0 to United. Thanks to Van der Sar, the scoreline remains unchanged at the final whistle. In the last moments of the match, the Dutch keeper blocks a penalty from Darius Vassell to seal the win for United. Ronaldo's spot-kick takes his tally to 17 Premier League goals, third top scorer in the league after Chelsea's Dider Drogba (20) and Benni McCarthy of Blackburn Rovers (18). Above all, his goal has kept United in the running for their 16th league title – his first big trophy.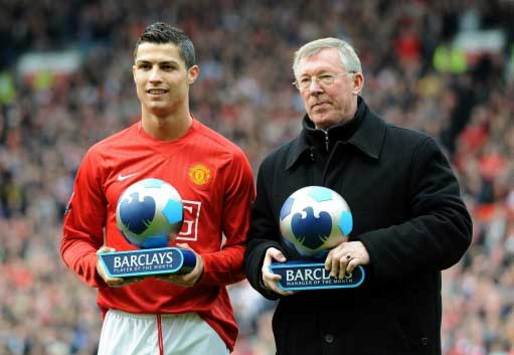 That winning feeling |
Cristiano was a success story under Sir Alex Ferguson
He wins it on a Sunday afternoon from an armchair in front of the TV. Second-in-the-league Chelsea are playing Arsenal at the Emirates Stadium. If they lose or draw, United will be champions. Things are off to a good start. The Gunners have scored a penalty and Chelsea's Dutch defender Khalid Boulahrouz has been sent off. Cristiano, Ze and his cousin Nuno are ecstatic. But the match is not over yet and Michael Essien equalises for the Blues.

The final 20 minutes are heart-stopping. Ronaldo has all his fingers crossed and has bitten down all his nails. He doesn't want to wait another week to be crowned champion. And he doesn't have to, as Chelsea draw 1-1. United are the champions and Ronaldo pops the champagne. He calls his mother and his friends, he receives dozens of congratulatory messages, and he races into town to celebrate with his team-mates. The party goes on into the early hours of the morning and continues the next day in the dressing room. But the most emotional celebrations are yet to come.
| | |
| --- | --- |
| United are the champions and Ronaldo pops the champagne. He calls his mother and his friends, he receives dozens of congratulatory messages, and he races into town to celebrate with his team-mates | |
On Wednesday May 9 at Stamford Bridge, the Chelsea players form a guard of honour for their opponents. United have regained the English crown after a four-year drought, ending the reign of the Blues, who won in 2005 and 2006. Above all, they have won it with some impressive figures: best attack in the league (83 goals), second-best defence after Chelsea (only 26 goals conceded), only four defeats – and they have held the top spot since day one.
Ferguson's gamble on an attacking game has paid off, even against Chelsea, who have asserted their dominance with a faultless formation and a cast-iron defence. Winning his ninth league title, Sir Alex has managed to teach even Mourinho a lesson. The Special One will not hesitate to exact his revenge: on May 19, Chelsea beat United 1-0 in the FA Cup final thanks to a Drogba goal. But on that Sunday, May 13, the final day of the Premier League, United have the chance to celebrate in front of the fans at Old Trafford.
Enveloped in a Portuguese flag, Ronaldo gets to lift the trophy and take it round the pitch with his mother, his brother Hugo, Ze, Nuno and Rogelio. They end up soaked to the skin by rain and champagne, before gathering for a family photo in the centre of the pitch. A smiling Ronaldo is pictured, thumbs up, surrounded by his loved ones.
www.corinthianbooks.net
With every extract published, Goal.com will be giving away one copy of Luca Caoili's new book. To have a chance of winning an ebook or hard copy of Ronaldo: The Obsession for Perfection, answer the following question: What was Cristiano Ronaldo's first trophy at Manchester United? Send answers to competitions@goal.com - the winner will be announced in next Friday's extract.
Last week's winner: Anthony Onyeahialam