The competition has provided the launchpad for many a stellar talent but for some it has represented the peak of many an unfulfilled career
ANALYSIS
By Ryan Benson
On Wednesday night,
Chelsea
have the chance to win the FA Youth Cup for the second time in three years as they take a 4-0 lead into the Ewood Park-staged second-leg of the final against
Blackburn Rovers
.
The competition has proved the catalyst for many a stellar talent but for every Ryan Giggs, there is an Alan Tate, a player who does not quite make it as a professional player, for one reason or another.
Here,
Goal.com
takes a look at five players who have gone on to make a big impression in the Premier League after appearing in the FA Youth Cup final since 2000, and five who have flopped.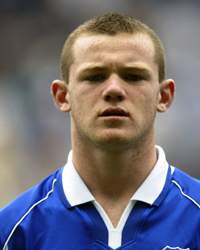 A 16-year-old Rooney was the standout player in the Everton side that reached the 2001-02 FA Youth Cup final, turning in match-winning performances consistently, and although this youth side was full of players two years older than him, the striker was far from intimidated.
During Everton's cup run, Rooney managed eight goals in eight matches, including one bagged in the first-leg, a goal that has become infamous for the then-teenager's celebration as he showed a t-shirt with "Once a Blue, always a Blue" scrawled on it.
Everton lost the final 4-2 on aggregate that year, with a 4-1 home loss in the first-leg ultimately proving their downfall, but a man of the match performance from Rooney in the trip to Villa Park gave a glimpse of what was to come.
Rooney got his first Premier League goal five days before his 17th birthday in October 2002, a screamer than left David Seaman helpless in the Arsenal goal, but it also ended a run of 30 matches unbeaten for the Gunners.
The rest of Rooney's career to date speaks for itself, with over 70 caps for England, Manchester United's fourth all-time leading goalscorer, a Champions League winner and owner of multiple Premier League winners' medals all before he is 27.
MICAH RICHARDS - MANCHESTER CITY

One of the more fortuitous FA Youth Cup victories came in 2006, as Liverpool overcame Manchester City 3-2 on aggregate. In the first-leg City were very poor, with Craig Lindfield and Co. running out deserved winners.
City were far more impressive in the second leg, particularly at the back where Richards starred. The defender had already made his first team debut but he was restored to the Under-18s for the trip to Liverpool and was simply majestic.
Lindfield looked consistently isolated up front for Liverpool, and the Reds eventually brought on Miki Roque to help out their defence.
The Spaniard's presence certainly helped and they held on to the 3-2 aggregate win, but Richards has not done too bad for himself since and is now often labelled as the best right-back in the Premier League.
THEO WALCOTT - SOUTHAMPTON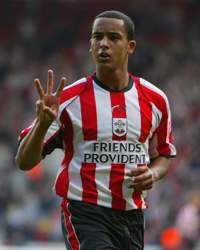 There are few players in the Premier League who divide opinion quite like Theo Walcott.
The Arsenal winger is an integral part of Arsene Wenger's team, often being deployed on the right-wing, but people are still not convinced he is a winger.
However, this season he has picked up a respectable tally of 11 assists, plus eight goals, but when he was earning his reputation as a youngster, it was assumed he would eventually be played through the middle, with some even going as far as referring to him as Thierry Henry's 'heir'.
Walcott's FA Youth Cup final came in 2005 as Southampton came up against Ipswich Town. Gareth Bale, Adam Lallana, Nathan Dyer, Leon Best and Tim Sparv were all team-mates of Walcott's, and although they lost 3-2 on aggregate, the then England youth international was electric.
Walcott's career then took the most unexpected of turns after he was included in the England squad for the 2006 World Cup, despite not having made his debut for Arsenal. It heaped unnecessary pressure on his young shoulders and hindered his development - in truth he is still some way from fulfilling his potential.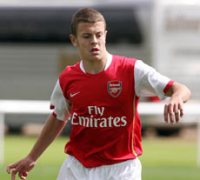 Although still yet to truly explode on the world stage, Wilshere is regarded as a key member of the Arsenal team when fit and has looked the part ever since he first appeared for Arsene Wenger's side.
Elegant on the ball, a formidable passer and hawk-like vision, Wilshere had already played in Europe's elite club competition before being victorious in the FA Youth Cup.
Liverpool had no answer to him in the 2009 final and the diminutive playmaker finished the match with two assists and a goal of his own as he dispatched a penalty 10 minutes before half-time.
The 20-year-old has had a torrid time with injuries in the last year, but he has already proven himself to be verging on world class, also being touted as the player to revive the England national team.
DANIEL STURRIDGE - MANCHESTER CITY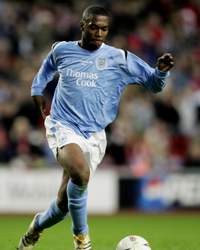 Ironically Sturridge scored in the 2008 final against the club who would eventually prise him from Manchester City. After a 3-1 home win in the first-leg, City were in the driving seat.
Sturridge was not involved in the second-leg, but he made his presence known in the first as he put in an all-action display.
The match saw two of the most eye-catching teenagers in the UK face-off against each other, with Sturridge in the mood for City, and Gael Kakuta lively for Chelsea.
However, it was the Englishman who edged it, as the affair effectively came across as one trying to out-do the other.
Sturridge opened the scoring five minutes after half-time with a neat finish in the area, but his overall play caught the eye immensely, as he drifted around seamlessly, and added fancy flicks when he could.
This season he began well and managed nine league goals before Christmas, but a loss of form has seen him tail off a little, getting just another two between December 22 and May.
SAM HEWSON - MANCHESTER UNITED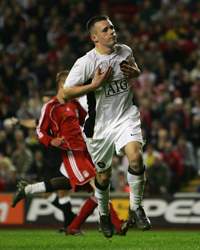 Hewson was the typical box-to-box midfielder, good on the ball, a decent passer and he was not a afraid to put a tackle in. For a long period of time he captained United's reserve team and was clearly rated at Old Trafford.
In his days in the Under-18s he was also captain and he skippered the Red Devils to the Threlfall-inspired defeat in 2007, but similarly to the Liverpool defender, Hewson had a mixed time over the course of the two legs.
The first leg saw Hewson grab the winner for United as he netted from the penalty spot with about 15 minutes left to play, but he had been a nuisance all match and was United's creator-in-chief through the middle.
The second leg was fairly similar in the sense that Hewson was solid, if a little quieter, but he still looked as though he could make something happen late on for United, but he failed.
In the end, Hewson missed United's final penalty allowing Liverpool to win the trophy, and although he went on to play many times for United's second-string, the midfielder's career has stagnated drastically.
Loans to Hereford and Bury did not work out, neither did a free transfer to Altrincham, and he now finds himself playing for Fram in the top tier of Icelandic football.
CHRISTIAN KABEYA - ASTON VILLA

Since the very beginning of his career, Kabeya was highly-coveted as he moved from his native DR Congo to Belgium, where he started playing for K.S.K. Ronse, and then on to Excelsior Mouscron, who were in the top flight.
Scouts from several Premier League sides had been watching the central midfielder and his powerful style of play was earning plenty of admirers.
Eventually he signed for Aston Villa, despite a number of complications in the process. His first year at the club could not have been much better as he helped inspire the club to the FA Youth Cup final, but they ultimately lost to Middlesbrough.
However, all in all Kabeya had impressed, and the over the two legs of the final people were impressed and he earned international youth caps with Belgium all the way up to Under-19 level, but it soon all went wrong.
In 2006, at the age of 19 Kabeya was sacked by Aston Villa and jailed for four months after caught using the credit card of a team-mate, stealing around £5000.
A year later, in 2007, he returned to Belgium, getting a contract with AGOVV Apeldoorn, but after two years he was released and he has not played for a club since.
ROBBIE THRELFALL - LIVERPOOL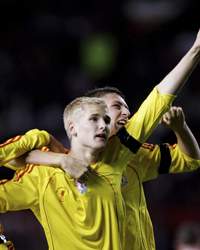 If you have not heard of Threlfall, then you are forgiven, because since his impressive cup final, little has come of his career.
A winner in 2007, Threlfall's stamp was all over the final, both legs, not just the one. The first leg saw the left-back put the ball past his own goalkeeper just after half-time and that soon led to United getting a second and winning at Anfield.
Things got significantly better in the second leg, however. The match finished 1-0 to Liverpool at Old Trafford, with Threlfall rounding off an impressive defensive display with a well-taken half-volley on the edge of the penalty area.
His shot flew past Ron-Robert Zieler and into the net, with the match eventually going to penalties. United had taken four spot-kicks, scoring three, while the visitors had taken three and scored them all, and then Threlfall stepped up.
The defender confidently buried his penalty, which eventually became the winning penalty. However, since then his career has hardly been extravagant.
Loans at the likes of Hereford United and Northampton Town were followed eventually by a move to Bradford City where he remained for about two years, but he is now unattached and has been looking for a new club for almost a year.
FEBIAN BRANDY - MANCHESTER UNITED

Brandy appeared in the FA Youth Cup for United in two seasons and was a part of the same team as Hewson in 2007. In both years, the pint-sized forward showcased his potential and many were taking notice.
In 2006, United missed out to Liverpool in the semi-final, but Brandy was brilliant. The attacker was everywhere, dribbling well with the ball, getting into promising positions and showing off his blistering pace.
Luck was not on United's side that year, so Brandy and his team-mates had to wait until the following year, but it was all a bit familiar. Again Brandy was impressive, up front alongside Danny Welbeck, tormenting the Liverpool backline at times, but despite winning a penalty, he missed a late chance described as "key" by his coach Paul McGuinness.
Of course, United failed that year too, but Brandy's talents had been recognised and he was loaned out to Swansea City twice, making 33 appearances all together, scoring three goals.
Subsequent loans to Hereford and Gillingham did not work and he eventually moved to Notts County for free, but he played just four times before leaving.
Brandy was talented, as his caps all the way to Under-20 level for England show, but he is now without a club again after joining Greek side Panetolikos and departing without playing for them.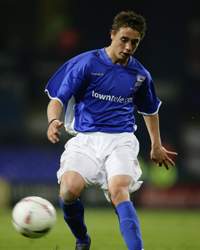 The story of Lordan is quite the contrast to Walcott. This Irish midfielder was the decisive factor in Ipswich's 3-2 aggregate victory over Southampton in 2005 as he showed a clinical nature in front of goal, as well as excellent drive.
Continuously he got forward, almost playing as an extra striker and he finished with a well-earned double as Ipswich lifted the trophy.
Since then, however, Lordan's career could not be more different to Walcott's, a player he defeated in 2005.
The midfielder has struggled with injuries fairly regularly and as a result has become a bit of a journeyman in his native Ireland.
After leaving Ipswich, he joined Cork City and was soon loaned out to Waterford United in 2007. The following two years Lordan played with Ballincollig, his youth team, and Blarney United, a local side in Cork.
Eventually he re-signed for Cork, before leaving due to injuries and then returning once again, but in the last two years he has only managed six appearances.