This has been without doubt one of Liverpool's most topsy-turvy seasons since the inception of the Premier League.

What started as a bid to secure a top-four finish and a return to Champions League football has ended in a miserable league campaign but the League Cup and, potentially, the FA Cup secured. The Reds lifted the former back in February and have the final of the latter against Chelsea to come on Saturday, but either way it feels as if those victories are salvaging success from disappointment.

Kenny Dalglish has been forced to cope with long-term absences for Lucas Leiva, Steven Gerrard and Luis Suarez this term, but that the Uruguayan's suspension could have been avoided will particularly grate. The unedifying affair between the former Ajax man and Manchester United's Patrice Evra has somewhat defined the club's season, one in which they have rarely gained friends.

The disappointment of recent big money buys has also been a theme, with Andy Carroll and Stewart Downing still failing to set the world alight as the season reaches its climax. The 'buy British' policy has also been widely scorned - with both Charlie Adam and Jordan Henderson struggling - and blamed for the Merseyside outfit's poor league form.

Yet, this could well be viewed as a transitional season; the first opportunity to shake off the cobwebs from the constrictive Hicks & Gillett reign at the club. When history looks back on this year, it could well show two domestic cups won - and who would turn their nose up at that?

Below, in alphabetical order, are Goal.com's three nominees for Liverpool's player of the season, based on their club performances in all competitions. We then cast our vote at the bottom before leaving it up to you, the readers, to have your say.
| | |
| --- | --- |
| | |
Competition
Games

Goals
Assists
Booked

Sent off

League
26
6
3
6
0
Cup
9
3
2
0
0
Europe
0
0
0
0
0
Other
0
0
0
0
0
Total
33
9
3
6
0
As a free transfer, the Welshman is without doubt one of the finest pieces of business done by the club since Kenny Dalglish's return as boss.
His pace and goal threat make him one of the Reds' most potent attacking weapons and his leadership has, without doubt, helped a side which is young and sorely lacking in character at times.

The Cardiff-born forward's performance against Manchester City in the League Cup semi-final will doubtless go down as the greatest of his career as he ran himself into the ground and evidenced all his quality against his former employers.

If there is one downside to Bellamy's arrival, it is that his battle with knee problems has restricted him from starting in consecutive games. What Dalglish would do to have a younger version of the brilliant forward on his books during a season in which his side have often looked toothless.
| | |
| --- | --- |
| | |
Competition
Games

Goals
Assists
Booked

Sent off

League
29
11
3
5
0
Cup
7
6
4
0
0
Europe
0
0
0
0
0
Other
0
0
0
0
0
Total
36

17

7
5

0


Suarez has undoubtedly proven his world-class quality this season, though it is unlikely that it will be remembered in such a way by most observers.
The racism controversy that surrounded the striker in October, in which he was alleged to have abused Patrice Evra, is something that may stick with him for his time in England. The predictable jeers of opposition fans at every game since are testament to this.

However, the Uruguayan has his own way of silencing the criticism - by being an incredible footballer.

There have been several highlights so far in this sense; his nutmeg and curling finish against Stoke, two goals against Everton and one of the finest hat-tricks the league has seen against Norwich City containing a stunning lob from near the halfway line.

Though he has failed to be prolific for a striker of his quality, often characterising the profligacy of this Liverpool side, his ability has shone through on several occasions.
| | |
| --- | --- |
| | |
Competition
Games

Goals
Assists
Booked

Sent off

League
27
2
1

2
1

Cup
10

1

0
1
0
Europe
0
0
0
0
0
Other
0
0
0
0
0
Total
37

3

1
3
1
In a league season which has at times been 'backs to the wall', the Slovakian defender has begun to step up and look every part a player who could feature for Liverpool in the long term.
Alongside Daniel Agger, Skrtel has stepped out of Reds legend Jamie Carragher's shadow to claim a first-team berth and has been a dominant figure at the heart of defence.

Though he would probably hope to have scored more goals, his finish against Cardiff in the League Cup final - an equaliser prior to Liverpool's win - could not have been more vital and he has also provided the breakthrough in other games.

His is now perhaps one of the first names on the teamsheet and, as part of one of the meanest defences in the league, it's hard to blame Skrtel for the club's attacking woes and non-existent chase for a top-four finish.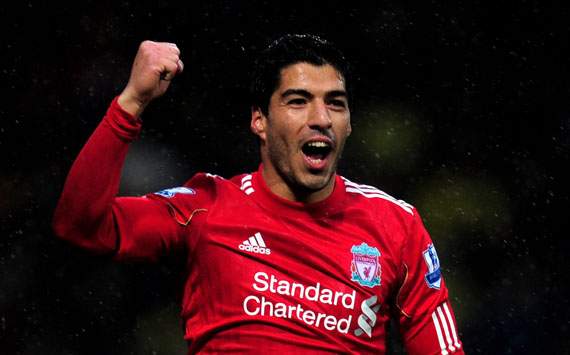 Though it might be hard to conciliate awarding a member of Liverpool's attack during such a wasteful season in front of goal, the brilliance of Suarez is undoubted.
He has provided many of the highlights of an odd campaign which has seen the Reds struggle and beat all in their path on alternating weeks and in alternating competitions.

The long-distance strike against Norwich will live long in the memory of fans and, should he get the right help in the summer, there is a feeling that the former Ajax man could get even better.