There can be little doubt that Montpellier are the surprise package of European football this season, rising from seemingly nowhere to install themselves as favourites to claim a first-ever Ligue 1 crown.
A club at which greats such as Laurent Blanc, Eric Cantona and Carlos Valderrama have previously graced, la Paillade have never finished higher than third in their domestic competition, but with only a sprinkling of games left in the Championnat season, they enjoy clear water between themselves and nearest challengers Paris Saint-Germain and Lille.
Head coach Rene Girard has done an outstanding job, bringing through several stars from the youth system and combining them with flourishing talents from elsewhere.
Although some critics would doubtless point to the troubles of Marseille and Lyon as one of the chief explanations of Montpellier's rise to prominence, they have thus far beaten off the challenge of big-spending PSG and the defending champions, showing remarkable consistency over the campaign, particularly at home, where they've won 15 of their 18 matches.
Montpellier's play has been a blend of flair and pragmatism, with Younes Belhanda offering the former and Olivier Giroud often used as the rather more direct route forward. Throughout their side they have shown remarkably few signs of weakness, although the conclusion of the season promises to be both tricky and dramatic.
No matter what happens in the next two-and-a-half weeks, though, this season will be remembered for the outstanding team that Girard formed at the Stade de la Mosson.
Below, in alphabetical order, are
Goal.com
's three nominees for Montpellier's Player of the Season, based on their club performances in all competitions. We then cast our vote at the bottom before leaving it up to you, the readers, to have your say.
| | |
| --- | --- |
| | YOUNES BELHANDA | PLAYMAKER |
Competition
Games

Goals
Assists
Booked

Sent off

League
27
12
3
5
2
Coupe de France
2
1
1
1
0
Coupe de la Ligue
1
0
0
1
0
Total
30
13
4
7
2
At the start of this season, Montpellier owner Louis Nicollin boldly predicted that by the time this campaign is over, people would be taking about the 22-year-old Morocco international playmaker more than Eden Hazard. That will not be the case, but the fact that both Real Madrid and Barcelona have cast their eye over the attacker during the season indicates that the charismatic Nicollin was not far off the mark.
Belhanda has been the creative inspiration behind the side, providing outstanding technique just behind Giroud in attack. But he is not simply an architect of goals; he scores them too, contributing an impressive 12 in the league campaign to date.
The Avignon-born player may have said he'll stay with Montpellier next season, but he's sure to receive some tempting offers in the summer, and France will regret allowing him to slip through their net when they travel to Euro 2012.
He is one of two Montpellier players on the shortlist for France's Player of the Year award.
| | |
| --- | --- |
| | OLIVIER GIROUD | ATTACKER |
Competition
Games

Goals
Assists
Booked

Sent off

League
32
21
8
5
0
Coupe de France
4
2
1
0
0
Coupe de la Ligue
2
2
0
1
0
Total
38
25
9
6
0
It's not easy to reach the 20-goal mark in Ligue 1, with only a handful of players achieving this milestone over the course of the last decade. Giroud can now add his name to the list, having struck 21 times in Le Championnat this season; goals that have been essential to Montpellier striding up the table.
The striker has been one of the great successes of the Girard era, picked up less than two years ago after a couple of strong seasons in Ligue 2 with Tours. With a reported transfer fee of just €2 million, he has proven to be something of a bargain, providing not only a reliable goal scoring presence, but a whole platform from which Montpellier can build their attacks.
Comfortable taking the ball to his feet, to his chest or to his head, the striker has proven exceptionally difficult to shackle this season because of his strength, technique and movement. He has been rewarded for an outstanding campaign with a France call-up, and it would be surprising if he was not in Laurent Blanc's summer plans.
Like Belhanda, he has been nominated for Ligue 1's Player of the Year award.
| | |
| --- | --- |
| | MAPOU YANGA-MBIWA | DEFENDER |
Competition
Games

Goals
Assists
Booked

Sent off

League
30
1
0
5
1
Coupe de France
2
0
0
0
0
Coupe de la Ligue
2
0
0
0
0
Total
34
1
0
5
1
Montpellier's defensive record this season has been outstanding, and Yanga-Mbiwa has been a rock at the heart of their rearguard, despite possessing an ability to play anywhere along the back line.
Only 22-years-old, he's been playing for Montpellier's first team since breaking through the youth system five seasons ago, and has captured plaudits for his strength and pace since then. This term, he's been greatly aided by the presence of Hilton alongside him in defence, with the veteran Brazilian providing an old head that compliments the youngster's undoubted ability.
With the Premier League calling, this will be Yanga-Mbiwa's last campaign with the club, and Nicollin has already said that he is the only player he is willing to release in the summer. This is not a criticism of the player's ability by any means; it's a mark of respect to the service the young man has given the club, and he is set to go out with a bang.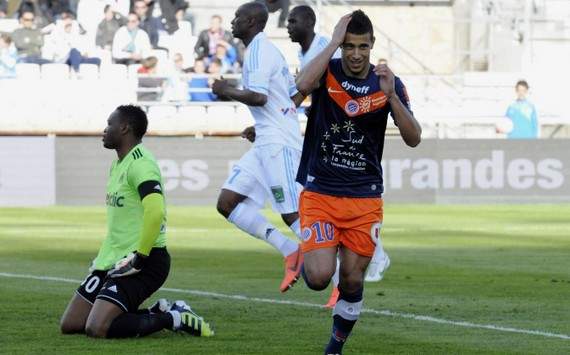 Belhanda has to take this award by a short head over Giroud. He has so often been the heartbeat of the side, providing technical excellence and the imagination at crucial times. When nerves might have kicked in during recent weeks, it's inevitably been the Morocco star who's been first to push himself into the spotlight, showing confidence and ability.
Given what he's achieved this season, it's little wonder the likes of Barca and Madrid are keeping a close eye.