The Argentine striker was unstoppable as Deportivo crushed Chivas, netting the Copa's first quadruple since 2008 and assuring a place in the next round for the Ecuadorians
Copa Libertadores Player of the Week: Matias Alustiza
Club: Deportivo Quito
Country: Argentina
Age: 27
Role: Striker
Achievement: A fantastic four-goal haul which sent the Ecuadorian team into the last-16
in style
Argentina's famous stars in Europe are only the tip of the iceberg when it comes to exports holding a Criollo passport. Lionel Messi, Sergio Aguero and Carlos Tevez may grab headlines, but across South America scores of journeymen traverse the continent looking for opportunities denied to them in their home nation.

Ecuador's Primera Division is perhaps the most forgiving proving ground for Argentines who have failed to make their mark at home. First Claudio Bieler, then Hernan Barcos became darlings of the Liga de Quito support thanks to their prodigious goalscoring, and Luciano Figueroa was key in Emelec's march to the Copa Libertadores knock-out stages ahead of Flamengo's superstars. After an incredible display on Tuesday evening, Azul native Matias Alustiza more than deserves to be mentioned in the same breath as these heroes of Quito and Guayaquil.

The 27-year-old, who has bounced around various clubs in Argentina and Spain - with unsuccessful spells at Xerez and Albacete on his CV - without ever really settling, was on target no less than four times for Deportivo Quito as they destroyed a highly-rated Chivas side 5-0 in the final round of Group 7. Two goals in each half for the Argentine were enough to send Deportivo into the last-16 at the expense of Uruguay's Defensor Sporting, who missed by just a point despite a 3-1 defeat of group leaders Velez Sarsfield in Buenos Aires.

The team directed by fellow Argentine Carlos Ischia thus join Emelec as Ecuador's representatives in the next stage, a great achievement for a nation that, with the exception of cup specialists Liga de Quito, have no great pedigree on the continental level. Alustiva also became the first player to net four in a single Copa match since Mauricio Molina's quadruple for Santos in 2008 and, currently just one strike behind Atletico Nacional's Dorlan Pabon in the race to be 2012's top scorer, will be hoping to add to his six goals as Deportivo continue to upset South America's strongest clubs.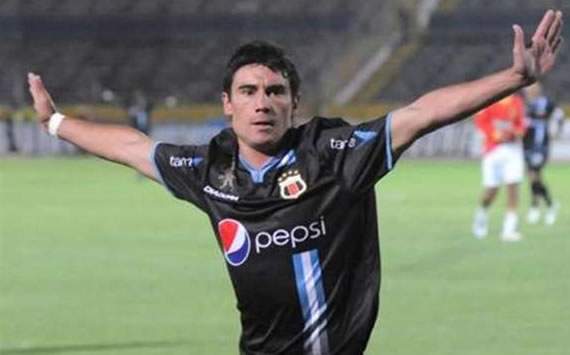 Honourable Mentions

Walter Flores, Bolivar
: The Bolivian international scored a sensational effort from 30m out to put his side 2-0 up against Universidad Catolica in a must-win game, and an eventual three-goal victory sent the La Paz side through at the expense of the Chileans.
Juan Roman Riquelme, Boca Juniors
: The brilliant No. 10 had missed several Boca games through injury, but when he took the field against Zamora it was if he had never been away. A commanding performance running the Xeneize midfield was capped with a powerful volley to cap a 2-0 victory over the Venezuelans.

Paulinho, Corinthians: The Brazilians destroyed Deportivo Tachira 6-0 in Sao Paulo to qualify as the second-best team in the entire group stage, and Wednesday's victory was inspired by Paulinho. The 23 year old pulled all the strings in midfield, and a first-half goal was no less than he deserved for a masterful performance.