10.

Barcelona 1-0 Real Madrid

–

May 9, 1929

Josep Sastre (89')
We can't talk about the best win versus Real Madrid without talking about their first victory over them in La Liga. This was the second time the two faced off in the La Liga, with Madrid winning the first 2-1 away from home. Josep Sastre scored the late winner as Barcelona won the game played at the Estadio Chamartin. Barcelona went on to win the inaugural Liga title that year.
9.

Barcelona 5-0 Real Madrid

–

April 21, 1935
Ventolrà (43', 62', 68', 82'), Escolà (48')
After four years of not being able to beat Real, Barcelona finally ended the drought with a commanding 5-0 victory. Legendary winger, Martin Ventolrà, scored four goals while Josep Escolà, who spent 11 seasons with the club, scored one as the Blaugrana dismantled Madrid. Barcelona have had four more games in their history where they've beat Real Madrid by a score of 5-0.
8.

Barcelona 3-2 Real Madrid

–

August 17, 2011
Andrés Iniesta (15'), Lionel Messi (45', 88') | Cristiano Ronaldo (20') Karim Benzema (81')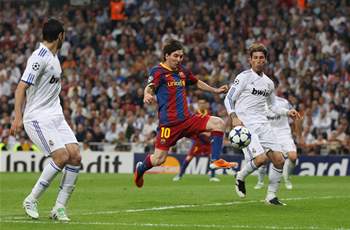 Messi seals the final in the dying minutes of the match
Lionel Messi made one and scored two in the Super Cup final, including the winner two minutes from time, as the Catalans won 3-2 on the night to claim a 5-4 aggregate win.
The match looked headed for extra-time until Messi volleyed a late winner before Marcelo's sending off for a reckless scissor tackle on Fabregas sparked an injury-time brawl in which Mesut Ozil and David Villa, both of whom had already been substituted, were shown red cards, and Madrid manager Jose Mourinho appeared to tweak the ear of one of the Barcelona staff.
7.

Barcelona 2

-

1 Real Madrid

–

June 4, 1983
Victor (32'), Marcos (90') | Santillana (50')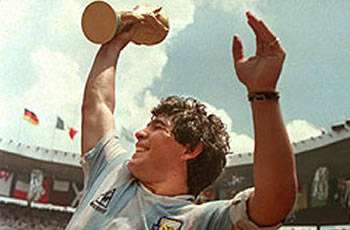 Maradona, Fifa Player of the Century starred at the Camp Nou for a couple of seasons

The 1983 Copa Del Rey final was an intense match. Two great players highlighted the match as Diego Maradona battled against Juanito. The game was tied at one a piece in stoppage time and seemed to be heading to extra time when an excellent cross headed by Barcelona's Marcos Alonso Peña passed the outstretched arms of Real goalkeeper Miguel Ángel, giving Barça the Copa in a thriller.
6.

Barcelona 2

-

1 Real Madrid

–

November 23, 1960
Verges (33'), Evaristo de Macedo (81') | Canario (87')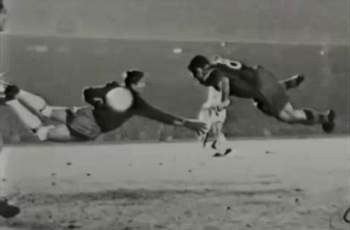 Macedo heads in the goal of the game
The Real Madrid team of the mid-1950s to 1960s was one of the greatest teams of all time. Having eliminated Barcelona 6-2 the previous year's European Cup semi-finals, the two faced off in the 1960-61 European Cup, first round. After a 2-2 draw in the first leg, Barcelona had their revenge in defeating the reigning champions 2-1. Being an El Clásico, the game had to see controversy where referee Reg Leafe disallowed 4 goals, three of these decisions were in Barcelona's favour.
5.

Real Madrid 1-3 Barcelona

–

December 10, 2011
Benzema (1') | Sánchez (30'), Marcelo OG (53'), Fábregas (66')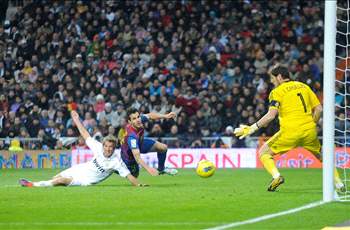 Fabregas killed the tie by scoring the third
Barcelona bounced back from conceding the fastest goal in El Clasico history to stun Real Madrid and replace their rivals at the top of La Liga. It was one of the more closely contested Clasicos of the past few years, notably in the first half when Madrid took chunks out of Barcelona's usual ball possession. Mourinho's troops couldn't keep up the intensity, allowing Alexis Sanchez to equalise 15 minutes before the break. The men in white pummelled their arch-rivals' goal early in the second half, but a Marcelo own goal on 53 minutes turned the game on its head as the wind was knocked out of Madrid's sails, Barca rediscovered their dominance, and Lionel Messi turned on the magic, playing a part to set up Cesc Fabregas as the Blaugrana put the proverbial nail in the coffin.
4.

Barcelona 5

-

0 Real Madrid

–

January 8, 1994
Romário (24', 56', 81'), Koeman (47'), Iglesias (86')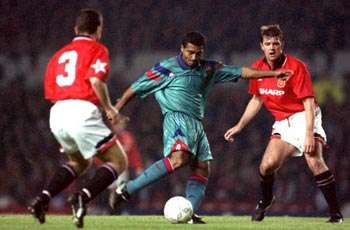 Romário left Madrid stunned at the Camp Nou
Brazilian star Romario was the leading scorer in Spanish football during this season and he saved arguably his finest performance for the home clash with Real, scoring a hat-trick to inspire Barcelona to an emphatic victory. Ronald Koeman and Ivan Iglesias also scored for the Catalan club, who just beat Deportivo La Coruna to the Primera Liga title. This was easily one of Barcelona's best wins versus Real Madrid in large part due to Romário. Even though he only played at the Camp Nou for two seasons, this performance put Romário's name in Barcelona's history.
3.

Real Madrid 0-3 Barcelona

–

November 19, 2005
Eto'o (14'), Ronaldinho (59', 77')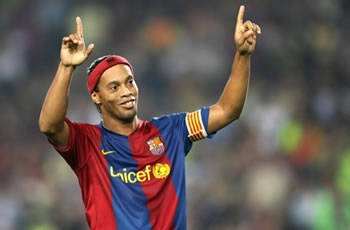 Ronaldinho, 2005 Ballon d'Or winner and FIFA World Player received a standing ovation
It takes something special for a Barcelona player to earn applause from Real Madrid supporters, but that is precisely what happened in November 2005 as Ronaldinho delivered a scintillating individual display. Samuel Eto'o broke the deadlock for Barca before the Brazilian playmaker took centre stage, twice embarking on mesmerising runs from deep to score a spectacular double. By the end, Real were jeered off by their own fans, while Ronaldinho received a standing ovation.
2.

Real Madrid 2-6 Barcelona

–

May 2, 2009
Higuaín (14'), Ramos (56') | Henry (17', 58'), Puyol (19'), Messi (35', 75'), Piqué (83')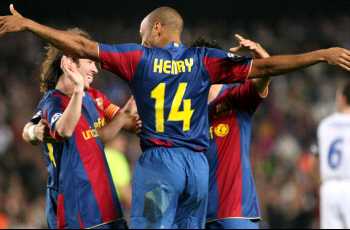 Henry scored a brace against Madrid
Barcelona completed an unprecedented Treble of Primera Liga, Copa del Rey and Champions League in 2009 but the moment that might have given their fans the most satisfaction was this staggering victory away to Real. It briefly looked like it might be a difficult night for Barca when Gonzalo Higuain fired Los Blancos into an early lead, but Pep Guardiola's side came storming back courtesy of Thierry Henry and Lionel Messi doubles, while Carles Puyol and Gerard Pique were also on the scoresheet and Sergio Ramos netted Real's second. The 6-2 win at the Bernabéu was the crowning achievement of Barcelona's '08-'09 La Liga season and one of the greatest games in club history.
1.

Barcelona 5-0 Real Madrid

–

November 29, 2010
Xavi (10'), Pedro (18'), Villa (55', 58'), Jeffrén (90')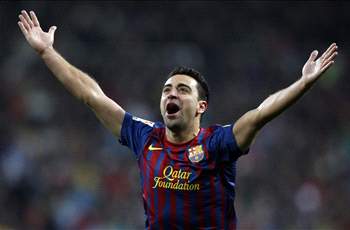 Xavi initiated the 5-0 demolition
A performance that prompted many experts to label Barcelona the best team in history, Real Madrid were simply torn apart by a dazzling exhibition of attacking football at Camp Nou in the first of this season's five El Clasicos. Jose Mourinho had been appointed Real boss in the summer in an effort to bring a period of Barcelona dominance to an end, but the gulf appeared wider than ever as the hosts ran riot. First-half goals from Xavi and Pedro set Barca on course for three league points, while a double from David Villa after the interval and a late Jeffren strike sealed Real's demise.
How do you stay up to date with football when on the move? With

http://m.goal.com

– your best source for mobile coverage of the beautiful game.