COMMENT
By Clark Whitney | German Football Editor
To beat Bayern Munich four times consecutively is almost unheard of. The last time it happened was in the early 1990s as Otto Rehhagel's Werder Bremen accomplished the rare feat. But on Wednesday, history repeated itself as Jurgen Klopp's Borussia Dortmund earned their fourth consecutive win against the German record champions, and in doing so, all but sealed their second consecutive Bundesliga championship.
There were doubts heading into the match, even from the most ardent of Dortmund supporters. In the past, they had sometimes faced a weakened Bayern side. But on Wednesday, they came up against a team that had won nine consecutive matches in all competitions, making them arguably the most in-form club in Europe.
Of course, Dortmund were also defending a run of their own, having not lost in the Bundesliga since early September. And it was their form that was preserved on Wednesday.
BUNDESLIGA TABLE WITH FOUR ROUNDS LEFT
In fairness, the result could have gone either way. The hosts were outstanding in the first half, and only a spectacular save from Manuel Neuer followed by a bit of help from the goalpost kept them off the scoreboard. BVB played a very physical game, and their opponents wanted little of it.
The tide turned after the break, however, and Bayern began to assert themselves. Space opened as legs grew tired, and Franck Ribery began to impose himself. But just as Dortmund did in the first half, Bayern appeared to suffer from jitters. The cool composure that so often has characterised their attacking play was gone. Ribery showed this once or twice, but more than anyone else, Arjen Robben failed his team.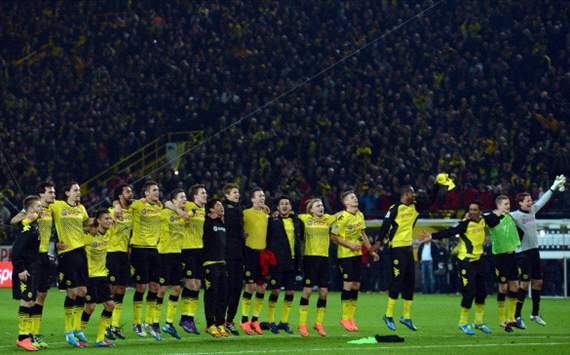 Fourth time's a charm | BVB's win made history & effectively sealed the Bundesliga title
Not for the first time in his career, Robben choked on the big stage. He had trouble finding space throughout, but chances fell into his lap late in the game. The winger was gifted a penalty following a senseless challenge from goalkeeper Roman Weidenfeller. But, while Robben has tucked away penalty after penalty in a Bayern shirt, when he stepped up to the spot on Wednesday, his poor spot-kick invited a save. And a grateful Weidenfeller pounced to preserve his side's advantage and atone for his earlier mistake. When he tries to sleep tonight, the Dutchman will see the snarling face of Neven Subotic burnt into the insides of his eyelids.
The penalty miss was Robben's second big mistake after playing Robert Lewandowski onside for the winner. It would not be his last. In the closing moments, the ball fell to Robben's feet at the edge of the six-yard box: the Dutchman had an open goal to shoot at. But he looped his shot over the bar, the final error in a match to forget.
Heading into the final four games of the Bundesliga season, Dortmund are six points clear, and are on the verge of securing the title a second time. None can deny that they have deserved it.
Bayern will return to Munich disappointed, but the result could be a blessing in disguise. Their Bundesliga campaign nearly over, they can focus fully on their upcoming Champions League semi-final with Real Madrid. And come mid-May, they will have another chance at revenge: the DFB-Pokal final in Berlin. If that match is played with half the spirit of Wednesday's encounter, it will be one to remember.