ANALYSIS
By Clark Whitney | German Football Editor
This is it: The moment Bundesliga fans have all been waiting for. On Wednesday, Dortmund play host to Bayern Munich in the latest installment of a growing rivalry between Germany's traditional powers FCB, and the resurgent challengers, BVB.
Each of the last three meetings between the two sides have ended in a win for Dortmund, who lifted the Bundesliga title last May. And the holders carry a three-point lead heading into Wednesday's showdown, a fixture that could decide the title.
As heavyweights prepare to take centre stage,
Goal.com
analyses the key factors that could decide the result.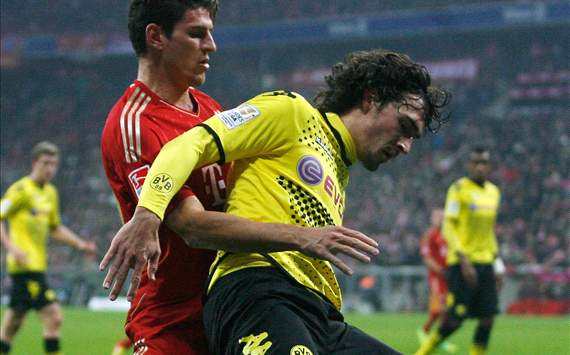 The Bundesliga's best centre-back and most prolific striker will lock horns once again in and around the BVB penalty area. The two have gone head-to-head several times in the past, with mixed results.
In both fixtures of the 2009-10 season, Gomez's debut year at Bayern, the Germany international striker came out on top when he scored to help his side take six points from the two games. A 20-year-old Hummels featured in central defence in the first clash, and in midfield in the second.
Since then, Hummels has developed into a top class defender, and held Gomez scoreless in three consecutive meetings - all of which BVB won - with Bayern finding the net just once in the process.
This season, Hummels has neutralised the Bundesliga's most lethal strikers: Gomez, Klaas-Jan Huntelaar, Claudio Pizarro, Lukas Podolski (twice) have all faced BVB, but none found the target.
Gomez is, however, the most dangerous attacker in all of Germany, and he will have support that most others can only dream of. He has scored 37 goals this season, which in all likelihood will end as his most prolific campaign to date. But he has a scoring duck to break against Hummels and the Dortmund defence. It will not be an easy task.
HOW MUCH WILL DORTMUND MISS GOTZE

?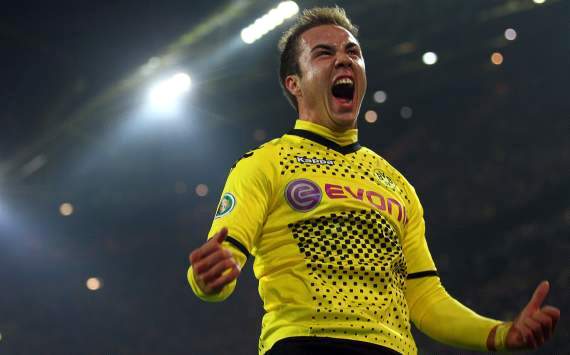 The form of Franck Ribery and Arjen Robben are well known by now. Both have been incredibly productive for Bayern, playing a part in most goals during their team's eight-game winning streak. They will be given no favours against BVB, but at least their danger heading into the match will be fully understood.
The big question mark is over just how much Dortmund will miss Mario Gotze. The 19-year-old has not played for Dortmund since December 11 due to a groin injury and pelvic cartilage inflammation. He has been fighting for fitness for several weeks, however, with his eyes set on the Bayern clash. Unfortunately he has failed in his attempts to be ready for the game.
Gotze is widely regarded as the greatest talent in Europe at his age level. It was his strike - albeit somewhat opportunistic - in November that lifted BVB to victory at Bayern, and even at less than 100 per cent, he would have posed a danger to the Bayern defence.
Although Dortmund have coped extremely well during Gotze's spell on the sidelines, in big games he has the ability and potential to produce something none of his team-mates can.
PISZCZEK & KUBA VS ALABA & RIBERY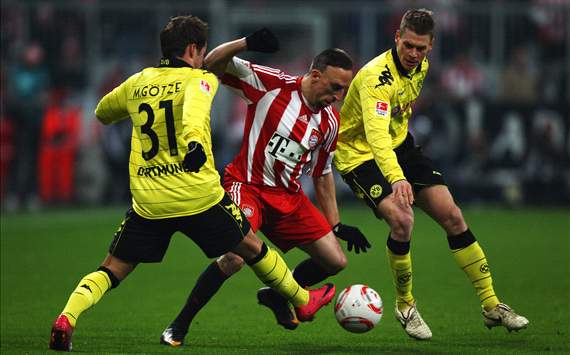 In attack, Bayern prefer the left flank, while Dortmund almost exclusively use the right. The full-backs, David Alaba and Lukasz Piszcek, are effectively auxiliary midfielders, while Jakub 'Kuba' Blaszczykowski has been a boon for BVB since taking over for the injured Gotze's in the starting XI. Ribery, who has made a habit of turning defenders inside out all season long, hardly needs an introduction. In all of Europe, only Cristiano Ronaldo has exceeded his productivity this season.
It just happens that the preferred route of attack for both teams will cover the same side of the pitch. Between Alaba, Ribery, Piszczek, and Kuba, there will be hundreds of touches throughout the game. Control while in possession, quickness to the ball, team-work with the central players, and most of all, positional awareness, will decide the battle on the busiest wing.
DORTMUND'S BREAKNECK PACE VS BAYERN'S TEMPO-CONTROL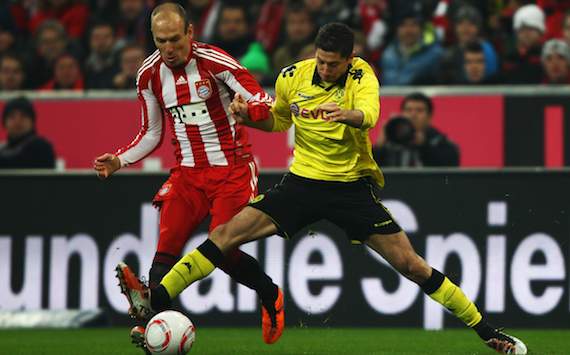 The overall run of play in a game can have a major effect on its result, especially if the two sides typically use a different tactical approach. Under Jurgen Klopp, Dortmund have adopted a gruelling pace that demands much from the BVB players, but pushes opponents to the physical limit. Jupp Heynckes' Bayern, by contrast, normally play a containment game, which focuses on a balance between conservatively maintaining possession and defending at all depths of the pitch.
The philosophies of Klopp and Heynckes clash, and there will be a clear competition on the pitch to decide the run of play. A slower game will suit Bayern's organised, methodical style of build-up and containment of BVB's advances. But if the action stretches from end to end and there is space for Dortmund's athletes to run into, things could turn around entirely in the hosts' favour once more.
INDIVIDUAL CLASS DURING THE KEY MOMENTS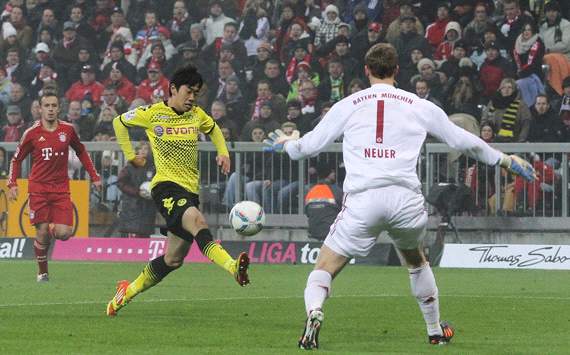 A top-of-the-table clash between sides with defensive records as strong as those of Dortmund and Bayern means only one thing: few chances on goal. The midfielders will engage in a heated battle to dictate the flow of play, but regardless of which side gets the ascendancy in the middle third, it will be tooth-and-nail for 90 minutes.
With space to operate bound to be at a premium, the creative genius of the likes of Ribery and Shinji Kagawa will be less prominent than usual: it will not be a simple matter of the providers skipping past opponents as they so often do.
Much like in the Champions League, mistakes are certain to be punished in Wednesday's match. When the defence breaks down and a chance opens up, just that small slip might turn the result. But if the team that carves the opportunity cannot convert it, that failure could also make the difference. One thing is for sure: with the game set to be tightly contested in the centre, the more efficient team will come out on top.
Follow Clark Whitney on