COMMENT

By Sarthak Dubey
Based on the performances of APOEL, Marseille and Benfica in the first leg of the Champions League quarterfinals, Roberto Mancini cannot guarantee the press an improvement in Mario Balotelli's behaviour. But what he can guarantee is the progression of Real Madrid, Bayern Munich and Chelsea. The trio look like certain semi-finalists with dominating away performances that overwhelmed their opponents.
The outcome of
Barcelona
vs
AC Milan
on April 3 remains the only unanswered mystery in the minds of football fans apart from the usual "why-do-Liverpool-still-back-king-Kenny-after-merseyside-rivals-Everton-have-taken-a-one-point-lead-over-them".
Barcelona, like their arch rivals Real Madrid, have a rich history in the European Cup. Domination of the continent has come by superbly in the last decade for the Catalans. After facing Shakhtar Donetsk in last year's quaterfinals, most neutral supporters unhappy with the high levels of perfection at Barcelona, were gleeful at the prospect of the Spaniards facing tougher opponents this time round. Will the European domination be arrested by Rossoneri?
Goal.com
predicts a few situations that are sure to happen if the Blaugrana crash out!
1.) CR7 can win the FIFA Ballon d'Or, finally!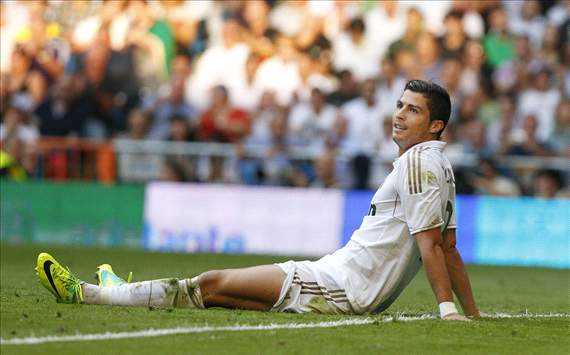 I'm Waiting For My Turn, Leo!
Yes, we can all wipe off our sweat in labourly fashion and celebrate the climax of this season's Messi vs Ronaldo saga. The only reason why the Portuguese international hasn't won the FIFA Ballon d'Or over the last few years is because of a lack of glittering objects in his team's trophy cabinet. Ronaldo has matched Lionel Messi (please lets not spark another discussion based on this statement) in the goals department, skills industry and ability factory. With Blaugrana crashing out, CR7 can go on to better his silverware tally and also give a big 'in-your-face' to the jury of FIFA's Ballon d'Or who constantly irritate him with "show me the trophies, Cristiano!" Sorry, CR7 supporters. But that's the ONLY way the poor guy can win the prized possession this season!
2.) UEFA's 'back-to-back' curse remains...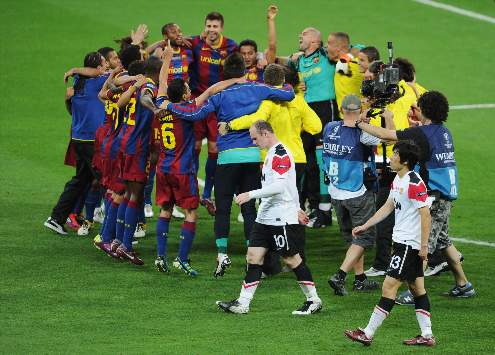 Not Again! For The Love Of God!
Ever since the European Cup got a plush name-change to the UEFA Champions League in 1992-93, no team has successfully defended its title the next season. We have had a new winner each year for the last 22 seasons. Fittingly, AC Milan were the last team to win back-to-back titles quite ironically with a former Barca manager Frank Rijkaard. We, human beings, are cheeky by nature, everybody loves an underdog! And most importantly, everybody (except Barcelona supporters, of course) would love the legacy of UEFA's evil 'back-to-back curse' to continue. We can probably compare the Undertaker's unbeaten legacy at Wrestlemania to this... well... maybe not!
3.) What about Drogba vs Øvrebø - Part II ?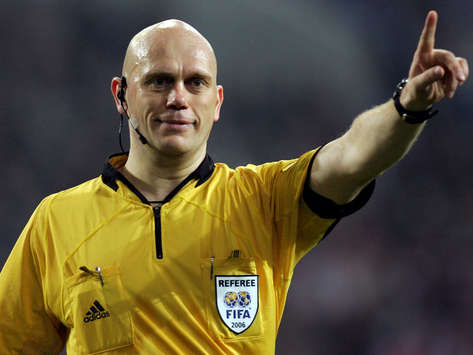 Tom Henning Øvrebø: Remember me folks?!
Imagine Tom Henning Øvrebø walking out of the Stamford Bridge tunnel, head held high, Chelsea fans singing his name, lots of flower showering from the heavens, the floodlights beautifully shining on his graceful bald head and finally a big teddy-bear hug from Didier Drogba. Well, we can replace the words Tom-Henning-Øvrebø with Roberto-Di-Matteo in the above sentence to make more sense. Chelsea faithful have not, and will not, forget the injustice of 6 May 2009, when the Norwegian football referee gave 'a few bizarre' decisions that possibly cost the Londoners a spot in the final. If Barcelona crash out, we would all miss out on another controversial European semi-final night between Chelsea and Barcelona. And so would Tom Henning Øvrebø and Drogba!

4.) Why did Fabregas join Barca again?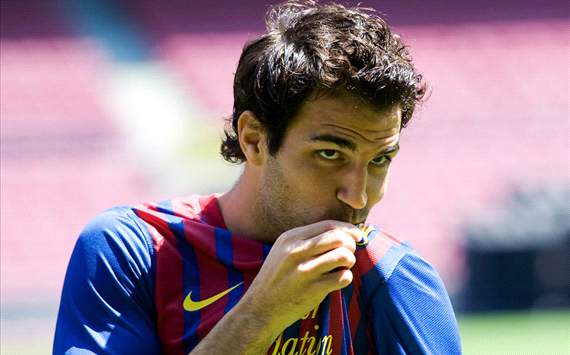 Aaaah... And He Kisses The Badge!
Sir Alex Ferguson once told Roy Keane - "Manchester United will continue to dominate the domestic game with or without you, Roy. We need you in Europe." Quite amazingly, this statement would still be valid if Pep Guardiola were to say it to Cesc Fabregas (of course replacing United with Barcelona). The former Arsenal captain left the Gunners to cuddle up in 'home sweet home' with his National team pals and certainly win more trophies. Uptil now, the three trophies he has won are - Supercopa de España, UEFA Super Cup and FIFA Club World Cup. The playmaker himself would agree if we called these trophies slightly more important than the 'prestigious Emirates Cup'. The real deal is the La Liga and the Champions League. With Blaugrana already playing catch up in La Liga, Arsenal fans would certainly ask Fabregas for an answer if they fail to beat Milan in the European Cup as well.
5.) Pep Guardiola at a new club?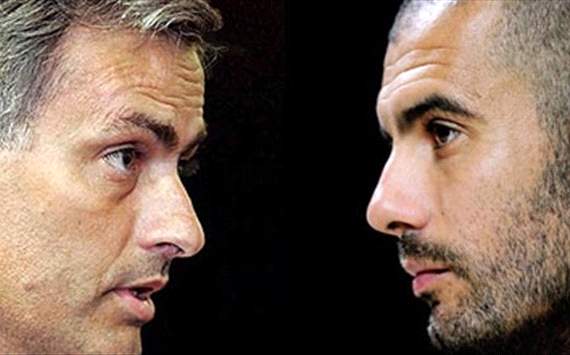 Will they fight for the Chelsea job as well?
If Lionel Messi and Cristiano Ronaldo are squared off against one another in the players department, the top managers facing the same media treatment would be Pep Guardiola and Jose Mourinho. The two have had enough and more quarrels over the last couple of years. While Pep remains the clean, good-boy manager in the eyes of the public, Jose is criticized as the outspoken 'evil mastermind' always confronting his opponents. If Barcelona were to be beaten on April 3 by a rugged Milan outfit, the heated discussion of Pep Guardiola leaving Barcelona for a 'new challenge' would kick start. Everybody would love to see if Guardiola can actually work with players at a new club (probably Chelsea, United, Inter or even Spurs) and gain equal amount of success as he has at Barcelona.
Follow Sarthak Dubey on

How do you stay up to date with football when on the move? With

http://m.goal.com

– your best source for mobile coverage of the beautiful game.