COMMENT
By Ben Hayward | Spanish Football Editor
In order to win the Champions League, pondered Pep Guardiola after seeing his side held to a goalless stalemate at AC Milan on Wednesday night, it is necessary to overcome thousands of things.
Guardiola was referring to the referee, after Barca had been denied two clear penalties, one for a an Abbiati foul on Alexis Sanchez, the other for a Djamel Mesbah tug on Carles Puyol following a corner. The Barca coach was also alluding to the poor state of the pitch, criticised by players from both sides as some of the world's finest footballers slipped and slid on the San Siro surface. He might have added, however, his team's inability to overcome a disciplined and diligent defence, as well as their own failings in front of goal, and an increasing dependence on Lionel Messi.
Barca failed to find the net in the Champions League for the first time in 30 games, dating back to a little-remembered goalless encounter versus Rubin Kazan in 2009. And it was in that very edition of the continent's choice club competition that the Catalans last came unstuck among Europe's elite, as they suffered a 3-1 defeat to Jose Mourinho's Inter at San Siro in the first leg of the semi-finals.
Such a scenario looked less likely this time around against a makeshift Milan side at the same venue, particularly in the absence of their defensive darling Thiago Silva, sidelined by injury ahead of his team's toughest test this term. The Brazilian, who can count the Catalans among his many admirers, headed a stoppage-time equaliser at Camp Nou earlier this season as the sides drew 2-2, but could do nothing as Barca brilliantly beat the Italians 3-2 in their second group meeting back at the Giuseppe Meazza.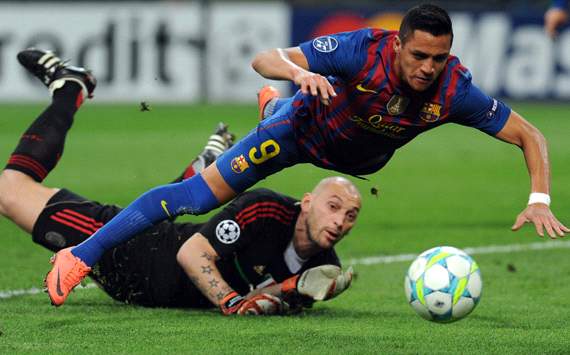 Going to ground | Alexis was brought down by Abbiati but no penalty was given


Then, Guardiola had opted for a bold 3-4-3 formation. With rather more at stake this time, however, the Barca boss aired on the side of caution. So 4-3-3 it was - with two defensive-minded midfielders, Sergio Busquets and Seydou Keita - and despite
dominating possession, the visitors' low-tempo style suited Milan. The best chances fell to the home side, too, with Robinho guilty of a glaring miss in the opening minutes and Zlatan Ibrahimovic failing to beat Victor Valdes in a one-on-one later on.
Barca, meanwhile, were over-elaborate and under-efficient - all passing but no penetration. And other than their two penalty claims, the Catalans created little in the way of clear-cut chances.
Alexis in particular was unlucky to see his spot-kick shout ignored by the referee, although the Chilean's tendency to go to ground easily in the area is seeing him awarded less and less decisions such as that one. The South American was also culpable when he looked clean through on goal but chose to back-heel a pass to Xavi instead of shooting himself.
Later, Mesbah pulled Puyol's shirt in the area, in an action which occurred right in front of the referee. "If he didn't see it, he can't give it," was Guardiola's public assessment. Privately, though, the Barca boss surely saw it differently.
FIRING BLANKS | BARCA'S PREVIOUS
GOALLESS GAMES IN 2011-12

| | | | |
| --- | --- | --- | --- |
| | Rival | Result | Date |
| | Sevilla | Drew 0-0 | October 22 |
| | Getafe | Lost 1-0 | November 26 |
| | Villarreal | Drew 0-0 | January 28 |
Barca appealed again for a spot kick as Messi went down between two Milan defenders in the second half. There looked to be no foul this time, however. How he would have liked a chance to stroke home from 12 yards on a night when things rarely went for him and which ended with the sullen scolding of team-mate Tello, who had dared to shoot instead of passing to the Argentine.
In the end, a draw looked the right result, and although Barca leave Lombardy without an away goal to their credit, having failed to score in a European knockout fixture for the first time since a semi-final stalemate with Chelsea in 2008-09, the Catalans will remain confident of completing the job at Camp Nou next week. Following their sub-par performance on Wednesday, however, they have left Milan with a lifeline and, as Pep preached in his post-match press conference on the night, there are still plenty of things to overcome before they can contemplate European glory once more.

Follow Ben Hayward on