ANALYSIS
By Sergio Stanco & Kris Voakes

"I'm told that with today's result we have equalled the record of Fabio Capello's Juve with 28 games without defeat. Well, now go and watch Capello's Juve and tell me we are not working wonders."
So said Antonio Conte after his Bianconeri had beaten Fiorentina 5-0 last Saturday. His class of 2012 have equalled the record of 'Don Fabio's outfit in 2005-06, who bounced back from defeat to challengers AC Milan in week 10 to go the rest of the season unbeaten on the road to the Scudetto.
But does that make Conte's team as good as Capello's? Does it mean that this season's achievement is greater than the one of six years ago? Goal.com takes up the coach's challenge and compares the two Juventus sides.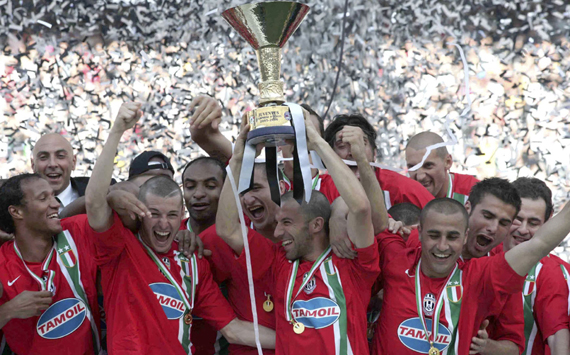 The fact that it was erroneously reported in Conte's post-match interview in Florence that Capello's men set their 28-game record in 2004-05 shows how little it was remembered. In fact, the Friuli native's men lost just one game in 2005-06, against the second-placed Rossoneri, on their way to a 91-point haul in the second of the two Calciopoli-affected seasons. Their entire campaign tally came from 27 victories, 10 draws and one defeat.
One area in which the current Bianconeri have definitely excelled is in their head-to-heads with Milan. Capello's side drew their home fixture with Carlo Ancelotti's outfit, meaning they failed to beat the Rossoneri in either meeting, whereas the present day side won 2-0 in October thanks to two late Claudio Marchisio goals.
This was the era, though, with Buffon still at the very top of his game behind names like Fabio Cannavaro and Lilian Thuram in the centre of defence. Ahead of them was the midfield partnership of Emerson and Patrick Vieira, with the latter having signed the previous summer from Arsenal. Up top came Zlatan Ibrahimovic and David Trezeguet with, then as now, Alessandro Del Piero in reserve. It was the team which many agreed was the best of the Luciano Moggi era, particularly in terms of the superior defensive strategy. And, lest we forget, that summer's World Cup-winning Italy squad featured five highly-influential Juve players.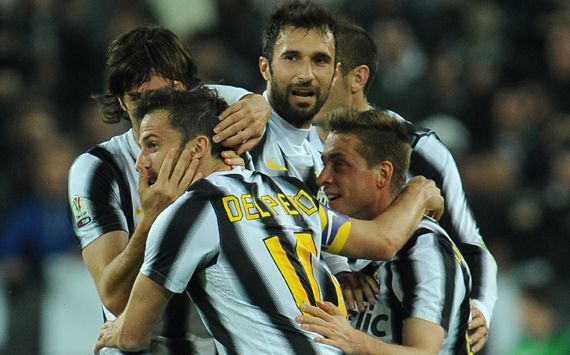 The big factor when comparing the two would be in terms of how many of the current side would get into that Juve team. Even Buffon is arguably a little more susceptible than he was six years ago, with perhaps only Andrea Pirlo being of the level now that the 2006 Bianconeri would have sought to improve their line-up.
The likes of Giorgio Chiellini, Arturo Vidal, Marchisio and Mirko Vucinic may have been key additions to Capello's bench, but with Mauro Camoranesi working so hard down the right and Pavel Nedved excelling on the left, there will have been little space for the current crop to force their way in.
One area that really would have been strengthened with today's number is right-back, with the underperforming Jonathan Zebina no match for Stephan Lichtsteiner, even though the Swiss has been asked to raise his level of late to keep Martin Caceres from winning his place on the flank.
With that in mind, a ratings comparison is arguably the right way to decide just how the two sides would match up, with Capello's men marked by their 2006 form.
TWO OLD LADIES COLLIDE - THE HEAD-TO-HEAD

JUVENTUS 2005-06

JUVENTUS 2011-12



PLAYER
RATING

PLAYER
RATING
Buffon

9.5

Buffon

9

Zebina

5

Lichtsteiner

6.5

Cannavaro

9

Barzagli

6.5

Thuram

9

Bonucci

5

Zambrotta

7.5

Chiellini

7

Camoranesi

7.5

Vidal

7.5

Emerson

7

Pirlo

9

Vieira

7

Marchisio

7

Nedved

9

Pepe

6.5

Ibrahimovic

8

Matri

6.5

Trezeguet

9

Vucinic

7

AVERAGE

7.95

AVERAGE

7.05

THE IMPOSSIBLE COMPARISON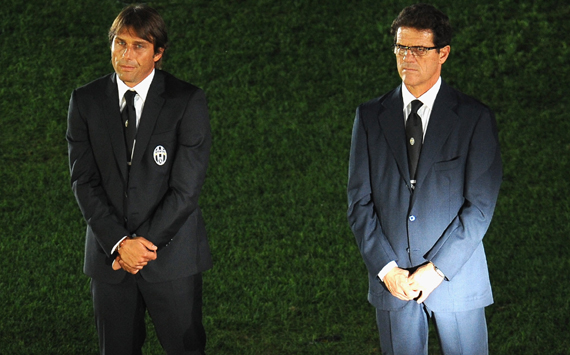 In short, if Capello's Juve was a Scudetto winner, Conte's would be a Europa League side in comparison. If these two came up against each other in a match - impossible though that is - there could well be a result similar to the one against Fiorentina last weekend. However, there is a big 'but' to come.
That 2006 team won the Scudetto against a Milan that had Cafu, Nesta, Stam and Maldini in defence, Gattuso, Ambrosini, Pirlo and Seedorf in midfield, and the likes of Kaka, Inzaghi, Shevchenko and an in-form Gilardino available in attack. If Juve were different back then, so were Milan.
So too were Inter. They finished third under Roberto Mancini with 76 points, with an excellent Roma finishing fourth. The reason this year's Juve may have struggled to make the top three in 2006 is that so many teams back then DID struggle to compete in what was a hugely competitive league.
Perhaps then, the real answer is that, statistics apart, there is no comparison between the two Juve sides, because there is no comparing the two leagues either. The 2011-12 Serie A is in an altogether different world to its 2005-06 version, meaning Conte's Juve would not only have struggled to remain unbeaten, but also found it difficult to compete with many sides at the top end of the league.
Capello's Juve were a far superior team. They had to be to win such a magnificent competition.