"There are countless ways of attaining greatness, but any road to reaching one's maximum potential must be built on a bedrock of respect for the individual, a commitment to excellence, and a rejection of mediocrity."
From the little known Grandoli to the centre of world football,
Lionel Messi'
s journey from the rags to riches is one which perhaps epitomizes each of these three commandments. A consistency that is unmatched, Messi's skills as a footballer is an art; something that perfectly justifies why we call this as the 'beautiful' game.
It was routine work for the 24 year old this Tuesday as he notched up yet another of his trademark hat-tricks against Granada! However, in doing so, he also became
Barcelona
's leading goalscorer of all time, surpassing club legend César Rodríguez, who had previously held the record with 232. It took the latter almost 16 years to achieve that feat; Messi has crossed it in merely half those years! A record that will probably be unmatched in the years to come!
Well, talking of unmatched records, someone who readily comes to our mind is our very own Sachin Tendulkar. One of the only few personalities whose dominance could be compared to that of Messi in the sporting circuit.
A young Sachin had developed a reputation as a child prodigy and had soon become a common conversation point in Mumbai circles in the late 80s; often being hailed as a successor to the great Sunil Gavaskar. Much like, Lionel Messi who evoked comparisons with Maradona in his early days.
Yet, unlike many other promising talents, both of them refused to fade away in the midst of the huge expectations and have now managed to establish their own identities beyond the shadows of their successful predecessors.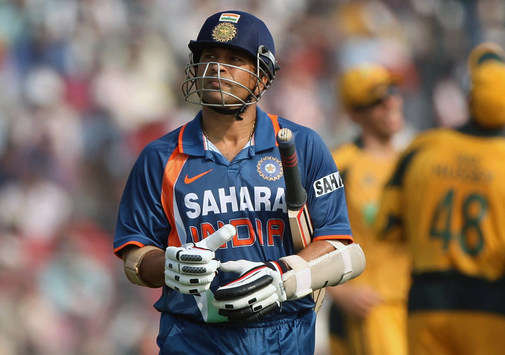 Tendulkar Refused To Fade Away And Created His Own Identity In The Cricketing World
Both are masters of their game; executing their trade unlike any of their contemporaries. Of course rivalries have existed. The Brian Lara - Sachin Tendulkar rivalry has all the similarities with the Cristiano Ronaldo - Lionel Messi one.
For a difference, Sachin has perhaps now just about completed his full cycle as a cricketer while for Messi, he still has half the journey to cover.
Criticisms are something that have not eluded even the greatest of greats and much like Sachin during his 'middle years' as a cricketer, Messi too is having to deal with accusations of 'not doing enough for the country'.
However, still every time he would don the Argentine jersey, millions would be pinged on to him, hoping that we would weave his magic every time he is on the field. One can understand as football, much like cricket in India, binds Argentina together.
For the records, Messi has indeed been brilliant for the national team but it is quite safe to say that the desired results are yet to come.
It took Tendulkar 21 years to answer the prayers of millions and win India the World Cup in his hometown. Perhaps, it would be something similar for Messi too, who knows!
Tendulkar had good players around him for the greater part of last two decades. But the ultimate glory eluded him almost every time. Yet, he refused to give up and at last his perseverance paid off.
Messi, much like Tendulkar, faces almost an identical scenario! It, however, remains to be seen whether he manages to find the final missing link to his puzzle; whether he will be patient enough to wait for the right opportunity; whether he would possess the similar perseverance as Tendulkar.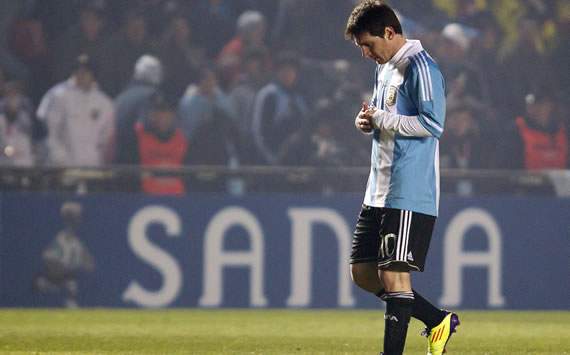 Results Are Yet To Come In The Argentine Jersey; But He Must Not Give Up As Perseverence Will Pay Dividends, Much Like In The Case Of Tendulkar
Somewhere down the line, the script-writers of football would certainly be contemplating the 'happy ending'. Its just the question of recognizing that moment and capitalizing when the glory beckons!
We are at the fag end of the article and on a very lighter note, Messi, incidentally, very much like Tendulkar, wears the prestigious No. 10 jersey! Perhaps, some numbers are just meant for the greatest.
Follow Debjit Lahiri on


Do YOU Think Sachin Tendulkar And Lionel Messi Have Similar Traits?

How do you stay up to date with football when on the move? With

http://m.goal.com

– your best source for mobile coverage of the beautiful game