For all those restless supporters who are getting impatient with Liverpool's unpredictably, Goal.com brings you the list of problems the club is facing
Liverpool's journey so far in the season has been one hell of a ride. Their fans got their wish early in 2011 - Kenny Dalglish. He overturned the fortunes of Liverpool quite instantly. Just one year hence, Kenny is being asked by a number of supporters to leave, which is despite the fact that Liverpool has recently won its first silverware since 2006, probably not the most sought-for, but still a respectable one. Liverpool is still very much alive in the FA Cup. It recently beat Stoke City to enter the semi-finals of the most prestigious English Cup.
Then what is going wrong for the Reds in the Premier League? Liverpool's loss against QPR was shocking. They were leading comfortably by 2-0. In the last 15 minutes, QPR stole the match away from the Anfield outfit by late strikes from Shaun Derry, Djibril Cissé and Jamie Mackie. The club is trailing Newcastle by 5 points and is stuck at the seventh place.
A top-4 finish seems highly unlikely for Liverpool at the moment. It does have a guaranteed Europa League birth, thanks to its Carling Cup victory, but if it is reduced to a seventh or sixth place in the Premier League then this would be the third year when Liverpool will be sitting out of the Champions League. A club of eminence and prestige like that of Liverpool should not be outside the Champions League for even one season. In fact, it should be aiming at Premier League title.
One could blame this all on luck (somehow all goalkeepers from average teams play like Joe Hart and Iker Casillas against Liverpool). But the supporters are getting impatient and are looking for better, more justified reasons for Liverpool's dismal show in the Premier League. Why are the Reds getting draws instead of wins, and more recently, losses instead of draws? Three points is better than a point but a point is better than none. For all those restless supporters, Goal.com brings you our list of potential problems: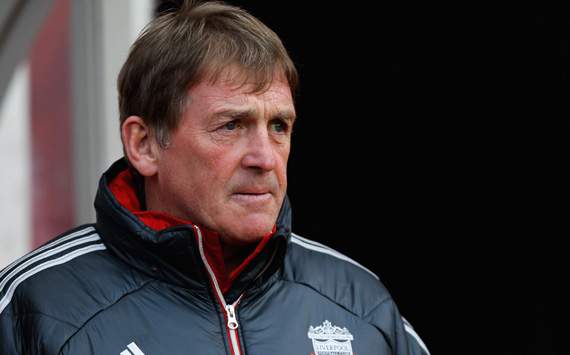 The manager is finally the victim of some genuine questioning by the fans. Playing for this club is a privilege, not a right. If players don't perform, even after these many chances, they don't deserve to start every game. Stewart Downing in his 36 appearances for the club has 2 goals to his name, Charlie Adam with his 30 appearances has 2 goals to his name and Jordan Henderson with his 35 appearances has 1 goal to his name. Dalglish should reward players that play well. It is beginning to appear that the patchiness of some of his signings is beginning to dawn on him.
Dalglish seems a little laid back in his approach. The Carling Cup was a nice distraction away from the Premier League, but now Liverpool needs its manager to fire up. After every dismal performance, Kenny defends his players. Only once has he actually indicted the players for not respecting the club. That's what Liverpool needs, a manager who gives a thrashing after a bad performance. A thrashing to the players does not make a manager any less supportive. Take Mourinho 's example. He blasted the players at half time when they were trailing Malaga 2-0. Real went on to win the match 3-2. That's the enigma Liverpool needs.
It is a fact that if a team loses, the manager is blamed. Take Roy Hodgson for an example. It wasn't like he was playing the match; the fans still wanted him out. Thankfully for Dalglish, the situation is not that worse as yet. He just needs to get a little fired up, get that burning desire to win which the fans have and so desperately want in him.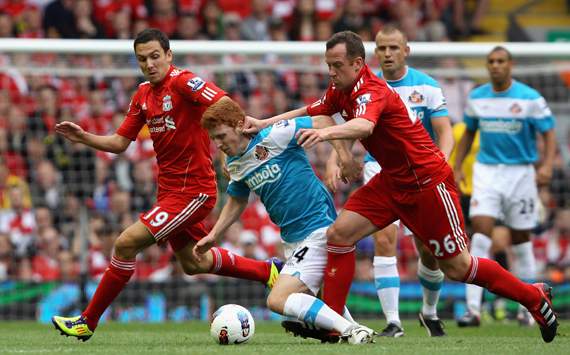 The transfers in the 2011 summer window made many anticipate the state of Liverpool this season. Many saw it as a stepping stone to Liverpool's success. However, it has been a mixed bag.
The transfer of Jose Enrique was magic. Liverpool was facing the problem of a decent deft back since John Arne-Riise played for the Reds, and Enrique has done a fantastic job of giving Liverpool exactly what it needed- a solid defence with decent offence. Getting Craig Bellamy to his former club was another wise move of Dalglish. He was surplus to the Sky Blues' requirement and has found his feet at Anfield, again. Sebastian Coates showed his potential at the match against QPR and his scissor kick goal was the only good thing for Liverpool in the game.
The signings of Stewart Downing, Jordan Henderson and Charlie Adam were apparently motivated by the fact that all three were among the top eight chance-creators in the Premier League last season. But all three of them have been below par this season. Downing is somewhat looking like his Aston-Villa self, and is finally beginning to show why Kenny was after him. Adam shines once in a blue moon. Henderson shows glimpses of potential future and a loan might be a good option for him. But Liverpool needs that clinical midfield edge and it needs it now. Henderson does not provide that edge.
The transfers haven't paid off as one expected them to. The midfield still lacks that clinical edge. Xabi Alonso's boots are yet to be filled.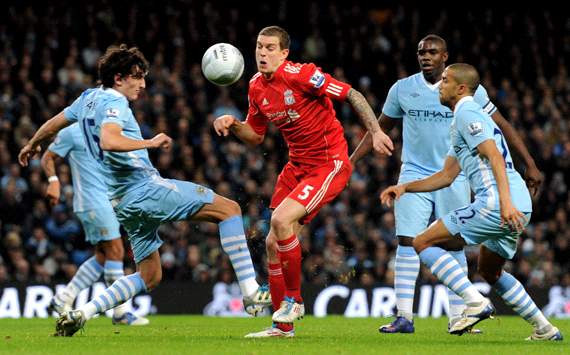 Liverpool's injury dilemma has been really bad. As soon as one begins to see the whole team fit, someone gets injured. Lucas's injury has been almost throughout this season and will continue right till the end of it.
Lucas' value was realized in his absence. He gives the midfield a certain edge and fans can't wait to see Lucas, Gerrard and Suarez play together.
Gerrard's injury crisis is finally over and Liverpool has finally got its Captain Fantastic back. Gerrard's contribution to Liverpool has been outstanding right through his career and was truly illustrated in his 400th appearance where he scored a hat-trick for Liverpool. But just as Gerrard got back, Agger got injured.
Liverpool had a rock solid defence in the beginning of the season and had a most impressive defensive record. Daniel Agger and Martin Skrtel forced Jamie Carragher to be out of the team.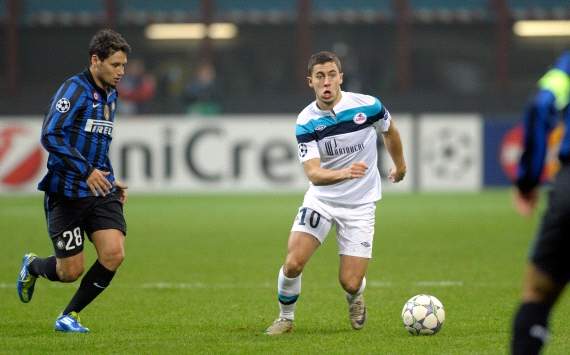 Although the Reds spent a large amount of money on strengthening the midfield, they still haven't got a player who can do what David Silva so easily does for City create chances. Lack of a creative player hurts more against relatively weaker teams because the defence is less leaky as compared to top-flight teams.
At present, there is only one player who seems capable of creating something out of nothing, Luis Suarez. Liverpool doesn't want a repeat of what happened with Fernando Torres - their star striker leaving the club because of 'doubting its ambitions'. For that, it must sign a top-class partner a top-class assistant for Suarez can't carry the weight of scoring all goals alone.
Liverpool should get someone who can dribble down the wings and make crucial passes during the game. Someone whose pace will give the defenders a nightmare, someone who is better at passing the ball and controlling the game from the midfield and finally someone who can make Liverpool truly great. Someone like a Nuri Sahin or Eden Hazard.
Play Maxi, Kuyt and Bellamy more often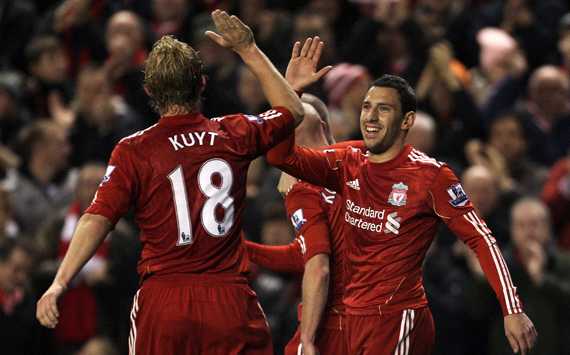 It's an unwritten rule that when Maxi Rodriguez plays, Suarez plays well. The Uruguayan doesn't have to try and do everything on his own. Maxi is always their in the centre to give support to Luis. The Argentinan and Uruguyan have a beautiful on-field chemistry and in order for it to truly blossom, they need to start more games together
Dirk Kuyt has made it clear that he will look for another club if he doesn't get more time on the pitch. The Dutchman is a manager's delight. He runs and he runs and he runs some more. True, he struggled initially this season but he was Liverpool's most successful player last season and with his recent performances he deserves more time and more faith. Because that is one person you can bet will give his life and soul for the club.
Bellamy has been one of the most impressive footballers for Liverpool this season. He is a fiery character and has 9 goals to his name from 24 games overall. It is a pity to see him not starting matches off late.
Hopefully, the same generosity that's been undeservedly afforded to Henderson and Adam will be afforded to Maxi, Kuyt and Bellamy who have a lot to offer Liverpool.
What's YOUR take on Liverpool's current situation and how can they overcome the same...
How do you stay up with football when on the move? With http://m.goal.com –your best source for mobile coverage of the beautiful game.