A classic
Premier League
season is nearing its conclusion with the race for the title, European places and the battle to avoid relegation entering a crucial phase.
With most silverware set to be decided over the upcoming two months, another award that will be handed out is an individual one - the PFA Player of the Year award.
This week, players all over England will be voting for their choice, with a number of top-flight players hoping to achieve some recognition.
Gareth Bale, Wayne Rooney and Ryan Giggs have been the most recent recipients of the award and this year's winner will be following an esteemed list of past winners.
Here,
Goal.com
suggest our candidates for the award, in the form of a ranked top three and a more left-field, alternative suggestion.
JON BIRCHALL | DEPUTY EDITOR

For pure aesthetic, excitement and exoticism, nobody has been greater in or for the Premier League this season than David Silva.
With the 2011-12 campaign the first since the competition's inception to see the title race hosted exclusively in Manchester, it seems fitting that it's the one man who brings both sets of the city's fans together in awe and admiration. City's supporters cherish Silva. United's, not often envious of their noisy neighbours, can't help but respect him.
JON'S PICKS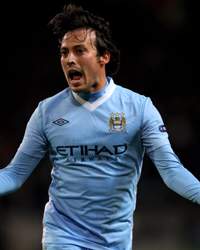 1. David Silva
2. Robin van Persie
3. Vincent Kompany
Alternative:
Joe Allen
The Spaniard's through ball for Edin Dzeko's second and City's sixth goal in the Manchester derby in October remains as the lasting, most resonant moment of the campaign's most astonishing performance from any team. Few individual showings top Silva's that day.
Indeed, the astonishing goalscoring consistency of Robin van Persie and steadfast reliability of Vicent Kompany at the back are both deserving of the many plaudits sure to come their way over the coming months, but it is the Spaniard who you would go to pay and watch week in, week out. His passing and movement unique in a league still lagging behind its continental counterparts when it comes to technique.
The late resurgence of United may well see Sir Alex Ferguson's side beat City to the title at the last but even so, in the gleaming midfielder, the best footballer in the league, the blue side of Manchester has a pretty dazzling Silva lining.
In one of the most one-sided PFA votes in a long time, I can't see anyone other than Robin van Persie walking home with the Player of the Year award when the votes are announced next month.
And in many ways, so he should. A staggering goal-scoring streak of 33 goals in the year have underlined his standing as one of modern football's finest frontmen, while dragging what is a comparatively weak Arsenal squad up by the shirt collar and into a Champions League race they would be nowhere near without the Dutchman.
However, and admittedly largely for the purposes of playing devil's advocate, my vote would go to Manchester City defender Vincent Kompany.
SAM'S PICKS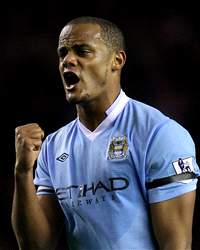 1. Vincent Kompany
2. Robin van Persie
3. Wayne Rooney
Alternative:
Demba Ba
A brute of a player, a Goliath of a defender and an inspiration as a backline leader, Kompany has played as big a role as anyone - alongside Yaya Toure - in leading Manchester City, until recently, to pole position in the Premier League title race.
The fact that City's arguably most pivotal defeats this season - to Swansea last weekend, to Liverpool in the League Cup semi-final and against Man Utd in the FA Cup - came when Kompany was sidelined, or in the case of the United game the victim of an early red card, tells its own story.
So, for me, Kompany edges Mr Van Persie out of top spot, with Manchester United striker Wayne Rooney sneaking in at number three. The England frontman's record of 20 goals in 20 league appearances is impressive enough in itself, but it's the matches in which he has scored that underline his importance and quality.
Already this campaign he has scored crucial goals against Chelsea, Liverpool, Tottenham, Arsenal - and in the FA Cup against Manchester City - and in his current vein of form, few would bet against him doing so again against City in April's crunch Manchester derby.
ROB STEWART | CORRESPONDENT
They say there is no such thing as a one-man team but Robin van Persie is testing that old adage to the limit.
ROB'S PICKS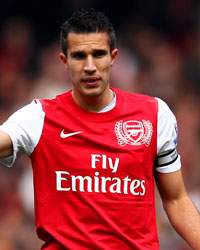 1. Robin Van Persie
2. Wayne Rooney
3. David Silva
Alternative:
Leon Britton
It is not only his goals that have made him stand out, but also the leadership qualities that he has displayed, as he has skippered the Gunners with distinction this term.
The Dutchman seems to be getting stronger and stronger as Arsenal's topsy-turvy season reaches its finale, and that is why I would give him my vote rather than the mercurial David Silva, who seems to be running out of gas - or Wayne Rooney who is timing his run to another Premier
League winner's medal to perfection.
There will be no major silverware for Arsenal this term but Van Persie deserves a gong of his own because this is the season that he has really come of age.
GREG STOBART | NORTHERN CORRESPONDENT
Van Persie should run away with the award this year after dragging Arsenal through the season, almost single-handedly turning an average squad into Champions League contenders.
The 26 scored by the Gunners' skipper in 28 league betrays an incredible consistency and eye for goal. Time after time, he has stepped up when his team have needed him most, and his ability to strike the ball with his left foot is something to behold.
GREG'S PICKS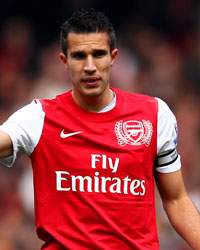 1. Robin van Persie
2. David Silva

3. Antonio Valencia
Alternative:
Tim Krul
The talent has always been there, but one of most impressive thing about Van Persie is that he has kept it up throughout the season, avoiding injuries and suffering no dips in form.
His main rival for the award will probably be Silva, who has sparkled for City and his magical use of the ball has kept his side at the top of the table for most of the season.
The Spaniard is so easy on the eye, making the game look effortless with his awareness, skill and creativity in the final third.
His style is in stark contrast to the powerful wing play of Valencia, who has been brilliant in the last few months and has played a key role in United's charge for the title.
WAYNE VEYSEY | CHIEF CORRESPONDENT
Whatever criteria you choose to select for individual merit, Robin van Persie has operated on a different level to his closest rivals for the PFA gong. He has scored the most goals, some of the best goals and a few of the most important ones, too.
He has been an artist, an architect and an assassin rolled into one. All while dragging the weakest Arsenal team of the Arsene Wenger era from the precipice into strong contention for a Champions League spot.
WAYNE'S PICKS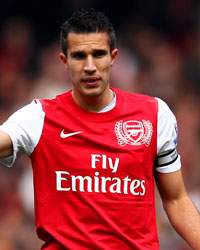 1. Robin van Persie
2. David Silva
3. Gareth Bale
Alternative:
Leon Britton
At the same time, he has demonstrated hitherto unrevealed leadership skills and avoided the injuries that have been the curse of his career.
Had this award been given out before Christmas, David Silva might well have shaded it ahead of his fellow left-footer. His twinkling feet, awareness and subtlety made him the Premier League's greatest entertainer before his inevitable dip coincided with that of his team.
He also delivered perhaps the most complete individual display of the season when he led the charge of the light blue brigade in the 6-1 annihilation of Manchester United at Old Trafford.
My No 3 is Gareth Bale, who has added greater variety to his game this season as well as a more clinical cutting edge. On his game and on his day, few players have the capacity to terrorise or embarrass defenders the way Bale does.
What do you think of our experts' selections? Should Van Persie win the race to be Player of the Year, or are there other candidates who are more deserving? Let us know your views by leaving a comment.
Robin van Persie is 9/4 to score 35 or more Premier League goals this season.