The golden era prior to the Lionel Messi-Cristiano Ronaldo saga, saw some truly gifted individuals take the field. Many considered the following 5 players as the greatest professional footballers who ever lived - Pele, Diego Maradona, Romario, Zinedine Zidane and Michael Laudrup. In this edition of LEGENDS,
Goal.com
looks at the dazzling Michael Laudrup and his tremendous achievments in the game. Before we describe the way he made his entry into the world or his flamboyant early years in the game or even his likes and dislikes, let us define a few points that make him eligible to enter our hall of fame:
Michael Laudrup was the most critical part of Barcelona's legendary 'Dream Team' managed by Johan Cruyff. Barcelona won four consecutive La Liga titles from 1991 to 1994, as well as the 1991–92 European Cup.
After controversially signing for Real Madrid in 1994, Laudrup guided the Los Blancos to the 1994-95 La Liga crown, making him the only player ever to win the Spanish league five times in a row playing for two different clubs.
The Danish dazzler was a true gentleman on the pitch and has NEVER received a red card!
On his 18th birthday, 15 June 1982 he became the then second youngest Danish national team player ever.
In a scintillating span of 16 years for the Denmark National Team, Laudrup made 104 appearances scoring 37 goals.
Johan Cruyff, the legend himself, made the following comment on his Danish attacking midfielder after Laudrup humiliated Barcelona 5-0 with his new team Real Madrid - "When Michael plays like a dream, a magic illusion, determined to show his new team his extreme abilities, no one in the world comes anywhere near his level."
Record breaking master tactician Jose Mourinho had something worthwile to say about the Danish playmaker - "He was phenomenal in Barcelona. He was a fantastic player whom I would love to have on my team today."
In 2000, he was voted the Best Foreign Player in Spanish Football in the last 25 years (1974–1999).
In 2006, Michael Laudrup was voted Denmark's best player EVER!
He won 9 trophies with Barcelona in a span of 4 seasons.
Full name:
Michael Laudrup
Date of Birth:
15 June 1964
Place of Birth:
Frederiksberg, Denmark
Playing position:
Attacking midfielder
Notable clubs represented as a player:
Brøndby, Juventus, Lazio (loan), Barcelona, Real Madrid, and Ajax.
Career (club) appearances:
479

Career (club) Goals:
130

Notable clubs managed:
Brøndby, Getafe, Spartak Moscow and Mallorca.
The Early Footballing Years and Family
The Danish dazzler had a decent youth career scoring a combined total of 14 goals in 25 games at various youth levels. At 18 years of age he won the 1982 Danish Player of the Year award and also a debut for the National team.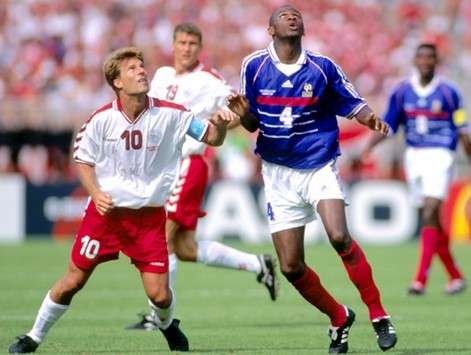 The Dazzler in National colours against France
The beautiful game ran through the Laudrup blood. Michael's uncle was former Brøndby and Aberdeen manager Ebbe Skovdahl. The former Barcelona and Real Madrid attacker has a younger brother, Brian Laudrup, who was known for his part in the Rangers squad which won the famous nine-in-a-row in the SPL. It has always been a 'like father, like son' situation for the Laudrup family and Michael's oldest son Mads Laudrup has been the team captain of various Danish youth national teams since January 2005, and his youngest son Andreas Laudrup was selected a part of the under-16 national team in March 2006.
Barcelona and Real Madrid years
After joining FC Barcelona from Juventus in 1989, Laudrup went on to become the most essential part of Johan Cruyff's 'Dream Team' along with Dutch defender Ronald Koeman and Bulgarian striker Hristo Stoichkov. The team won four consecutive La Liga championships from 1991 to 1994, as well as the 1991–92 European Cup, and Laudrup was twice elected the best player of the year in Spain during his Barcelona years. After the Catalans bought Brazilian Romario into the mix of things at Nou Camp, Michael's place had to be fought for among 4 foreign players. A humilating 4-0 loss to AC Milan in the 1994 European Cup final, didn't see Laudrup appear on the pitch. Rumours were that Johan Cruyff's relationship with Michael had been scarred and it was time for the Danish playmaker to move on.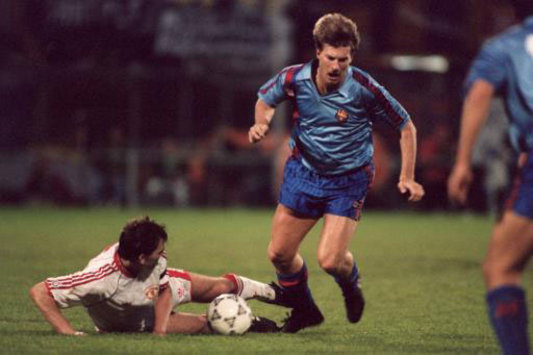 Barcelona is where he earned his name
playing for the 'Dream Team'
And what a 'move on' it was! Laudrup signed for Barcelona's very own El Classico rivals Real Madrid. Despite only playing two seasons at Real Madrid, Laudrup was voted the 12th best player in Real history in an internet survey by Spanish newspaper 'Marca' when the club celebrated its 100th anniversary in 2002. An interesting fact must be noted - While playing with Barcelona he participated in the 5–0 victory over rivals Real Madrid in the 1993–94 season. The following season while playing for Real Madrid he aided in the revenge beating that Madrid gave Barça, the final score also being 5–0.
How did he approach the game?
One must wonder why Michael Laudrup isn't as celebrated a name as Pele, Maradona or Zidane? A few videos of the playmaker on youtube would show his classic touch of the ball, his astonishing speed, those thunderstrike long range goals blasted from 35-40 yards out, those magnificent feet, inch-perfect passes and a four-dimensional dribbling ability. In his playing days, the Danish legend faced a situation similiar to what modern day messiah Lionel Messi is facing - he could never match his excellent club form (where there were other stars paying alongside him) whenever he put on the National jersey. He was admired for his outstanding technique, elegance, deep passes and dribbling.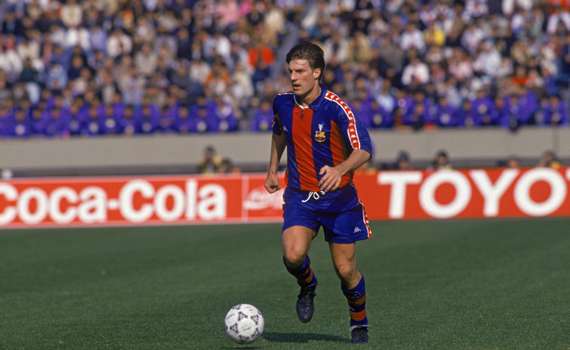 Taking care of business...
Before Zinedine Zidane, he was probably the only European name to appear on the list of all-time greats. Football's hall of fame has usually been filled with South America samba's like Pele, Maradona, Romario and Messi. Europeans were never distinguished as classy, 'superman footballers' but Laudrup smashed these assumptions with a career spanning success from all angles. He was considered by many as one of the most technically accomplished players ever. He was ranked amongst the best players in Europe, and his talent was exceptional, with Michel Platini describing him as one of the most talented players ever, only lamenting his lack of selfishness causing him to score too few goals.
Famous Quotes on Michael Laudrup
Andres Iniesta - "Who is the best player in history? Laudrup."
Mourinho - "He was phenomenal in Barcelona. He was a fantastic player whom I would love to have on my team today."
Luis Figo - "I think maybe Laudrup was the best player I ever played against."
Fabio Capello (After the 4–0 win of Milan over Barcelona in the 1994 Champions League final) - "Laudrup was the guy I feared but Cruyff left him out, and that was his mistake."
Romário - "The best player I have ever played with and the 5th best in the history of the game."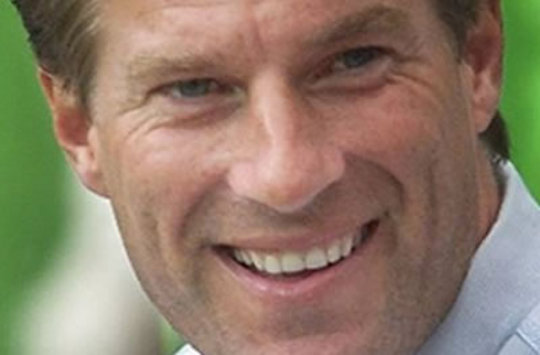 Raúl - "The best I have ever played with."
Cruyff - "One of the most difficult players I have worked with. When he gives 80–90% he is still by far the best, but I want 100%, and he rarely does that."
Platini - "One of the biggest talents ever. The best in the world on the training pitch, but never used his talent to its full during matches."
Pep Guardiola: "The best player in the world, I can't believe he hasn't won the title as best player."
Follow Sarthak Dubey on

How do you stay up to date with football when on the move? With

http://m.goal.com

– your best source for mobile coverage of the beautiful game.