The Catalans did enough to beat Real Sociedad but endured a nervy finish to a 2-1 win at a chilly Camp Nou while their rivals reaffirmed their credentials in the capital
COMMENT
By Ben Hayward | Spanish Football Editor
On the coldest night in recent memory in the Catalan capital, Barcelona almost froze at Camp Nou on Saturday. With David Villa one of a host of stars sidelined by injury, Lionel Messi misfiring slightly and Xavi rested once again as a precaution ahead of Wednesday's Copa del Rey return against Valencia, Barca's problems were mounting.
All of that, however, was just the tip of the iceberg for Pep Guardiola's charges.
In the end, it wasn't as cold as forecast. Pre-match predictions had claimed that the Arctic conditions would bring sub-zero temperatures in a wave of cold weather spreading across from Siberia. "Bring blankets," Barca president Sandro Rosell had warned fans before the game, amid reports that the temperature would be -4.
But if -4 sounded bad, the reality was actually even more severe: -7. Because Barca began the day seven points adrift of their biggest rivals, Real Madrid, at the league's summit; Jose Mourinho's men had been, as they say in Spain, winter champions, and have since extended their advantage at the top of La Liga. So it may have been snowing all over Catalunya in the build-up to this clash, but the Primera Division title was starting to look white, too.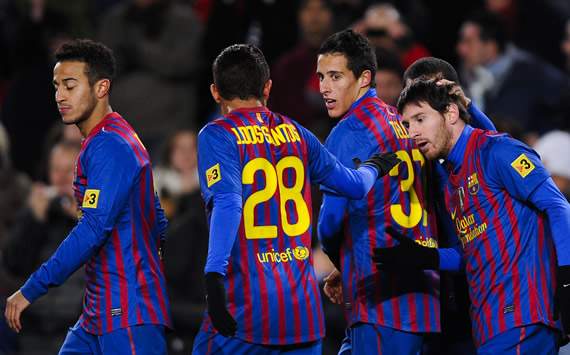 Blowing hot and cold | Barca look low on confidence at the moment


In similarly cool conditions, Madrid travelled to cross-city rivals Getafe on Saturday and turned in one of those performances that owe more to professionalism than prettiness, that are more pragmatic than purist. But they won by a single goal and - more significantly - the result rarely seemed in doubt. Mourinho's men dug deep and did enough; Sergio Ramos' set-piece goal sufficed and Madrid marched home triumphant. On nights like these, perhaps, titles are won.
Straight afterwards, Barca needed to beat Real Sociedad merely to stay within seven points of their rivals. With Xavi rested and Jonathan dos Santos starting in a much-changed midfield, the Catalans created chances in the first half, but had only youngster Cristian Tello's goal to show for themselves at the interval.
Tello had another disallowed in the second half but Messi made it 2-0 and Barca looked calm, as well as cool, in the conditions. But Carlos Vela pulled one back straight away for the Basques and made it a nervous finale as captain Carles Puyol was worryingly withdrawn and replacement Sergio Busquets suffered what looked like a nasty injury as he took a severe gash to the leg.
It was a titanic effort from my players. At the moment, we are not finding it easy. But in games like these, you have to clench your fists and fight to the end



- Barcelona coach Pep Guardiola

In the end, the congregated Catalans were happy to hear the whistle - and not only because of the cold. Barca had squandered a two-goal lead away to Real Sociedad in the early rounds of the league and some fans were dreading the worst here. As it transpired, history did not repeat itself, but it was a far-from-convincing display in the end for Guardiola's great side, affected and afflicted by a crisis of confidence which does not bode well for the remainder of the campaign.
Spanish and European champions they may be, but this brilliant Barcelona now face perhaps their greatest test of all. Barca need their confidence to return, and they cannot afford to drop any more points in the run-in, with 11 already conceded away from home this term. The Catalans simply must - as is said here - change the chip; say goodbye to their stuttering self-esteem, or say goodbye to La Liga. And be left out in the cold.
Follow Ben Hayward on