COMMENT

By Liam Twomey
Andre Villas-Boas
is ever the optimist. But as his
Chelsea
side gear up for a clash with
Manchester United
on Sunday which could shape the rest of their season, it would be understandable if anxiety too begins to make a home for itself in his troubled mind.
A glance at recent results might suggest little is wrong at Stamford Bridge - unbeaten in 2012, three points clear in the race to land that much-coveted fourth Champions League spot, and still in with a chance of catching Tottenham in third.
But don't be fooled. The Chelsea revolution is stuttering.
The New Year has brought with it vital points, but not performances. Victories over Wolves and Sunderland were only achieved with great difficulty and rather generous helpings of luck, while Norwich and Swansea proved too difficult to overcome.
Talk of a defensive crisis has been somewhat subdued by a recent record of only two goals conceded in six matches in all competitions, even if worrying signs remain that the west Londoners are still as vulnerable as at any point in the Roman Abramovich era.
It is, however, matters at the other end of the pitch which are the most concerning. Fernando Torres' ongoing struggles are well documented, but the Spaniard's drought should be viewed as a symptom of the problem, rather than the cause.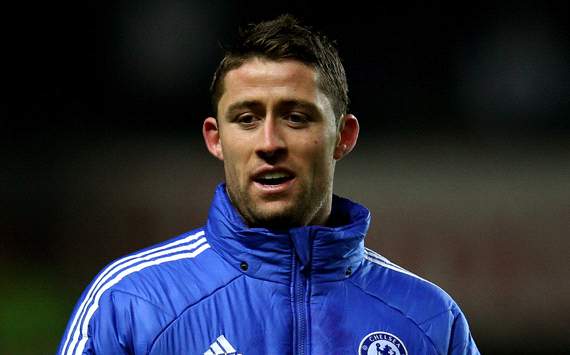 Bedding in | Former Bolton man Gary Cahill still hasn't made his Chelsea debut
The reality is that no Chelsea player has yet reached 10 Premier League goals, and the team has only scored more than once in one of the last eight matches in all competitions. Daniel Sturridge has lost form, Frank Lampard has lost fitness and the rest have failed to step up.
Even against limited opposition, Chelsea have forgotten how it feels to have an easy game. In a season which has shown little respect for reputations this is nothing out of the ordinary, but then, Chelsea are not supposed to be in the business of being ordinary.
Off the field, senior players already irked by Villas-Boas' desire for a radical overhaul of the club's personnel and philosophy have become further ostracised by his perceived aloof managerial style, and the union between the two is now one of necessity rather than affection.
When adversity came calling last January, Chelsea's response was to roll the dice in the transfer market, to the tune of over £70 million on Fernando Torres and David Luiz. Twelve months on, however, they appeared unwilling to even play the game.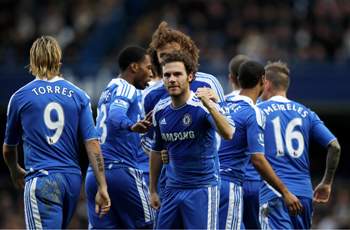 "At their best this season, Chelsea resemble a promising team in transition. At their worst, they appear an unwieldy mess"
Kevin De Bruyne arrived from Genk, before swiftly returning home until at least the summer. Nottingham Forest's 18-year-old striker Patrick Bamford was also acquired with both eyes on the future. Gary Cahill is the only winter addition offering hope of an immediate impact.
Prospective moves for Lille sensation Eden Hazard and Shakhtar ace Willian – two genuine talents with much to offer Chelsea's tepid attack – were quashed by Villas-Boas' bizarre refusal to countenance signings ineligible for the current Champions League campaign.
Given the desirability of the duo, particularly Hazard, such dithering could cost the Blues in the summer should Real Madrid, Barcelona or Manchester City decide to join the chase. But it is in the here and now that a lack of January investment could be most keenly felt.
At their best this season, Chelsea resemble a promising team in transition. At their worst, they appear an unwieldy mess. Even more troubling for Villas-Boas is the fact his men have rarely produced anything in between.
Undermined by such beguiling inconsistency, it seems all the more strange that a club with no traditional aversion to spending would pass up an opportunity to steel themselves for one of the most hotly contested top four races in years.
Perhaps, with Financial Fair Play on the horizon, Abramovich is wary of bankrolling another huge outlay. The loss of Champions League football, however, would surely make a bigger dent in the balance sheet than one or two big-name signings.
More likely is that Villas-Boas' positivity prevailed. In spite of tactical weaknesses, a lack of goals and dressing room unrest, the confident young Portuguese still backs himself and his squad to preserve Chelsea's seat at Europe's top table, as well as his own job security.
It is, undeniably, a gamble, and the stakes could not be higher. Liverpool have momentum, Arsenal have players returning and surprise packages Newcastle are unburdened by expectation.
Ultimate success or failure will not be determined by the outcome of Manchester United's visit to Stamford Bridge on Sunday, but it is nevertheless a significant moment.
Defeat at Old Trafford back in September marked the beginning of Chelsea's struggles. Victory over the same opponents now could reinvigorate them.
On Sunday, Villas-Boas will begin to learn the consequences of his gamble. Win, and he will have good reason to be optimistic. Lose, and anxiety will take hold.
Follow Liam Twomey on