COMMENT

By Wayne Veysey at White Hart Lane

Everton
visited White Hart Lane five months later than scheduled but for
Tottenham
and their satisfied followers it was worth the wait.
As the club's 'glory, glory' anthem played on the tannoy afterwards, Spurs fans rejoiced in the delicious notion that they are the only capital club threatening the Manchester title duopoly.
"Are you watching Arsenal?" sang the fans after Benoit Assou-Ekotto's thunderous 35-yarder via Tim Cahill's backside clinched a convincing victory and delivered the game's champagne moment.
Chelsea's Premier League bid has long bit the dust, Arsenal's fell apart even before we turned on our central heating, which leaves only Harry's hot Spurs as owners of a London postcode and a genuine title challenge.
The problem is, deep down, do the players and staff really believe that they can go nose-to-nose with Sir Alex Ferguson's serial winners and Roberto Mancini's marginal favourites?
When bums begin to squeak, do they have the reserves of resilience, willpower, star quality and strength in depth to edge over the line time and again and be more than a fun diversion to the northern lights?
Even their manager is not sure. You can bet the players, many of whom will be getting vertigo at having reached such dizzy heights, haven't a clue either.
Redknapp's recent strategy has been to talk down his team's chances and give his chairman a none-too-subtle nudge about how a marquee signing or two could provide some added horsepower to an already powerful vehicle.
After watching his side eventually wear down David Moyes' well-drilled Everton with dynamism and craft, he tried to take the pressure off his own players by highlighting the advantages that the pace-setters have.
"I think the pressure is on Man City," observed Redknapp, no doubt with one eye on the clubs' forthcoming clash at Etihad Stadium on Sunday week. "You look at the money they've been able to spend – on wages and fees for the likes of [Sergio] Agüero and [Edin] Dzeko and [Samir] Nasri – and they're going to be expected to be there and win the championship.
"Certainly they or Man United are the hot favourites. We're just hanging in there. We're keeping the players bright, keeping the players enjoying it, we're playing with smiles on our faces."
He makes it sounds like a joust for bragging rights in the local Sunday league. You sense that man-manager master Redknapp is speaking to his players, trying to put the lid on their emotions.
Being the underdogs in the three-horse race will suit Tottenham. But can they last the course?
Certainly, they have thoroughbreds dotted throughout their squad. Watching Gareth Bale gallop away from opponents, Luka Modric effortlessly control games and Rafael van der Vaart thrive in the pockets defenders least like are some of the most stimulating sights in world football, never mind British.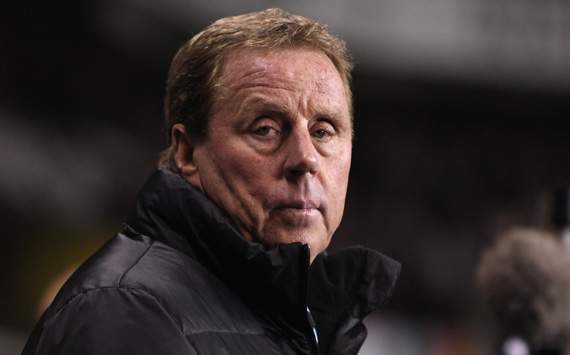 Pressure cooker | Redknapp has said it is Man City's title race to lose
Few midfield anchormen are as accomplished as Scott Parker, full-backs Kyle Walker and Assou-Ekotto have been models of consistency this season, while Aaron Lennon, Emmanuel Adebayor and Sandro have made significant contributions to Spurs' remarkable run of 45 points out of a possible 54 since the early season thrashings at the hands of the two Manchester clubs.
They have had to chop and change in central defence out of necessity, mainly because fit-again Michael Dawson was out for nearly five months. Younes Kaboul has beasted centre-forwards at times with his power but Spurs fall short in this department because of Ledley King's well chronicled difficulties.
Whenever their comfort blanket plays, and whoever slots in alongside him, Tottenham instantly look more relaxed and sure of themselves.
In goal, Brad Freidel is an experienced pair of hands, but he falls short in comparison to the likes of Joe Hart, Pepe Reina and Tim Krul. There are also doubts about Adebayor's effectiveness over a whole campaign and the back-up to the on-loan forward. Jermain Defoe and Roman Pavlyuchenko pale in comparison to second and third choices Mario Balotelli and Edin Dzeko at City, and Javier Hernandez and Danny Welbeck at United, never mind Carlos Tevez and Dimitar Berbatov.
IN THE RIGHT LANE


PREMIER LEAGUE WINNERS' POINTS
AFTER 20 GAMES

MANCHESTER UNITED (2010-11)
CHELSEA (2009-10)


MANCHESTER UNITED (2008-09)




MANCHESTER UNITED (2007-08)




MANCHESTER UNITED (2006-07)



44
45
45
45
50

The feeling is that Spurs have most of the ingredients to win the league. But they won't. Chairman Daniel Levy is too sensible to mortgage his club's future in the push for glory this season. He will only try and prise Junior Hoilett from Blackburn Rovers if he can first shift Steven Pienaar off the wage bill.
Redknapp also wants a centre-half to provide more of an insurance policy at the back but Spurs have not gone in for Gary Cahill this month and remain a long way off signing Christopher Samba, another proven centre-half targeted by the manager.
Perhaps the most compelling evidence of the trials ahead for Spurs is the fixture list. It is unarguable that the biggest hurdles are still to be jumped.
Spurs have been outstanding on the road this season, chalking up six victories at Wolves, Wigan Athletic, Blackburn Rovers, Fulham, West Brom and Norwich City, drawing at Newcastle United and Swansea City and being defeated only once at Old Trafford in August, when Modric was on unofficial strike and pre-Adebayor and Parker.
However, the club's next five league trips are to Manchester City, Liverpool, Arsenal, Everton and Chelsea, games which could break their title challenge.
Get 10 points from that little lot and anything is surely possible. Whatever happens, Spurs deserve all the credit they are now getting for their white-hot streak, which has lifted them to a points haul one ahead of holders United at the 20-match stage last season.
Only a horrible dip in form can ruin their prospects of Champions League qualification. But, for supporters getting excited about the here and now, that is now regarded as the minimum objective.
It has been a five-decade wait for real glory. That is too long for such a distinguished club, yet the standard at the top is higher this season even than last.
When reality checks, it will in all likelihood cause Spurs to fall short.
How do you stay up with football when on the move? With
http://m.goal.com
–your best source for mobile coverage of the beautiful game.