As
Mikel Arteta
made the journey south on deadline day, his signature was acquired by
Arsenal
amongst a flurry of last-minute transfer activity, with an 8-2 slaughtering at the hands of
Manchester United
finally rousing the Gunners to remedy the departures of
Cesc Fabregas
and
Samir Nasri
.
Whilst the names of Europe's finest prospects had been touted for north London throughout the summer, the Spaniard's arrival from Everton was greeted with more sigh of relief than gasp of joy. He was seen as a capable but temporary solution to ease the transition at Arsenal by some, whilst others noted a crafty signing of a player who had already exhibited such class with the ball at Goodison Park.
The 29-year-old will not return to his former stomping ground until March, having taken a pay-cut in order to leave the club after six years in favour of Champions League football. Instead, Arteta welcomes his ex-team-mates to the Emirates on Saturday as the hosts look to climb back into the Premier League top four, a turnaround that was seemingly unthinkable back on August 31.
Goal.com canvassed three different views to assess the impact his move to the Emirates has had on his career and the Gunners' fortunes.
THE VIEW FROM THE CLUB LEGEND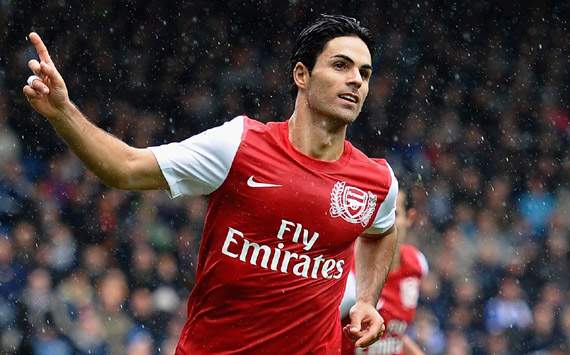 "I think it was a bit of a problem for him early on in that everyone was desperate to compare Arteta to Cesc Fabregas, which was unfair," Nigel Winterburn, who spent 13 years at Arsenal, told
Goal.com
.
"They are both Spanish and very good ball-players, but they perform different roles.
"I've been really impressed with Arteta, particularly in the last month. He's played a really important role in this great run, controlling the tempo of games and picking out accurate passes.
"He's the kind of player someone like Robin van Persie will really enjoy playing alongside because he will know that the ball is coming and it will be put just where he wants it."
"I would like to see Arteta improve his shooting from the edge of the box as he's got the ability to score plenty of goals"





- Nigel Winterburn

The 47-year-old won the Premier League and FA Cup double with Arsenal in 1998, and with the Gunners' trophy drought set to enter a seventh year, the former West Ham man believes Arteta can play a key role as they look to contend for major honours again, particularly in the absence of Jack Wilshere.
"I would like to see him improve his shooting from around the edge of the box as he's got the ability to score plenty of goals in this team.
"He's more dynamic than people give him credit for. He's another one of those Spanish players who are technically excellent in position and make opponents work so hard to get the ball back.
"With Jack Wilshere injured, he's been the senior midfielder and I think he's shown he's a very good character to have in the squad. I don't know him personally but he seems a proper professional who has got that experience and provides leadership by example."
THE VIEW FROM THE TERRACE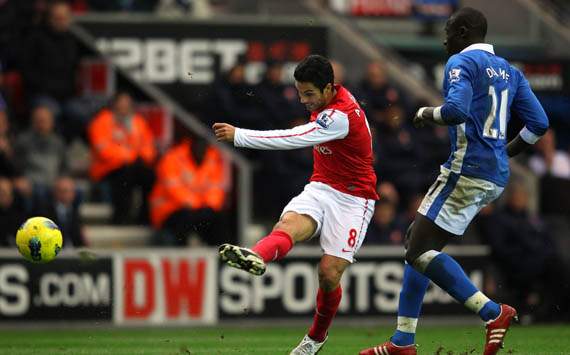 David Oudôt, an Arsenal fan and contributor to the
Online Gooner
fanzine, believes Arteta's role is to feed the creativity of Theo Walcott and Aaron Ramsey, suggesting the Welshman and fellow midfielder Wilshere are set to fill the void left by Nasri and Fabregas instead of the former Real Sociedad man.
"He is a different type of player than Nasri and Fabregas," said David.
"When the ball arrives at his feet he does not play the killer ball to Van Persie, but he holds it up, looks around, and then frees Ramsey or Walcott into space.
"Arteta is simple and brilliant, a decent tackler, quick passer, and a man you would be missing in a 4-2-3-1 formation.
"When Wilshere returns after Christmas and is allowed to become our masterful midfield commander, he will improve further. Wilshere and Ramsey being the players to replace Nasri and Fabregas is not a ridiculous claim.
"Considering last year, the excellent player Wilshere was in that role, and whilst he filled it greatly, Arteta can player there and allow Wilshere to take on Fabregas' position. It's exciting."
Whilst boss Arsene Wenger had been linked with moves for Borussia Dortmund's Mario Gotze and Lyon's Yoann Gourcuff, David admits that Arteta's arrival came as surprise, and after initially being sceptical of the quality of the Spaniard, he believes the player is proving successful.
"On August 31, Arsenal were desperate for a midfield player, and the tabloids had us linked with Mario Gotze, Yoann Gourcuff and the like to fill the holes.
"Mikel Arteta was a genuine surprise. On his arrival from Everton, it immediately presented the Arsenal fans with hope, although I was sceptical.
"Everton fans didn't seem as if they were bothered about him leaving, but soon it was time to realise he was the type of player Wenger had wanted in midfield and so far Arteta's role at Arsenal is proving successful."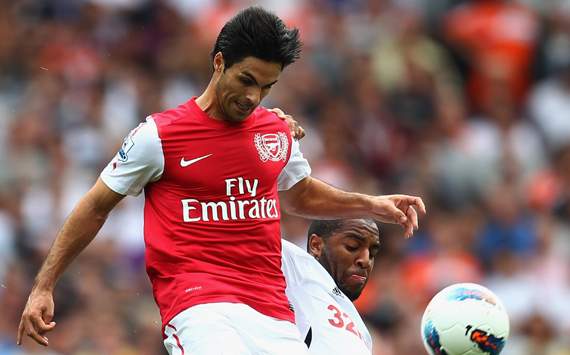 Goal.com Spain's chief editor Sergio Aguilera suggests that whilst Arteta's previously limited opportunities to perform on the European stage with Everton have hampered his chances of breaking into the Spanish national set-up (the ex-Barcelona B man yet to be capped by his country), if he is able to take his chance to impress with Arsenal in the Champions League, then he will soon win the plaudits of his fellow countrymen.
"The case of Mikel Arteta has always been an oddity in Spanish Football," he said. "As opposed to compatriots such as Juan Mata or Fernando Torres, Arteta was never very popular in Spain before leaving.
"Mata, Torres, Silva were stars in Spain before wearing the shirt of a Premier League squad. Not Arteta.
"His experience in Barcelona B, first, and in Real Sociedad, later, were not successful enough to make him a favourite among Spanish fans. Not even during his brief period in the team of his home city, Real Sociedad, in which Arteta failed to prove his quality, playing just 15 matches and scoring only a goal.
"In addition to this, the fact that he signed for, and started succeeding, in a team such as Everton, who do not have as many fans in Spain as other teams like Manchester United or Chelsea or Liverpool, kept him in the shadows.
"Arteta never wore the national shirt but other, arguably worse, players were called up"





- Sergio Aguilera, Goal.com Spain

"Spanish fans would hear about the achievements of other Spanish players, but little attention was posed to the great performances of this midfielder born in San Sebastian.
"Unfortunately for him, during some time, he would appear on Spanish TV more for his relationship with model and former Miss Spain Lorena Bernal than by his quality on the field.
"The main evidence of the odd case of Arteta is the fact that he was never capped to play for the national team, not even in the cases when other arguably worse players were called to wear the national shirt.
"Arteta's signing by Arsenal is a big step for him in terms of raising his status in Spain. His actions with the Gunners now will definitively have more repercussions that his previous experiences and if he continues playing at a high level, he will win the favours of the Spanish fans, just like other players did.
"Cesc Fabregas did it. So can Arteta."
How do you stay up to date with football when on the move? With http://m.goal.com – your best source for mobile coverage of the beautiful game.