DEBATE
By Carlo Garganese | Deputy Editor
Who are the greatest club team of all time?
It is a question as hotly-contested as a debate on science vs religion, global warming vs natural climate change, and The Beatles vs The Rolling Stones.
While Real Madrid 56-60, Ajax 71-73, Bayern Munich 74-76, Bob Paisley's Liverpool, Zico's Flamengo, and the Penarol and Santos sides of the 1960s would all put forward very strong cases, the general consensus is that the title for best ever is a straight battle between Arrigo Sacchi's AC Milan of the late 80s and early 90s, and Pep Guardiola's Barcelona of today.
Sacchi recently told Goal.com: "Both teams were at the very top in terms of entertainment and results, and played a crucial role in the evolution of the sport.
"In 100 years, they were ahead of all others in terms of progression. They are two great teams from two very different eras."
Rule changes & game modifications
It is in comparing teams from different eras where most difficulties arise in this analysis. Football has altered and evolved immeasurably in the last 20 years. The biggest reason for this – and one that this writer has launched a tireless crusade against – is the use of synthetic footballs, which with each passing year have become more and more plastic.
The numerous negative effects that this has had on the game can be read in full here
, but what is especially relevant in this debate is that synthetic balls have led to the art of defending becoming extinct. The sport has become so chaotic and reliant on speed, as the ball pings around the pitch at 100mph, that intercepting and reading of the game are rare qualities in 2011. Defenders are almost all reactive, very few are proactive. In simple terms, synthetic balls massively favour attacking football.
What also favours attacking football is today's liberal interpretation of the offside rule. Twenty years ago, anyone situated between the goalkeeper and last defender when the ball was played was deemed offside – regardless of whether he was active or passive. This was very important to Milan's defensive system, which centred around a high defensive line and Franco Baresi pushing up his backline on-call as he anticipated a through ball. Such was Baresi's genius that he would regularly catch an attacker offside, but were he to utilise the same strategy today then he would be severely handicapped by the rule change. This is a reason why the most fertile breeding ground for defensive talent, Italy, has seen its conveyor belt grind to a halt in the last decade. Italians were the most adept defenders because they were the smartest tactically, a trait they can no longer fully exploit.
Two other minor alterations to the game, both of which - unlike the above – have helped improve football, should also be taken into account. Back in 1989 when Sacchi won his first European Cup, goalkeepers were still allowed to pick up backpasses from their own players. Since 1992, this has been outlawed. While Milan rarely indulged in the dark arts of time-wasting and negative play, in a match against Guardiola's Barcelona, the option of slowing down the tempo in this way – especially if ahead – would be worth considering. A game played without the multi-ball system would also prove beneficial to Milan. Today, as soon as one ball goes out of play, a ball-boy on the sidelines throws in another. This means there are no pauses in action, unlike two decades ago when the same ball was retained and players would have to wait – sometimes 30 seconds to a minute - for spectators to return it. Such is Barcelona's intensity, territorial advantage, and dominance of possession – usually at least 60 per cent or more every match – that regrouping and re-energising when the ball is in-touch would be invaluable.
A final modification that could be relevant is the strictness of the referees. By 1989, the leniency that saw hardmen like Claudio Gentile embark an entire career without being sent off had become a thing of the past, but officials were still far more tolerant of foul play. Dangerous tackles such as two-footed challenges, for instance, were still accepted as part and parcel of the game. A defender could accumulate more offences before being booked and there was less protection for Diego Maradona than there now is for Lionel Messi. Milan were as physical through the likes of Mauro Tassotti and Frank Rijkaard as they were technical – Baresi, Alessandro Costacurta and Carlo Ancelotti possessed old school cynicism too - so their ability to roughen up Barcelona without severe sanctions could be key in stopping Messi and Co.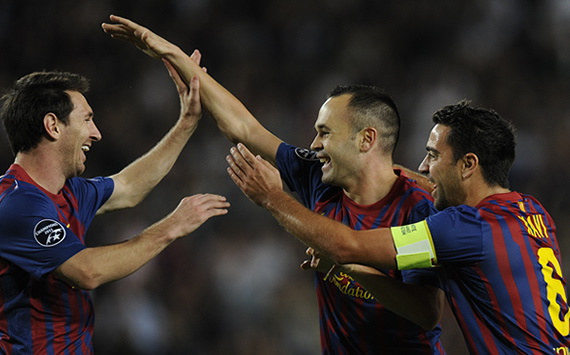 Three Musketeers | Milan would have to stop Barca star trio of Messi, Iniesta & Xavi
What we deduce from the above is that if the game was played in 1989 or 1990 the rules would favour Milan, whereas if it was contested in 2011 the rules would support Barcelona.
Trophies won & era competitiveness
In four full seasons at Milan, Sacchi won eight trophies. Guardiola has already surpassed this number, despite only being four months into his fourth term, as he has led the Blaugrana to 12 titles with four more still to play for in 2011-12.
Volume-wise, Barcelona are the clear winners. However, it must be taken into account that the Serie A championship Milan competed in was light years ahead of the current La Liga in terms of quality and competitiveness. The Napoli of Diego Maradona and Careca, Inter of Matthaus, Klinsmann and Brehme, and the Sampdoria of Vialli and Mancini ensured that the Scudetto race was always a red-hot battle – probably the toughest domestic league in history. Today's Primera Division is merely between two squads, and only since the arrival of Jose Mourinho in Guardiola's third campaign have Barca faced a real top-quality challenger in the shape of Real Madrid. In his three seasons, Guardiola has finished a whopping 17, 28 and 25 points clear of third place, which says as much for Barcelona's brilliance as it does for the inadequate also-rans.
IN TROPHIES | Sacchi's Milan vs Guardiola's Barcelona

| | | | | | |
| --- | --- | --- | --- | --- | --- |
| TEAM | CHAMPIONS LEAGUES | LEAGUE TITLES | DOMESTIC CUP | CLUB WORLD CUP | EURO SUPER CUP |
| AC MILAN | 88-89, 89-90 | 87-88 | - | 1989, 90 | 1989, 90 |
| BARCELONA | 08-09, 10-11 | 08-09, 09-10, 10-11 | 08-09 | 2009 | 08-09, 10-11 |
*
Milan also won one Italian Super Cup, and Barcelona three Spanish Super Cups.
In Europe – which is perhaps the best measuring point - both Milan and Barcelona have two European Cups (Champions Leagues) in three years (Milan were not in the competition when Sacchi took charge), although significantly the Italians remain the last team to successfully defend the trophy in 1990. It can be argued that it was easier to reach the final back in the old European Cup format where a team would play just four two-legged ties before the showpiece. This could occasionally include a favourable route to the final – in 1987-87 eventual winners Porto entered the last four having overcome minnows Rabat Ajax, Viktovice and Brondby. The following year, PSV lifted the title without winning a single match from the quarter-finals onwards.
| | | |
| --- | --- | --- |
| | THREE MAGICAL MILAN MATCHES | |




Napoli 2-3 Milan

May 1, 1988

A classic five-goal thriller with Diego Maradona's champions saw Milan overtake Napoli with just two rounds left. Virdis (2) and Van Basten were the heroes as the Rossoneri went on to lift the Scudetto.

Milan 5-0 Real Madrid

April 19, 1989
After drawing the first leg of this European Cup semi-final 1-1, Milan put on a clinic at San Siro to batter Real Madrid. Ancelotti, Rijkaard, Gullit, Van Basten and Donadoni fired past a helpless Buyo.

Milan 4-0 Steaua
May 24, 1989
Milan lifted their first European Cup for 20 years as they thrashed Steaua 4-0 in the final in Barcelona. Dutch duo Van Basten (2) and Gullit (2) grabbed the goals as the Romanians barely got a kick.
However, Milan's paths to Camp Nou in 1989 and Vienna in 1990 were anything but easy as they overcame outstanding sides such as Real Madrid (twice), Bayern Munich, Red Star Belgrade and Steaua Bucharest. When the Rossoneri thrashed Steaua 4-0 in the '89 showpiece, the Romanians were unbeaten in their domestic league for three years. The 5-0 thumping of Real Madrid in the semi-final second leg arrived just after the Spaniards had gone 27 league games unbeaten and were on the verge of winning the fourth of five straight La Liga crowns.
Barcelona's roads to glory in 2009 and 2011 were more gruelling than Milan's. The Catalans had to negotiate 15 games on their way to winning the former – including a two-legged qualifier and six-game group stage – and two matches fewer for the latter. The teams Milan played were tougher than those Barcelona faced – particularly the Real Madrid of Hugo Sanchez and Emilio Butragueno, and the Red Star Belgrade of Dragan Stojkovic and Dejan Savicevic, but Guardiola's semi-final and final opponents in 2009 (Chelsea and Man Utd) were definitely tough outfits, as were of course Mourinho's Real Madrid from the 2011 semi. Barca would rightly argue that you can only beat what is in front of you, but all in all football in 1989 and 1990 was of a higher quality - and more competitive - than it has been between 2008 and 2011.
| | | |
| --- | --- | --- |
| | THREE BRILLIANT BARCELONA BOUTS | |




Real Madrid 2-6 Barcelona

May 2, 2009

Madrid had won 17 league matches in a row and had the chance to close to within a point of Barca. But Pep Guardiola's men put on a stunning show on his first visit as coach to the Bernabeu.

Barcelona 5-0 Real Madrid
November 29, 2010

With Jose Mourinho now in charge, Madrid had a one-point lead. But a Messi masterclass and goals from Xavi, Pedro, Villa (2) and Jeffren handed a hammering to the Portuguese - his worst-ever defeat.

Barcelona 3-1 Man Utd
May 28, 2011
Barca beat United 2-0 in the 2009 final and dominated that game. Guardiola, though, said he wanted his team to play even better. And they did, turning on the style in another emphatic win.

Barcelona came closer than Milan to winning a third Champions League, as only a heroic defensive rearguard action by Mourinho's Inter in the 2010 semi-final denied them a place in the final, where they would surely have overcome Bayern Munich. In 1991, Milan exited the competition in disgrace in the quarter-finals. Trailing 2-1 on aggregate in Marseille in second-leg injury time, the Rossoneri refused to play on after floodlight power was restored and were subsequently thrown out of the tournament.
Tactics & Total Football
Tactics would be a key deciding factor in a hypothetical Milan vs Barcelona clash. Both Sacchi and Guardiola champion the Total Football philosophy of Johan Cruyff's 1974 Netherlands side, which the ex-Ajax star later exported to his own Barcelona 'Dream Team' of the early 90s. Milan fielded a flexible 4-4-2 where Angelo Colombo often played narrow to form a third centre midfielder alongside Rijkaard and Ancelotti, whereas Donadoni was the attacking right winger who would sometimes switch flanks.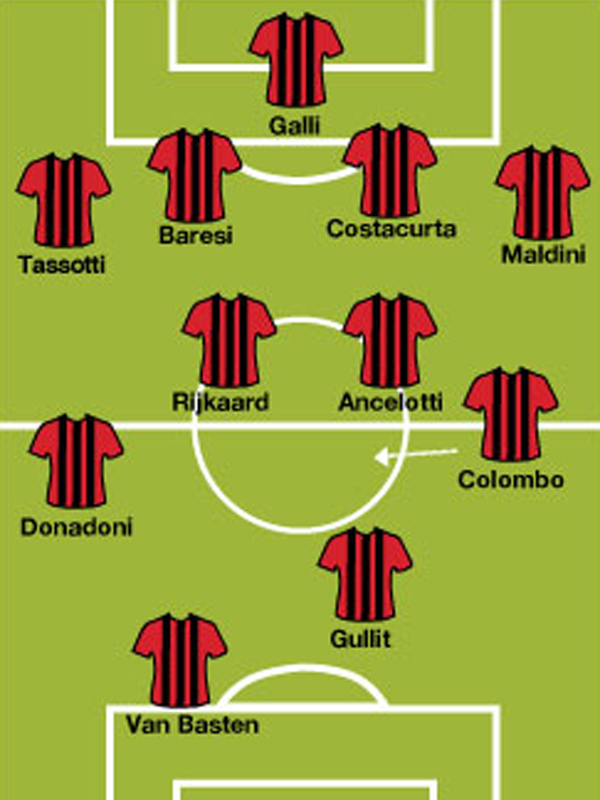 In attack, Van Basten and Gullit forged an irrepressible partnership of pace, power, skill and aerial strength. Barcelona's 4-3-3 is really more of a 4-1-2-3, as Sergio Busquets sits and protects the back four while Xavi and Andres Iniesta exchange intricate short passes to feed the front three of whom false No. 9, Lionel Messi – dropping deep and roaming when he chooses to – is the undoubted superstar.
Both sides pressed off the ball ferociously, hunting down the opposition in packs to rip the ball back from them and assembling a high defensive line. Barcelona have one way of playing, which is to dominate possession and territory, and pass the opposition to death with quick tiki-taka, one-twos, third man runs, before opening up and blowing their competitors away. Everything is played through the middle and on the ground – direct balls, crosses and long shots are ugly, desperate and thus forbidden. Some are criticial of the so-called lack of diversity, yet Barcelona are so good they often don't require a Plan B.
Milan, on the other hand, were a more complete side – if less beautiful - and had more ways of scoring. The entire backline of Tassotti, Baresi, Costacurta and Paolo Maldini, like Barcelona's, were comfortable on the ball. The two full-backs were very useful attacking outlets and exceptional crossers, while Baresi is famed for his offensive bursts in instigating attacks from the back; technically he was as good as any midfielder or attacker. Van Basten and Gullit scored all kind of goals – right foot, left foot, headers, beautiful goals, ugly goals – as did the Milan team in general, who dominated teams not only skilfully, but physically and tactically too. This Milan outfit could cope with the more physical and athletic modern game, but Barcelona also would have had no problems in adapting to the more technical surroundings of the 80s and 90s – indeed the current Blaugrana are probably the most entertaining side football has ever seen.
Head-to-heads and key battles
Victor Valdes is by no means a perfect goalkeeper, but he is superior to Milan's weak link - Italy's 1986 World Cup flop Giovanni Galli, who never convinced. Dani Alves is better than Tassotti going forward, but as an all-round full back the Italian wins. Franco Baresi is arguably the best centre-back of all time (certainly at his peak, which he was in 1989 and 1990), while Alessandro Costacurta was part of an Italian golden era of stoppers and forged a telepathic partnership with his captain. Barcelona's weakest area is at left-back, and none of their options come close to the indomitable Paolo Maldini. As a unit, Sacchi's Milan are regarded as the greatest club defence of all time. They conceded just 14 league goals in their Scudetto winning-campaign of 1987-88, and just one goal from the quarter-finals onwards in the European Cup success a year later. In 89-90, the San Siro giants let in just three goals in nine matches.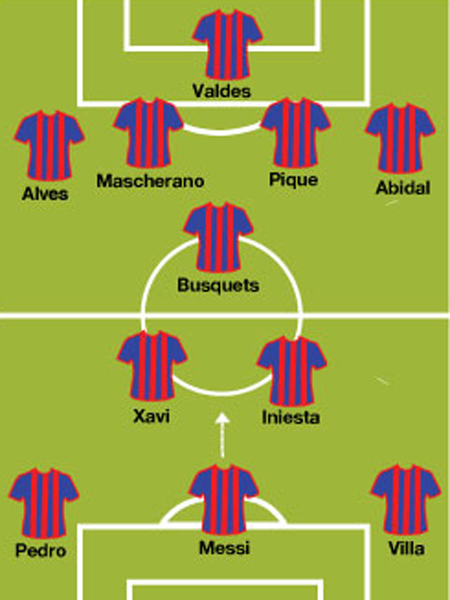 Barcelona shipped 14 in 08-09 and nine in 10-11, although they did play six and four more games respectively. With modern defences probably the weakest they have been for 50 years, there is no doubt that Barcelona – despite a whopping 99 Champions League goals in the Guardiola era - will never have faced a defence even close to as good as Sacchi's Milan, and Messi will never have encountered a marker quite like Baresi. Gullit and Van Basten, on the other hand, would have overcome defences superior to Barcelona's in Serie A, and would fancy their chances against Gerard Pique and Javier Mascherano or Carles Puyol, if isolated.
But in midfield Barcelona would have the upper hand – which as a result would protect their defence. Xavi is probably the best dictator and dominator there has ever been – his partnership and understanding with Iniesta would ensure that Barcelona controlled much of the possession. If the game was played in 2011, these two creative geniuses would find an opening to unlock the Milan defence. In 1989, Baresi's offside trap would pose the diminutive duo an interesting question.
Milan would contain more width than Barcelona. Donadoni would cause havoc down Barcelona's left side, ably supported by Tassotti, and would do the same along with Maldini when regularly drifting to the left. Barca's full-backs would struggle to penetrate going the other way. Tassotti was by no means the model right-back individually but he would cope with any forward runs from an Abidal, Maxwell or Adriano, while the rampant Dani Alves would not bypass the world's greatest ever left-back in Maldini, a phenomenon from his teenage years.
Barcelona's best offensive weapon would be Messi dropping into the hole to take advantage of the space in front of the Milan back four. While Rijkaard and Ancelotti would both take turns in sitting deep, 20 years ago there wasn't the emphasis there is now on an anchor man. Milan would aim to stop Messi as a team via their pressing system, which as already explained would be infinitely less successful in 2011 than in 1989.
On corners and set-pieces, Milan would be the more equipped. Barcelona have a small side, with only Pique, Abidal, Busquets and Mascherano/Puyol able to seriously challenge on high balls. The entire Milan back four, plus the three Dutchmen were all outstanding in the air, and would expect to threaten the opposition at dead balls. On direct free kicks, neither side possesses a true specialist, while on the counter attack both XIs boast an abundance of pace.
In terms of squad depth, 99 per cent of top clubs have much bigger rosters today than they did two decades ago. Ironically, Barcelona do not, yet they would still have slightly more quality to come off the bench than Milan as they could (in 2011) call on the services of Alexis Sanchez, Thiago Alcantara, Seydou Keita and Ibrahim Afellay among others, whereas Milan (1989) would turn to Daniele Massaro, Pietro Paolo Virdis, Alberigo Evani, Filippo Galli and Roberto Mussi before having to use youngsters.
Final Score: Milan win on away goals
Milan are more complete, physical and tactical with greater width to their game, have a stronger defence and an additionally clinical and well-rounded attack. They are also better aerially and from corners and set-pieces. Barcelona are more entertaining, agile and technical, superior in the middle of the park, have a higher class goalkeeper and midfield, and more skilful offence - thanks to Messi.
Ultimately it would depend in whose era the tie was played as to which side would win. In 1989, expect Milan to break the deadlock on a Van Basten header from a Donadoni cross, and then maintain a 1-0 lead through intelligence and tactical smarts. In 2011, Barcelona would take advantage of the faster, synthetic game and the passive offside rule to locate holes and pressure Milan in a way they wouldn't have been able to in 1989. Messi and Villa would net for the Blaugrana, but such is Milan's firepower that Sacchi's men would reply with a single goal of their own through Van Basten or Gullit.
Sacchi exclusively told Goal.com a few weeks ago that "I coached the best team in history". His claims are upheld in this analysis - Milan win 1-0 in their 1989 home leg, Barcelona 2-1 in their 2011 hosting - as the Rossoneri emerge victorious on away goals!

Who do you think would win between Sacchi's Milan and Guardiola's Barcelona? Leave a comment below and vote in our poll
How do you stay up with football when on the move? With http://m.goal.com –your best source for mobile coverage of the beautiful game.