Goal.com looks into Sir Alex Ferguson's incredible 25 years in charge of Manchester United...
Old School New School
Over a thousand managers in the English game have been sacked, resigned or left by mutual consent since Alex Ferguson took over as the manager of Manchester United 25 years ago. While all these many frivolous interactions were borne, endured, excessively discussed and eventually forgotten, Ferguson has consistently dominated arguably the most competitive domestic football league in the world.
Adaptation..
His ability to consistently adapt to the extreme changes the game as seen in the past 25 years has been an important factor in the success United have enjoyed under his guidance. He has embraced the modernity of the game in all aspects from improving on drills and diets, focusing on science and statistics, to dealing with devious agents, players, their brands, their entourages and even the odd imperialistic board member.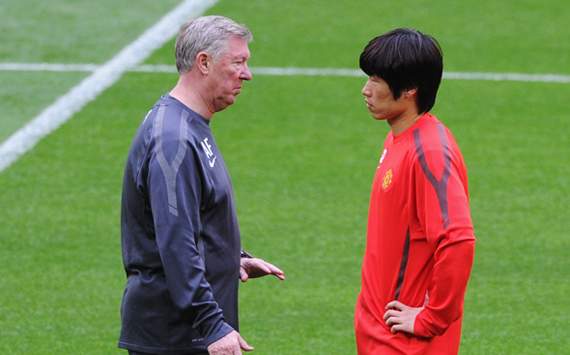 Feguson's Ability To Improve Drills And Diets Proved To Be A Massive Factor
Perhaps his dealing with the press and referees could use some refining but its all part of a character that has helped shape the managerial position to this day. He has been adamant about only bringing in professionals with similar values and work ethic into the club as his assistants, coaching staff, nutritionists, psychologists and other important roles. His ability to pick the right people for the right job for the right amount of time has always been eerily intuitive and downright suspicious.
Evolving with the times and moving away from the traditional long ball no nonsense attitude, over the last couple of decades Ferguson has had his players perfect a sensible mix of ball possession interrupted only by bursts of spontaneous and instinctive direct play. In order to adjust he has identified the weaknesses in his squad on a number of occasions and has never hesitated to procure adequate reinforcements.

Developing Talent
It would be easy to list 15 or 20 names of players that Ferguson has either brought up though the ranks or bought from the market at a bargain price, that would convince even the most stubborn of City supporters of his ability to recognize talent. However having the best football team is never not just about finding and paying for the best current 'in form' squad; Ask Chelsea.
Man United have achieved such longevity because they have managed to stay competitive even while reconstructing their team regularly. During his quarter century in charge, Sir Alex has always incorporated a mixture of experience and youth.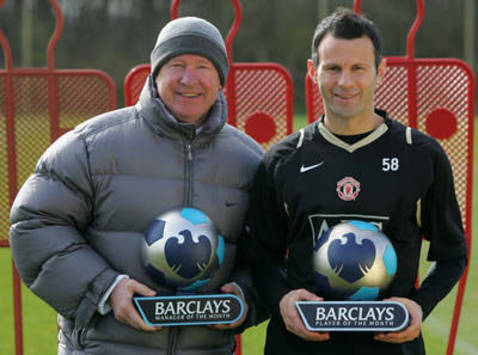 Ferguson Nurtured His Players Well And Incorporated A Mix Of Youth And Experience

The senior players educate the junior players who in turn grow into senior players who then impart wisdom with the upcoming crop and so on and so on. Roy Keane and Paul Ince controlled the middle of the park with Scholes who in turn has played alongside both Anderson and Carrick. Van Nistelroy played with Rooney who now connects with Hernandez and Wellbeck. Ronaldo, Nani, Park and Valencia all benefited greatly from the experience of Giggs.
It is this long-term view towards realizing the player's potential that has allowed Manchester United to forgo long transition periods where a club would find itself confused, stagnant and looking for inspiration to head back in the right direction.
Managing the Players
Traditional in the way in which he motivates his players, Sir Alex has enforced his beliefs upon only those that are receptive. Inducing fear coupled with a spirited belief in hard work he has managed to extract the best traits from players coming from various different backgrounds and cultures. Over the years, most critics of the game have generally applauded his player management.
For some, Steve Bruce, Pallister, Keane, it was the infamous 'hairdryer' treatment. For other players like Ronaldo, Cantona and Rooney, Ferguson applied a softer more fragile and positive approach. Its his ability to treat different players differently while still appearing impartial to all that allowed him such control over the team both on and off the pitch, guiding the team to continual success.
Ferguson was inflexible in his belief that no player is bigger than the club. Over the many years, players such as Gordon Strachan, Paul Ince, Jaap Stam, Dwight Yorke, David Beckham, Ruud Van Nistelroy and Gabriel Heinze have parted ways with Manchester United due to some form of confrontation with Sir Alex. Even Roy Keane, who meant so much to Manchester was not spared following criticizing his teammates on MUTV. Players that underperformed like Forlan, Bebe, Cruyff were shown a similar although less controversial path. Its no surprise that Carlos Tevez never fully got the chance to grumble at Manchester United and how quickly Ferguson picked up on this arrogance and eradicated the threat.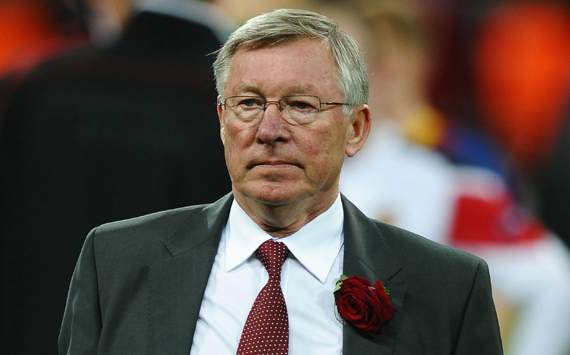 For Ferguson No One Was Bigger Than The Club
His irritable demeanor, his scowl and his language has always been rough but it's the conviction with which he delivers his point of view, while achieving the desired result that intimidates his peers. Many managers have tried to cross his path in the past 25 years, but no one has tried to more than once. Having paid more than 75,000 Pounds in referee related fines and accumulated up to 15 touchline bans, Ferguson has never been afraid to voice his opinion, and many believe his 'mind games' and referee bashing have no place in football. Agree or disagree, when teams travel to Old Trafford, tactically, they are set up very tentatively and the pressure placed on the officials has created an advantage for his team in the form of 'Fergie Time' – the valuable extra minute or two that Manchester United tend to gain in injury time when required.

Desire to Win
..
A bright red breathing example of a 'sore loser' Ferguson demanded a work ethic much higher than that of the competition. Whether via intimidation or even a gentle scolding, he has instilled in his players an attitude that does not tolerate any form of defeat.
"…I like to see my own character in people. I like to see bit of myself in all my
players and that something maybe obsessive, driven…don't like losing." (BBC North West Tonight and the archives of BBC 5 live.)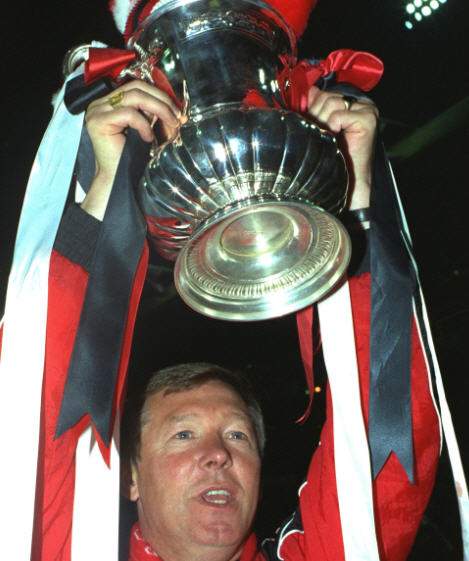 Ferguson's Desire To Win Is Unparalleled
He has helped instill in players like Rooney, Giggs, Scholes, Nani, Vidic and so many more the unparalleled value of winning. We see many similarities in the past teams (Pallister, Hughes, Roy Keane, Cantona) and the newer lot (Rooney, Park, Anderson, Vidic) in their work rate and their assertiveness when going in for a tackle. There is rarely any uncertainty or anxiety, only fearless desire and aggression. One can imagine Ferguson to have gone barreling in on a 50-50 ball in similar fashion in his playing days at Rangers or Falkirk. A glance at the ages and continuous achievements of Giggs, Beckham, Gary Neville and other of "Fergie's Fledglings" is testament to a mentality that he never quits or even slows down.
In 25 years Ferguson has commanded, no, demanded the utmost respect from his team, the staff, any opponents and all onlookers.
And The Statistics to back it all up...
In 25 years, 1409 games, he has collected an astounding 12 premier league titles; 5 FA Cups; 2 Champions League Titles; 4 League Cups and 10 Community Shields.
Sir Alex Ferguson has also been honored with an Officer of the Order of the British Empire (OBE). He has received the Commander of the Order of the British Empire (CBE) and the Knight Bachelor (Knighted).
What Do YOU Think Of Alex Ferguson And His 25 Year Old Reign. Give In Your Views..
How do you stay up to date with football when on the move? With http://m.goal.com – your best source for mobile coverage of the beautiful game.