COMMENT
By Kris Voakes,
Goal.com
"Io non rubo il campionato ed in Serie B non son mai stato"

"I don't steal the championship and have never been in Serie B"
-
C'é solo l'Inter (the Inter club anthem)
With the resumption of the Calciopoli trial this summer, there was meant to be a final answer. Still, there hasn't really been one. And while the two main players in the whole affair will slug it out at San Siro on Saturday night, there may never be a definitive winner in the debate. Fans of both Inter and Juventus will always believe they were in the right and the other lot were in the wrong. And that is why it is now up there as the world's biggest football rivalry.
Forget Barcelona-Real Madrid, Fenerbahce-Galatasaray, Celtic-Rangers and Partizan-Red Star, forget even Boca Juniors-River Plate. The Derby d'Italia was sent hurtling through the stratosphere with the allegations regarding Inter's conduct in the Calciopoli scandal, making it a match not to be missed this weekend.
Though the sides have had a very long, very bitter history of run-ins, the stakes have been raised to immeasurable proportions in the past five years. And chief prosecutor Stefano Palazzi's assertion that Inter were guilty of greater ills than the supposed original culprits Juve have brought to a head the deep feeling of hatred that has existed since the Bianconeri were first implicated in Calciopoli half a decade ago.
Since the whole case was originally blown open by a series of wiretaps set up by Telecom Italia, the Bianconeri have stood their ground in their belief that they had done nothing out of the ordinary and that Inter were among a number of clubs who would have been proven just as guilty as they were. Their cries of foul originally fell on deaf ears as they were demoted to Serie B and forced to start on minus 30 points (later reduced to -17, then -9) for offences that had never previously been punished with penalties of more than a few points.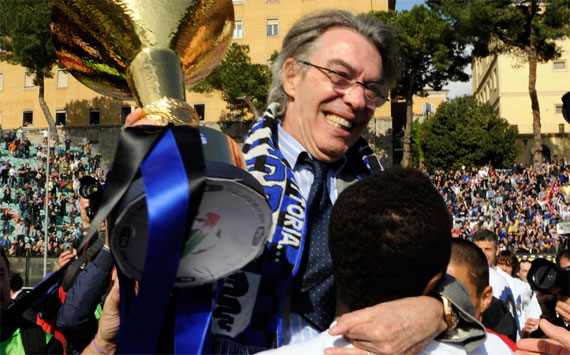 Guilty? | Moratti is accused of speaking to referees and referee designators
It finally seemed as though they would be satisfied by the words of Palazzi in the summer, only to later find out that the Statute of Limitations in Italy would stop Inter from being stripped of the 2006 Scudetto they were awarded retrospectively. Only, how would Juve have ever been truly satisfied anyway? Italian football has changed irreparably in the five years that have followed, and with the loss of Champions League football and various star players came the immediate loss of status they'd taken years to build up.
It is now Inter's turn to complain of victimisation, with president Massimo Moratti calling Palazzi's statement an "unacceptable attack" on a club he'll still claim is innocent of any charge. All this despite the discovery of countless wiretaps implicating him in attempts to influence referee designators, the same charge which resulted in Juve's demotion, and points penalties for several other sides. There were even Article 6 violations by Inter, AC Milan and Livorno which would have seen the three clubs relegated had they been caught out five years ago, but the FIGC's ineptitude in dealing with the case first time around has simply created a powderkeg.


IN NUMBERS
The damage caused by 2006

12

The number of trophies Inter have collected since the Calciopoli verdict.

1
The number of trophies won by Juventus in the same time - and that was the 2007 Serie B crown.

6
The top line Juventus first team players lost to other clubs in the firesale which followed the original verdict; Lilian Thuram and Gianluca Zambrotta to Barcelona, Zlatan Ibrahimovic and Patrick Vieira to Inter, and Emerson and Fabio Cannavaro to Real Madrid.

5
Juve have finished in an average of fifth place since Calciopoli, coming third in 2008, second in 2009, and latterly recording two seventh-placed finishes.
14
The number of goals scored (seven each) in the eight clashes between the sides since 2006. Juventus lead the head-to-head in that time with three wins to two.

So the rivalry that has in recent years been stirred up by claims and counter-claims can never now be resolved. Juventus could yet be given the moral victory of a token stripping of Inter's 14th Scudetto in the courts next month, but it can do nothing to replace the last five years and will merely serve as evidence to back up their belief that their demise was almost entirely manufactured by the Nerazzurri.
Five league titles, two Coppe Italia, three Supercoppe and, most notably, one Champions League crown and Club World Cup later, Inter started this season in exactly the same position they would have anyway – with a squad built off the back of their position as the No.1 team in Italy that was assumed in the summer of 2006. Juve, meanwhile, are only just struggling back onto their feet five years after the carpet was ripped from under them. The mass exodus of players, the loss of titles, the humiliation of Serie B, the long, difficult road back… none of these things can be reversed despite the early progress made under new coach Antonio Conte.
So while Inter may well be called out once and for all as the real bad guys in one of Italian football's greatest self-implosions, it is Juve who have paid the ultimate price. And Nerazzurri followers will tell you all the while that their good name has been besmirched by their greatest rivals. They'll continue to sing "Io non rubo il campionato" and will still be able to boast "in Serie B non son mai stato", however much Luciano Moggi et al question their right to do so.
All of which means there is no going back. This is not racist chanting at Mario Balotelli or Samuel Eto'o. It is not Felipe Melo sparking a 20-man brawl with a crude foul. It is not flares being thrown between home and away sections. Nor is it even Piero Ceccarini failing to give a penalty against Mark Iuliano for a foul on Ronaldo. This is a whole new level. It is the calculated set-up aimed to destroy another club... but who are really the victims and who are the transgressors?
They will fight them in the boardrooms, they will fight them in the courts, and, finally, they will fight them on the pitch once more at San Siro on Saturday. The Derby d'Italia is about to go global – all thanks to the mistakes of 2006.
If I were in Moratti's shoes, I would have avoided going around telling everyone I was clean and honest for all these years. Now those phrases are even more shocking after the recent revelations





- Former Juventus sporting director Luciano Moggi

I am absolutely convinced that we have nothing to do with Calciopoli, so I hope and believe that justice will run its path... Juve should go on holiday and forget Calciopoli





- Inter president Massimo Moratti

It's always right to listen to men of a certain age, but Juventus plan their own holidays





- Juve owner John Elkann in reponse to Moratti

If we have to give back one title, then Juventus would have to give back more titles





- Ernesto Paolillo, the Inter CEO