Neha Ganeriwal analyses the weekend's defeat of Claudio Ranieri's men and discusses what went wrong for the Nerazzuri…
"Things aren't going for us at the moment"… this post-match analysis by
Claudio Ranieri
might just be the understatement of the week as
Inter
's dismal start to the season continues with a 2-1 loss against
Catania
.
Ironically, the counterattack which had been Inter's deadliest weapon under Mourinho's reign, proved to be their nemesis this time around as Sergio Almiron and Francesco Lodi turned the game around in the second half, once again exposing Inter's flimsy defence after Cambiasso had provided the lead for Inter just six minutes into the game.
It was never going to be a walkover with 17th place Inter going into this game looking to make up for their worst start in 28 years, that too without the services of Julio Cesar, Forlan, Chivu, Sneijder, Coutinho, Ranocchia and Obi against a side that have lost just one of their last eleven matches at home. But such a pale performance was definitely not on the cards.
As it happened…
Lining up with a 4-3-1-2, Inter once again found themselves out of ideas moving from a solid, compact defensive performance in the first half to complete disarray in the second.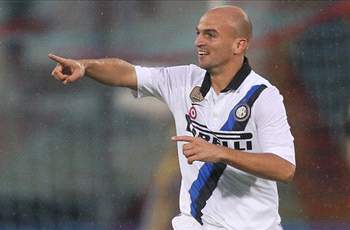 Cambiasso started the game superbly, bagging a goal...
They had an almost perfect start with Esteban Cambiasso meeting Maicon's trademark cross at the far post and curling it beautifully into the top right corner of Mariano Andujar's goal with his left in the sixth minute of the game.
What should have been the start of an inspiring performance by the Italian giants gave way to a resigned first half with Inter dispelling any ideas of further attack and retreating deep with two rows of very sound defence to ward off a persistent Catania; but not for too long.
Minutes into the second half Catania turned it around with counterattack as Bergessio exploited the out of position Inter defence and raced forward, slotting the ball to Sergio Almiron who in turn curled it over Castellazzi into the top corner for a perfect finish.
Just two minutes later the Inter backline was caught too far forward yet again, allowing Bergessio to run through with the ball all the way to goalkeeper Castellazzi before falling over his arm and winning his side a penalty, which set-piece specialist Lodi converted without any sweat to put his side in front 2-1.
Ranieri admitted, "We knew Catania would be aggressive after the break, we spoke about it in the dressing room", which makes one wonder why the defenders were caught dozing not once, but twice in textbook counterattack moves in a matter of minutes post the break.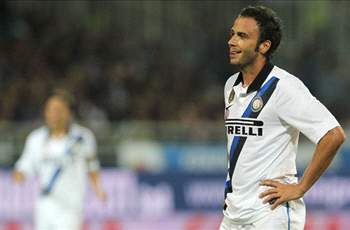 One would hardly believe he was even on the pitch...
Inter did little to find a way back into the game post the strikes as the Catania defence held strong right through into injury time denying Inter any possible chance of rescuing a point from the game. Luca Catellazzi replacing the injured Julio Cesar had his job cut out as he saved his side from further embarrassment with saves in the 75th and 82nd minute against Delvecchio and Catellani respectively.
All hopes of a fresh start under Ranieri crumpled as the strikers Pazzini and Milito (eventually substituted by Zárate) struggled to drag the team forward and never really tested Mariano Andujar. The midfield came across as rather complacent and the defence was a letdown in the second half, making their opponent's five man midfield look rather impressive with an in-form Almiron and Bergessio running forward at will and Gomez troubling Nagatomo on the wing.
What next?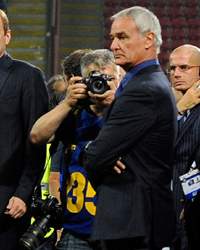 What's on Claudio Ranieri's mind?
Despite making allowances for the injuries and suspensions, it would be safe to say that Inter are currently a long way off the pace and could easily find themselves in the relegation zone if they don't step up their act soon.
"I'll have a word with the lads to try and find out if it's a problem of mentality, confidence or form," is Ranieri's plan of action for his team that is now embarrassingly positioned just above the bottom three in Serie A.
The crisis just doesn't seem to end as they play at Stade Lille-Metropole on Tuesday. Hopefully the return of Sneijder, Cesar, Chivu and Coutinho will boost the frailing confidence against Lille and inspire a clinical performance that won them the treble not too long ago.