The two most successful clubs in the history of English football lock horns in the so called 'Lancashire Derby' at Anfield on Saturday. The fixture is usually played at midday due to media interest and to discourage fans from drinking before the game.
The ferocious rivalry has seen many infamous incidents such as the 1996 FA Cup Final, where an unidentified
Liverpool
fan spat at Eric Cantona and threw a punch at
Alex Ferguson
as a victorious
Manchester United
team walked up the steps at Wembley Stadium to collect the trophy from the Royal Box, human excreta being thrown at United fans and several unfortunate battles being fought by their respective hooligan firms M.I.B (Manchester United Firm) and the Urchins (Liverpool Firm).
We hope to see some traditional 'English' football this weekend as the players return after strenuous games on National duty. Here, we look at five blockbuster games between the 2 giants and pray for all talk football ON the field, rather than OFF it...
Liverpool 3-3 Manchester United: Premier League - 1994
A classic encounter this was, the days when the 'devil domination' had begun and Liverpool were weeping in past glories. A thrusty Manchester United were put forward by Sir Alex as Steve Bruce's army was riding on some sensational stats if not form! United were top of the table, having lost just once, 21 points ahead of Graeme Souness' Liverpool in 9th place and were unbeaten in their last 17 Premier League games.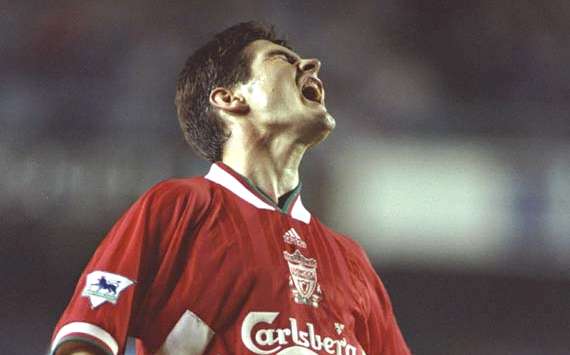 Nigel Clough Will Still Live In Liverpool Fans' Memories...
United lived up to their billing as pre-match favourites when they took a 3-0 lead within 24 minutes, with goals from Steve Bruce, Ryan Giggs and Dennis Irwin. It looked like an evening of true misery was ahead for the home supporters. Nigel Clough was one of many Liverpool signings during that era who struggled to adapt to life at the club, but he will live in the fans' memories for his contribution in this game. Clough gave Liverpool a glimmer of hope with a goal from 25 yards out, before putting them right back in it with a near identical effort. Neil Ruddock completed the unlikely comeback with a headed goal 12 minutes from time.
Probably the best first half ever witnessed between the two sides, with 5 magnificent goals and a thriller plot. Those were the days weren't they?
Manchester United 2-2 Liverpool: Premier League - 1995
Pretty much everything that has ever occurred in the life of Eric Cantona has been dramatic, so it's no surprise that when he made his return to the Manchester United team after an eight-month ban for attacking a fan, it came in a home match against Liverpool. Cantona was soon in the thick of the action, as his cross found Nicky Butt in the opening seconds and the midfielder gave United the lead.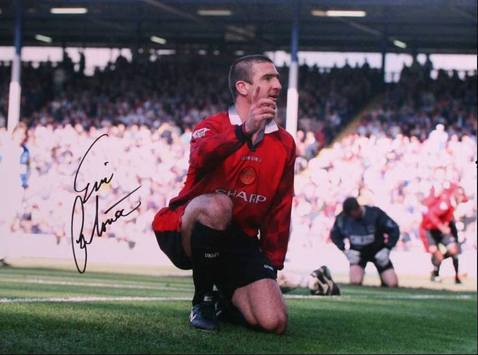 Eric "God" Cantona Signed It Off With The Equaliser...
The Frenchman wasn't the only player nicknamed 'God' by his own fans though and Robbie Fowler showed why he was held in such high-esteem at Liverpool with two brilliant goals either side of half-time to put Liverpool 2-1 up.
Of course, it was Cantona who had the last word. His pass put Ryan Giggs through on goal and when he was brought down in the box for a penalty, it was Cantona who coolly put the chance away and sent Old Trafford into delirium. A typically traditional game, one that the United fans would never like to forget.
Manchester United 1-4 Liverpool: Premier League - 2009
Football fans can be excused if they missed the above mentioned classics from the 90's, but just CANNOT have missed the unexpected thrashing by the Merseysiders hardly 2 years ago. Liverpool went close to pipping Manchester United to the Premier League title in 2009 and the highlight of their campaign was a 4-1 win at Old Trafford in March that revived their title hopes.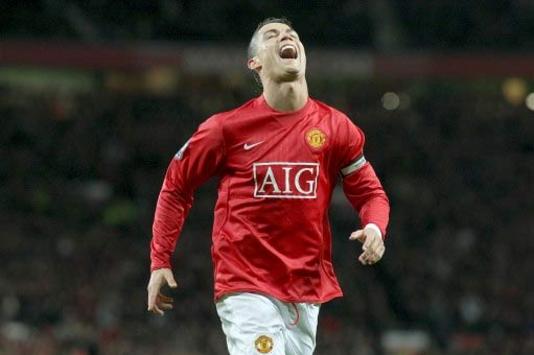 Cristiano Ronaldo's Penalty Goal Went In Vein...
The game looked to be going United's way when a Cristiano Ronaldo penalty gave them the lead, but Fernando Torres equalised shortly afterwards and a Steven Gerrard penalty gave Liverpool at half-time 2-1 lead. Nemanja Vidic had a torrid afternoon chasing Torres around and things got worse for him in the second-half, when he was sent off for fouling Gerrard and then saw Fabio Aurelio curl in the resulting free-kick from long-range. Andrea Dossena made it a crushing 4-1 defeat in injury time, to really rub salt on United's wounds.
A crazy game that saw the emptiest last 5 minutes ever seen at Old Trafford, but who will prevail this time round?
Manchester United 2-1 Liverpool: FA Cup Fourth Round - 1999
When you look back at Manchester United's treble-winning season of 1999, the defining memory is of the two late goals that saw them defeat Bayern Munich to win the Champions League, but it was only thanks to another pair of late strikes that United progressed past the fourth round of the FA Cup.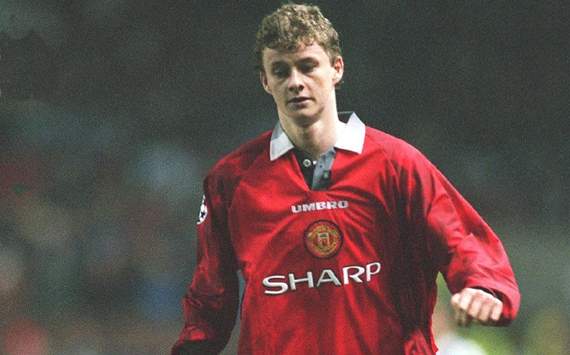 Ole Gunnar Solskjaer Scored The 90th Minute Winner...
Michael Owen gave Liverpool an early lead that they managed to hold onto until two minutes from time when Dwight Yorke scored a late leveller. Heartbreak was to follow for the travelling Liverpool fans, when United's 'super-sub' Ole Gunnar Solskjaer grabbed a winning goal in the 90th minute, that was almost as important as his one in Barcelona later on in the season.
You just wonder what's in store for Michael Owen in Saturday's crunch tie!
Liverpool 2-1 Manchester United: League Cup Final - 1983
Six years after losing to Manchester United in the FA Cup Final, Liverpool got some revenge as they won a League Cup Final between the rivals at Wembley. Norman Whiteside had given United the lead in the 12th minute and they remained 1-0 up until 15 minutes to go, when Ray Kennedy made it all square. The game went into extra time and was ultimately decided by a sumptuous curling shot from Ronnie Whelan. In an emotional end to the afternoon, Bob Paisley walked up the famous Wembley steps to collect the trophy in what was to prove to be his last final as the Liverpool manager.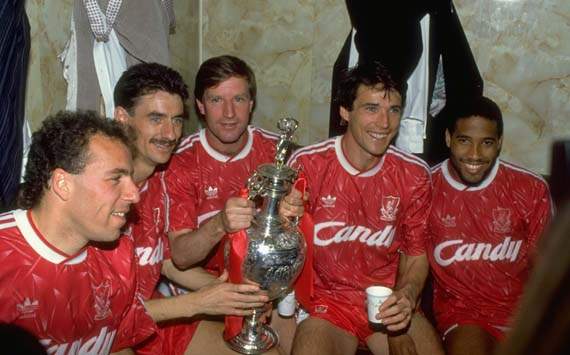 Ronnie Whelan Holding Bob Paisley's Last Liverpool Trophy
A true classic, something we neutrals want to see this Saturday!
Download the Goal.com Mobile app, and the world of football will be at your fingertips and in your pocket!