| | | | | |
| --- | --- | --- | --- | --- |
| LIVERPOOL | | V | | MANCHESTER UNITED |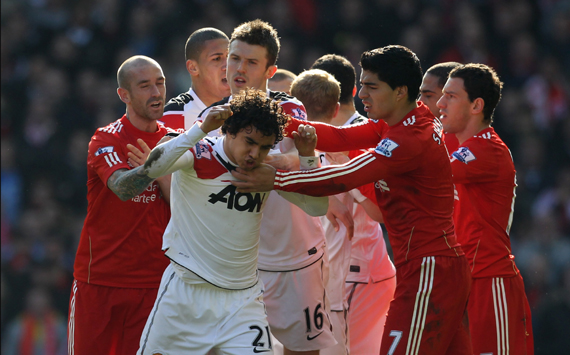 Do you consider this to be your biggest game of the season?
LIVERPOOL:
Arguably, yes. Only the derby comes close in terms of rivalry but with United's dominance in recent years - is that decades now? - beating them has become more important, especially given their recent achievement, which we won't mention. Not to mention how much you can see it irks Sir Alex Ferguson when we beat them.
MANCHESTER UNITED:
Manchester United versus Liverpool is always the biggest game of the season because of the history between the clubs, supporters and cities. This game is all about the intensity of the encounter, the traditional rivalry and the history of the event. It's a cliche now of course but on the pitch Liverpool have been well and truly 'knocked off their perch', with United claiming a 19th domestic championship last season.
That Liverpool have only rarely been challengers for the title over the past two decades says much. That the club isn't even competing in European competition is just another indication of the huge gulf that has developed between the clubs. United have a bigger supporter base, a better team and greater success on the pitch. This has eroded the rivalry for trophies perhaps but not between supporters.
Andre Marriner - happy with that referee appointment?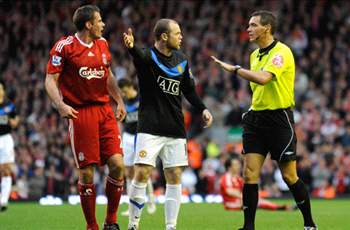 LIVERPOOL:
Well, Ferguson doesn't like him so that's a good start. The ref in these games can be key, unfortunately, as long as it isn't Howard Webb we are pleased enough. Hopefully we're not talking about Marriner after the game.
MANCHESTER UNITED:
The hope is that Marriner is strong, isn't intimidated by the atmosphere and makes sensible decisions that means the better team wins, not the side that receives the most favourable decisions. He is a referee that has ruined this fixture in the past but there's little point worrying about it. There's no conspiracy here on either side, no matter what Kenny Dalglish may think.

Who will be the key player for your team in this match?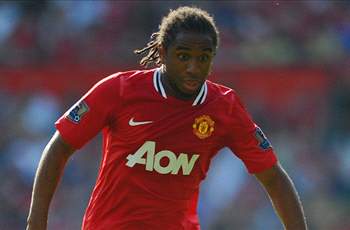 LIVERPOOL:
Most likely
Luis Suarez
given his importance in general for us now. But also his temperament will be key. If he can use his passion to good effect and not get involved in any negative actions then he can cause United plenty of problems.
If
Steven Gerrard
starts, he too will be key - first off whether he is up to it fitness-wise and secondly can he influence the game and dominate what is not United's strongest central midfield ever.
MANCHESTER UNITED:
The match will be won and lost in central midfield as always. With Steven Gerrard fit and Tom Cleverley only just back from injury I'm expecting - perhaps hoping - for a big performance from
Anderson
. The Brazilian started the season so well but hasn't performed to the same level in recent matches against Chelsea, Stoke City, Basel and Norwich. It's about time we had a huge performance from the 23-year-old.
Opposition player that could cause your team problems?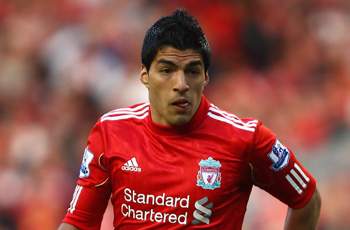 LIVERPOOL: Ashley Young
or
Nani
could cause whoever plays right-back a huge amount of problems. No doubt this is an area they will look to expose. Glen Johnson is back in training so could play, we just hope Martin Skrtel isn't forced to play there if Johnson and Martin Kelly are both ruled out.
MANCHESTER UNITED:
Suarez
has impressed with individual moments of brilliance this season and he looks like a genuine talent. That said there's no doubt his overall impact is muted by inconsistency. Look behind the Scouse-friendly headlines at the statistics and Suarez has some way to go before the Liverpool-driven comparisons with Lionel Messi et al are realistic. He could win the game for Liverpool. Equally Suarez could disappear.
Who will be the opposition's weak link?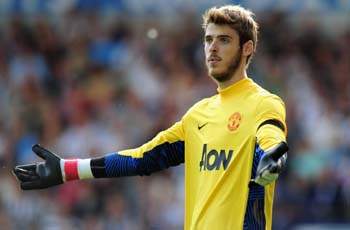 LIVERPOOL:
The keeper! Right-back could also be where we expose them - if Stewart Downing is on form and depending who Ferguson starts there.
MANCHESTER UNITED:
Liverpool are so average in central defence it's almost laughable. Pick any two from
Jamie Carragher
,
Daniel Agger
,
Sebastian Coates
, or
Martin Skrtel
and I fancy United's front two to cause a lot of problems. In fact United's strikers and wide players should move the Liverpool back four around far too much for Dalglish's men to cope. I fancy United to score and take the three points.
Any player have a point to make?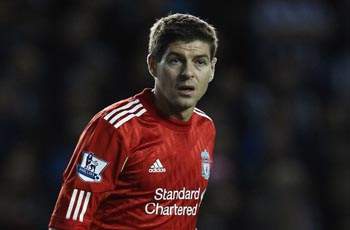 LIVERPOOL:
After seven months out,
Steven Gerrard
will be looking to show he still has all the attributes to take charge in a game of this kind.
MANCHESTER UNITED:
No. This fixture isn't about individuals, it's about the team coming together to beat a major rival. 'One for the fans' if you will. Wayne Rooney has often spoken about his hatred of Liverpool and sometimes this has shown in matches when the striker has simply tried too hard. Let's hope Rooney is relaxed about this one and puts in another fantastic performance.
Which player from either side is most likely to see red?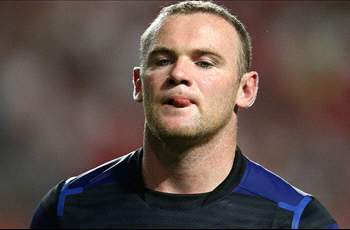 LIVERPOOL:
Suarez
or
Rooney
. The two hot-head forwards.
MANCHESTER UNITED:
Given Marriner's record it could be anybody. There will be passion on both sides but I don't see why we should expect to see a red. One player who definitely won't be on the end of a dismissal is Gerrard, to whom nothing sticks.
In the past, in this fixture and with this referee, Gerrard has committed more than one crude foul, shown the official two fingers and then sworn. Imagine if that had been Rooney? The national scandal and outrage? While Gerrard gets away with it every time.
Opposition player who will get booed the most by your fellow fans?


LIVERPOOL:
Michael Owen
. If he plays.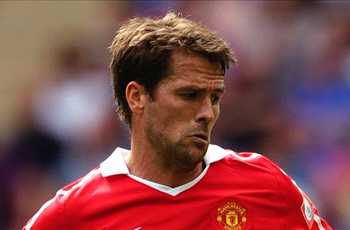 MANCHESTER UNITED:
Gerrard
I guess but that is historical antipathy to Mr. Liverpool. Or is that Carragher? Either way neither is popular with the travelling support.
That said United fans will spend the 90 minutes getting behind the team rather than focusing on the opposition players. It's very different from Old Trafford which can become sterile - United fans on the road will create a great atmosphere, even if Liverpool have much reduced the amount of tickets available to away fans.
Your combined Liverpool - Manchester United XI...
LIVERPOOL (MATT LADSON)
Reina
Kelly, Vidic, Agger, Enrique
Nani, Gerrard, Anderson, Young
Rooney, Suarez



MANCHESTER UNITED (ED BARKER) De GeaFabio, Ferdinand, Vidic, EvraNani, Cleverley, Anderson, Young
Rooney, Chicharito
(no Liverpool player chosen)

You favourite Liverpool - Manchester United memory?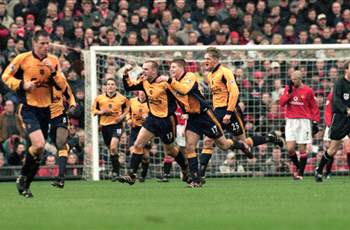 LIVERPOOL:
Plenty; the 4-1 obviously of late but further back, Robbie Fowler's double at Old Trafford and Danny Murphy's free-kick winning goal.
MANCHESTER UNITED:
There are plenty but Eric Cantona's late strike in the 1996 FA Cup Final sticks firm in the memory. It wasn't a pretty match but the drama of winning the Cup, against the old rivals, so late in the game was magnificent. Add the ridiculous hype surrounding Liverpool's 'Spice Boys' and the embarrassing cream Armani suits and it was a great day all round for United.
Prediction (score and scorers)
LIVERPOOL:
2-2. Suarez, Adam (pen); Rooney, Young.
MANCHESTER UNITED:
With Rio Ferdinand and Nemanja Vidic back and fit, Tom Cleverley involved at some point and Rooney hopefully focused on the key task after all the over-blown international media drama I expect a far better United performance at Anfield than last season. 1-0 to the Reds, with Rooney scoring a dramatic late winner!
And, finally, your views on your American owners?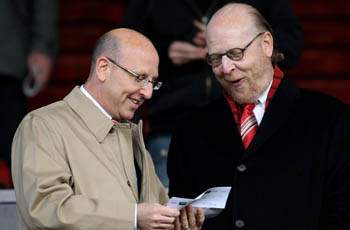 LIVERPOOL:
Very positive. Doing the right things and saying the right things - on and off the pitch. Quietly restoring The Liverpool Way and uniting the club and staff from top to toe.
MANCHESTER UNITED:
The Glazers' ownership has sucked close to half a billion pounds out of United in interest and debt repayments, fees and other costs. That the family treats fans with such distain only adds to my anger about them and their apologists. The past six years are a failure of football governance on a massive scale.
Download the Goal.com Mobile app, and the world of football will be at your fingertips and in your pocket!