ANALYSIS
By Ben Hayward | Spanish Football Editor
Andres Iniesta is about as mild-mannered as they come in the world of professional football. The midfielder is rarely rattled, avoids anger and preaches pacifism on the pitch, for both Barcelona and Spain.
Admired for his fantastic range of passing and knack of popping up in key areas to provide both assists and goals, the 27-year-old has picked up every major trophy for club and country, and has been described along the way as the best midfielder in the world by qualified judges such as Wayne Rooney and Samuel Eto'o.
Over the years, Iniesta's midfield mastery and calm comportment have seen him win many friends in football, but only one enemy: Dutchman Mark van Bommel.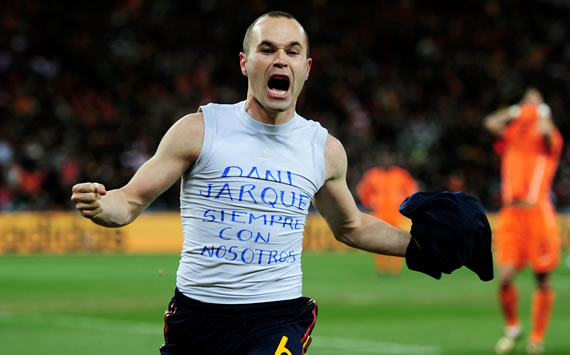 The last laugh |
Iniesta survived Van Bommel's treatment to score 2010 winner
Iniesta and van Bommel were Barcelona team-mates for a season in 2005-06, a landmark year for the Catalan club as they claimed the formerly-named European Cup for the first time since 1992, and for only the second time in their history.
Iniesta, then 22, had featured heavily under Frank Rijkaard, but was surprisingly left out of the starting line-up for the final as his coach opted for the more defensive-minded van Bommel, even though Xavi was missing through injury. The Spaniard was not amused. "I was furious - my blood was boiling," Iniesta said later.
But with Barca a man up and a goal down to Arsenal, Rijkaard called on the young Spaniard at the break to replace holding midfielder Edmilson and 15 minutes later, van Bommel departed for Henrik Larsson, whose two assists secured a memorable comeback for the Catalan club.

"I rarely get angry. Only when a rival has bad intentions or bad faith. I didn't think that was possible, but after what van Bommel did...
"

- Andres Iniesta
Iniesta, who had started the move for the first goal, had tasted his biggest success so far, yet he remained frustrated with his bench role. "I had been playing well and I couldn't understand why I was left out, but I calmed down," he explained some time afterwards.
The two players had never been close and resentment remained after the Paris showpiece. While Iniesta had been frustrated at not starting the game, van Bommel was unhappy at being withdrawn as Barca sought a way back into it.
Later that summer, the Dutchman moved to Bayern Munich, but the two players' paths would cross again in an even bigger final - at the World Cup in South Africa. There was no love lost as, early in the game, van Bommel's criminal lunge from behind sent the Spaniard flying into the air and earned him a yellow card which could easily have been red.
Van Bommel later stamped on his opponent's foot and the Spaniard retaliated by shoving the Dutchman. "I rarely get angry," Iniesta recalled later. "Only when a rival has bad intentions or bad faith. I didn't think that was possible, but after what van Bommel did..."
Such treatment, however, had not come as a surprise. "I expected it from him," Iniesta claimed in another interview.

"It was the World Cup final and everybody wanted to win. I don't have any bad feelings towards Iniesta. But we'll see each other on the pitch.
"

- Mark van Bommel
Tuesday night's Champions League clash at Camp Nou between Barcelona and AC Milan sees the two meet again, and serves as a fascinating sub-plot in what promises to be an entertaining encounter.
And to spice things up further, both players were chosen to speak to the media at Monday's pre-match press conferences. Quizzed persistently over his relationship with van Bommel, Iniesta chose his words carefully. "I have got nothing against him," the Spaniard said. "I'm not afraid of van Bommel."
Asked whether the Dutchman should have been sent off in the final, he replied: "There could have been some action taken. I like to think we all act in good faith to defend our own interests."
Van Bommel, meanwhile, was annoyed by questions about Iniesta. "It was the World Cup final and everybody wanted to win," he said. "I have no bad feelings towards Iniesta. But before the topic was forbidden by the Italians' press chief, the Dutchman warned his former team-mate: "We'll see each other on the pitch."
On it, as he did in South Africa when he survived van Bommel's brutal behaviour to score a dramatic late winner to win the World Cup for Spain, Iniesta will hope to have the last laugh again. There's nothing like beating an enemy.
Download the Goal.com Mobile app, and the world of football will be at your fingertips and in your pocket!