ANALYSIS
By Ben Hayward | Spanish Football Editor
It's a transfer saga which dragged on all summer, but one which remains unconcluded. Santos forward Neymar had looked set to join Real Madrid back in June as coach Jose Mourinho sought a 'Galactico' for his second season in charge. Madrid had a bid of €45 million accepted, along with five other clubs, and Santos claimed the Copa Libertadores.
The win over Uruguayan side Penarol ensured passage to December's Club World Cup, which is seen as a highly prestigious competition in Brazil as it represents the opportunity to compete against the best sides from Europe and in this case, Barcelona - a team who will be watching the 19-year-old very closely in the clashes between the continental champions.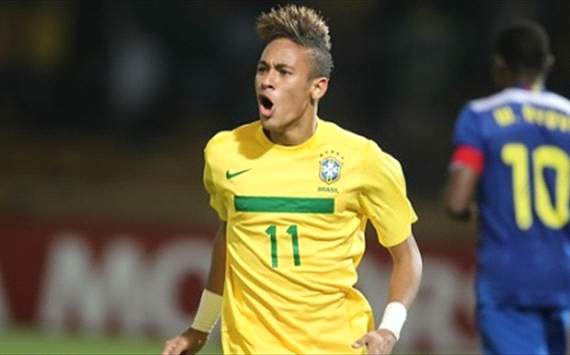 Stuck in the middle |
Neymar is wanted by both of Spain's biggest clubs
Barca, like Madrid, appear keen to sign Neymar, with club president Sandro Rosell unwilling to miss out on one of South America's brightest young talents. Rosell is a specialist in the Latin American market, having worked as a high-ranking executive for Nike in the region, and the 47-year-old was instrumental in signing Ronaldinho for the Catalan club under previous president Joan Laporta.
Barca's proposal interests Santos because the Spanish and European champions are willing to wait; the Catalans want to tie up a deal to sign the forward in two years, allowing the player to continue his development in Brazil, keep Santos fans happy and make the big step to Europe as a more complete and well-rounded player. It would seem to suit everyone.
Everyone except, that is, Real Madrid.
Madrid want Neymar now and having reluctantly delayed negotiations to allow the Brazilian to compete in the Club World Cup, Mourinho is keen to wrap up a deal in January, when a new transfer window opens.
Reports in Spain claim Neymar has signed an illegal pre-contract agreement with Madrid, and if true, Santos could make a formal complaint about the Spanish side to Fifa. Such an agreement is only permitted when a player is in the last six months of his current contract - and that is not the case with Neymar.

"Real Madrid and Barcelona have come calling for me. Both clubs want me. I can confirm it, but I have not reached an agreement with either of them.
"

- Neymar
Should Santos report Real to Fifa and world football's governing body find the Spanish side to have breached international rules, the punishment could be severe for Mourinho's men. Neymar's prospective move to the capital club would be likely to collapse, leaving Barca in the driving seat to seal his services, but worse still for Madrid, a transfer embargo could see them banned from signing players altogether in forthcoming windows.
Fifa banned Chelsea from signing players for two windows after it emerged the London side had illegally acquired youngster Gael Kakuta from Lens in 2009. The Court of Arbitration later reduced that punishment, but if a signed document with Neymar indeed exists, Madrid will need to tread very carefully in the coming months. Losing out on the precocious forward to Barca is one thing, but the inability to sign players after that will surely mean failure to compete with their biggest rivals on the pitch, where they are already playing catch-up.
Either way, the fight for Neymar has become another epic battle between Spain's big two, and this particular Clasico clash is set to run for at least another five months. But as they try so hard to match the Catalans at home and abroad, it is one Madrid can ill afford to lose - even without a ban.
Download the Goal.com Mobile app, and the world of football will be at your fingertips and in your pocket!