As Kolkata's date with destiny draws ever so near, there seems to be no ending to this frenzy called
Lionel Messi
. In fact so much so has been the hype, that fans whether young or old, rich or poor, hardcore or just a mere 'plastic,' the "Messi-mania" is what that has gripped all of the city. With arguably the player of this generation to play at our own backyard, the Kolkatans are all but be ready for one hell of an experience. An Once in a lifetime opportunity perhaps!
So, why not just brush up our "Messi-knowledge" before we get all geared up for what promises to be the biggest ever 90 minutes in Indian Football! Hence, we at
Goal.com
compile for you ten rather less known off-the pitch facts about the Argentine wizard Lionel Messi. Here we go"
1) Italy's Loss Argentina's Gain!
Messi was born in Rosario, Santa Fe, to parents Jorge Horacio Messi, a factory steel worker,
Follow Lionel Messi In India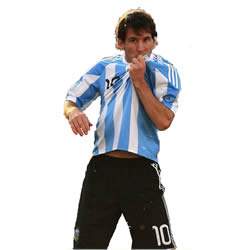 We will have all the news, expert analysis, reaction & much more before, during & after Messi's sojourn in India
and Celia María Cuccittini, a part-time cleaner. However, his paternal family originates from the Italian city of Ancona, from which his ancestor, Angelo Messi, emigrated to Argentina in 1883.
Who knows what might have actually happened had the certain Angelo Messi never migrated! Milan Legend Lionel Messi?? Ah, one can only help but wonder!
2) The Early Days Of The Legend!
At the tender age of five, Messi started playing football for Grandoli, a local club coached by his father himself Jorge. In the year of 1995, Messi switched to Newell's Old Boys who were based in his home city Rosario.

3) From Deficiency To Road To Greatness: The First Link To Barcelona
We are all by now aware of Lionel Messi's exploits at Barcelona. A place where he was raised into one of the greatest ever players in world today. But how did the Barcelona connection actually happen?
At the age of 11, Lionel was diagnosed with a growth hormone deficiency. The traditional Argentine heavyweights River Plate showed interest in Messi's progress, but did not have enough money to pay for the treatment, which approximately amounted to some $900 a month.
However, Carles Rexach, the sporting director of FC Barcelona, had been made aware of his talent as Messi had relatives in Lleida, Catalonia, and soon Messi and his father were able to arrange a trial. Ironically, Rexach, with no other paper at hand, offered Messi a contract written on a paper napkin!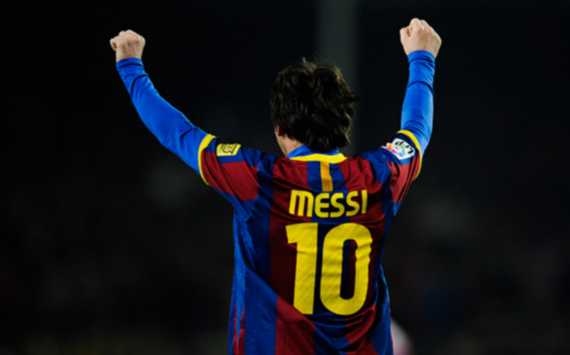 And so was born Barcelona's Legendary No. 10

Barcelona agreed to pay for Messi's medical expenses and thus was sown the seeds was for the birth of 'THE Lionel Messi'.

4) Lionel Messi's Gift Back To The Society
Messi's own childhood had been one of lot sufferings and pain. In an aim to eradicate such sufferings, Messi established the Leo Messi Foundation, a charity supporting access to education and health care for vulnerable children.
In fact it supports Argentine children diagnosed with medical conditions by offering treatment in Spain and covering the transport, hospital and recuperation costs. Something similar that Messi himself had to go through.
In an interview later, Messi said: "Being a bit famous now gives me the opportunity to help people who really need it, especially children."
He is also a good-will ambassador for UNICEF.
5) Messi's Support For Children Even On The Pitch
Messi scored twice to cap a 6–2 win over Real Madrid at the Santiago Bernabéu in what was Real's heaviest defeat since 1930. Incidentally, after scoring each goal, he ran towards the fans and the cameras lifting up his Barcelona jersey and showing another T-shirt that read 'Síndrome X Fràgil', to show his support for children who suffer from the affliction.
6) The Poster Boy - Lionel Messi
With fame on the pitch, comes fame off it. A blue-eyed boy for media as well as marketing companies, Messi has featured on the front covers of the popular video games Pro Evolution Soccer 2009 and Pro Evolution Soccer 2011 and has also been involved in promotional campaigns for the games.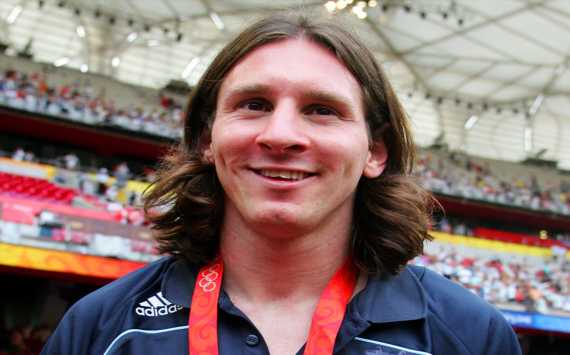 The Poster Boy: Lionel Messi

Messi is sponsored by the German sportswear company Adidas and he thus features in their television advertisements. Messi also shares association with Herbalife which also plays an active part in the Leo Messi Foundation.
7) The Lover Boy- Lionel Messi
Messi has been romantically linked to Macarena Lemos, also from his hometown of Rosario. He is said to have been introduced to her by the girl's father when he returned to Rosario to recover from his injury a few days before the start of the 2006 World Cup.
Also in the past, He has been linked to the Argentine glamour model Luciana Salazar. Later, however, He was seen with Antonella Roccuzzo at a carnival in Sitges. Roccuzzo, like Lemos, is also a fellow native of Rosario.
8) The Cousin Connections!
Like many other well known footballers, Lionel Messi has relatives and family members involved with football too.
Maxi, a winger from Club Olimpia in Paraguay is his cousin and so is Girona FC's midfielder Emanuel Biancucchi.
9) The Riches Of The King Lionel!
Messi annual income is approximately around $32,000,000.00!
That actually comes down to an astronomical salary of $128,000.00 per day!
Ironically, this is the sum that ensures you to have exactly 5869440
"dilkhush"
(a popular street alternative to cold-drinks in Kolkata) every day... Ah! Don't you wish to be a Lionel Messi now!
10) The Awards And Honours
Well, the individual honour list has no ending. Thus it would be rather useful to mention the notable ones. A two time Fifa Player Of The Year along with several accolades including the Ballon d'Or (now included with the Fifa Player Of The Year Award itself), UEFA Best Player In Europe etc. makes him a player once in a century.
Special Mention: The Goal.com Honour
Lionel Messi's 53 goals and 24 assists in 2010-11 masterminded yet another wonderful campaign for Barcelona,which also earned him the top spot in our very own
Goal.com 50
countdown.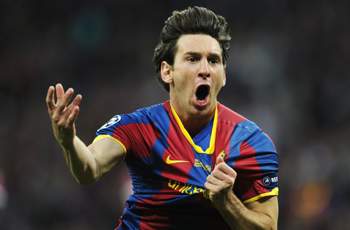 The Goal.com Topper

Incidentally, it was the second time he topped the charts, having had never fallen beyond the second position since the start of
Goal.com 50
.

Later, he went on to thank the Goal.com team for the honour
.
Is Lionel Messi Your All Time Favourite Player? Do You Have Other Interesting Facts About Him? Do Feel Free To Share With Us.
Download the Goal.com Mobile app, and the world of football will be at your fingertips and in your pocket!