" I doubt we will love anyone like we love Frank Lampard"
- was how an anonymous Chelsea faithful once expressed his admiration for Frank James Lampard, following Chelsea's FA Cup triumph over Everton in 2009.
Indeed, over these years, there has always been something different about this man from Essex; something that has always kept the most hardcore of Chelsea fanatics glued to his admiration. The buzz and the excitement in the stands every time he would touch the ball or make those trademark runs of his; just the mere sense of anticipation that had hardly been felt ever since the reign of a certain 'King of Stamford Bridge' Peter Leslie Osgood.
When Frank Lampard walked out for the weekend's clash against West Bromwich Ailbion this Saturday, he had by then just about completed a decade at Chelsea Football Club, having had made his Chelsea debut on August 19, 2001, following a much hyped move from West Ham United. Since then, he has been an integral part of what has been the 10 most glorious years in the club history.
Yet, it did not seem a long ago, when a soft-spoken aspiring product of West Ham's academy would be followed by a cue of loud and ear-crushing boos, every time he would warm up down the touchline. Some accusing him of taking undue advantage of his family connections in the club hierarchy while others just throwing their share of mindless rants!
One could only begin to wonder what could have been going through the mind of a 16 year old Frank Lampard.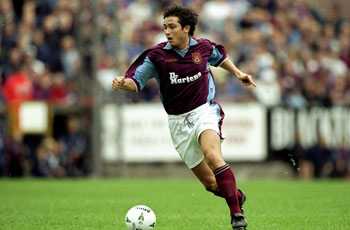 Football is not a game for the faint hearted and that is the very essence that has formed the core of Lampard's footballing career. Indeed, it was his iron determination, more than anything, that had pulled him through such an extreme situation then.
He had two obvious options - one to fade away like so many promising youngsters down the years and the other to fight his way through the mountain of criticisms and announce his arrival into the footballing world. For his sake, he did choose the latter.
Such has been his will to succeed that on one fateful European night against Liverpool, Lampard, probably still in shock over the loss of his mother, merely less than a week ago, stepped up to take the all important penalty that guided Chelsea to their first ever Champions League Final.
It takes a lot to even take to the field, leave alone take a penalty. However, Lampard was not to be the one to succumb on the wake of such an immense personal tragedy, rather he decided to step up for all those well wishers and fans who had played a significant role in his life, and more so for one very 'special' fan in particular.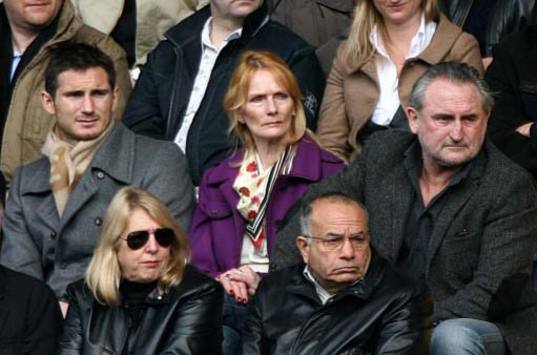 The loss of this 'special fan' was not enough to stop Lampard from taking the field.
"I am a proud mum, not because my son is a top footballer but because he is an even better human being" - Late Pat Lampard
There has never been any doubt over Lampard's footballing ability. Arguably one of the best players in England today, he has always been exceptionally sound with his footballing technicalities, skills and most importantly his staggering fitness. In fact his record of more than 130 consecutive appearances provoked even the great Sir Alex Ferguson to pronounce Frank's feat as something very much 'freakish'. His reliability and consistency is what that has made him an indispensible at the heart of the Chelsea midfield.
The media and the pundits have, however, always been critical about him. Very often termed as the player who 'choked' at the big stage for the national team, little do people remember how much of an impact did he make in the Euro 2004 campaign or how he was a pivotal link in England's successful qualification for the 2006 World Cup. A favourite whipping child perhaps or rather the easy scape-goat!
However, records and stats are hardly the ones we would like to discuss. Exceptional as they are already despite the claims, they still do not only justify the utmost respect that Lampard holds in the heart of every Chelsea fan. The reason?
Well, you see, there is a lot more to football than to just ease past defenders like Lionel Messi or executing a thunder-bolt of a free-kick like Cristiano Ronaldo. It's about the desire and the intent that you show and the willingness to always give your 100 percent, irrespective of the circumstances. And that is exactly where Lampard stands apart for Chelsea. He might not have been a "blue eyed boy" for the football lovers all across the world but he has always been the one who has tried to be the very best he could be for his team and his fans. A true 'lion-heart' for Chelsea FC.
At an age of 33, Lampard's best days may well be past him, his sharpness and agile runs may not be as frequent as it used be, but for Chelsea fans, well, they just don't seem to get enough of their "Super" Frankie Lampard, not just yet!

Do YOU think Frank Lampard is one of 'THE' greatest players to play for Chelsea? Give In Your Valuable Inputs!

Download the Goal.com Mobile app, and the world of football will be at your fingertips and in your pocket!