COMMENT

By Wayne Veysey | Chief correspondent
By allowing the relatively tame 37th minute shot from
Shane Long
to squirm under his dive and into the net on his competitive
Manchester United
debut,
David de Gea
ensured his every move will come under a ferocious spotlight in the coming weeks.
As a 20-year-old goalkeeper signed for big money and asked to fill even bigger boots – in the shape of United legend Edwin van der Sar – the microscope was always going to be on the fresh-faced Spaniard.
But even he might have wondered what he has signed up for as gleeful West Brom fans screamed "dodgy keeper" and "shoooot" in the aftermath of his howler and then the home side blatantly targeted his shakiness against high balls in the second half with some expertly aimed crosses and body checks.
Sir Alex Ferguson admitted De Gea "took a battering" in a second period in which the United manager felt his young keeper "should have been better protected by the referee".
But Sir Alex also spoke openly of the "learning process" all keepers new to the Premier League face, even reminiscing nostalgically about Peter Schmeichel's teething troubles against Wimbledon and Leeds United in the early 1990s.
Asked what words of advice he proffered to De Gea when the chastened youngster returned to the United dressing room at the end of a deserved victory, Sir Alex replied: "I gave him a pat on the head and said, 'Welcome to England'."
It was an attempt to make light of a troubled debut that followed equally unconvincing displays in pre-season, particularly in the high profile Community Shield win against Manchester City.
With his slight physique and boyish bumfluff, De Gea could easily be mistaken for a slightly puzzled Spanish tourist who is having difficult navigating his way around.
Scouts and opposition coaches will have noted a technical weakness for sizzling long-range shots and a certain shakiness at aerial bombardments. Players will sniff blood. Others will delight in the 'calamity keeper' moniker.
Nevertheless, the instant Twitter and messageboard comparisons with Massimo Taibi, the Italian who bombed as Schmeichel's replacement, are ludicrous.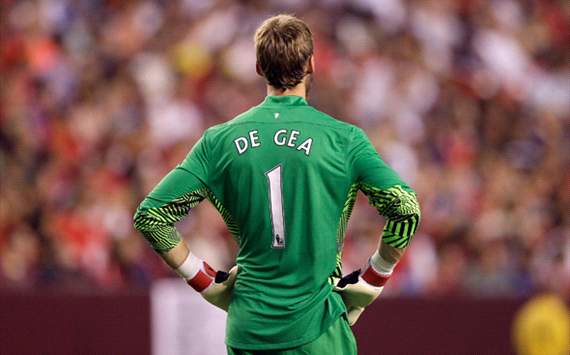 Shaky start | Mistakes have highlighted the pressure on De Gea
De Gea has far too much pedigree and class to be written off, or dispensed with like the hopeless Taibi was.
He has been recruited – ahead of Manuel Neuer and Maarten Stekelenburg, it should be noted – followed a year of forensic scouting and character checks. United will have done their homework and known who they are dealing with.
Mistakes are to be anticipated, particularly from someone so young and in such a pressurised position. It is how De Gea bounces back from the inevitable errors that will define his United career.
All this comes at a time when the personnel are changing in the once formidable defence immediately in front of the goalkeeper.
The Twin Towers of Rio Ferdinand and Nemanja Vidic both crumbled against West Brom – to calf and hamstring injuries – as the back-up centre-back pairing of Jonny Evans and Phil Jones completed the last 15 minutes of normal time.
Ferdinand described the youthful trio of Evans, Jones and Chris Smalling, impressive again at right-back, as "a godsend" to a manager assessing the bodies piling up in the physio's room.
Sir Alex expects Ferdinand to be out for six weeks, Vidic for two and the injury-prone Rafael da Silva, who dislocated his shoulder in training last Friday, for 10 weeks.
A defence so reliant over the last half decade on a back five studded with the two centre-backs, Van der Sar and Patrice Evra, who missed out at the Hawthorns with a minor knee injury, is suddenly taking on a completely different look.
Yet it is a sign of how at home Smalling and Jones in particular look in red shirts that there will not be the head scratching that there would once have been at the news of Ferdinand's latest setback.
Evans went backwards last season, yet Sir Alex brought him on ahead of the classy Jones on Sunday and he instantly looked comfortable. To have five reliable centre-backs is riches beyond most managers' dreams.
Although De Gea had a nightmare on his competitive United bow, there is enough evidence to suggest the team's defensive future is in safe hands.

Download the Goal.com Mobile app, and the world of football will be at your fingertips and in your pocket!