Suffering from a chronic lack of firepower, the Guarani's best chance of taking points off Mano Menezes' men lies in working from a watertight back-line
COMMENT

By Ralph Hannah
Paraguay
head into Saturday's test against
Brazil
still looking for their best form, but more crucially still looking for goals. At last year's World Cup they struggled in that department, managing just three in five games and in their last five matches they have only hit the net four times.
On the other hand, Paraguay seem to have clicked perfectly in defence, with five clean sheets in five games with five different partnerships suggesting that the whole squad are disciplined and well drilled. All indications suggest that if the Guarani are to cause an upset on Saturday afternoon, their strength and order at the back will be a key factor.
This was demonstrated perfectly against Ecuador. Only once did Paraguay's defence look under serious threat when ex-Birmingham City striker Christian Benitez spurned a one-on-one with the Albirroja captain Justo Villar. In general, debutants Ivan Piris and Aureliano Torres were comfortable at full-back and rarely exposed while Dario Veron, who plays in Mexico with Concacaf Champions League winners Monterrey, mimicked his club form with another rock solid performance at centre-back.
Despite Ecuador's pacy attacking trio of Benitez, Felipe Caicedo and Manchester United's Antonio Valencia, they couldn't catch Paraguay on the break - which was down to Gerardo Martino's selection, the same selection that thwarted Paraguay's own offensive potency.
Martino and the squad members that appeared for the press conferences in the build-up to the opening game had emphasised a high pressing and tight marking mentality. Last Sunday, however, the midfield shaped up as a flat four; with Edgar Barreto and Marcelo Estigarribia on the flanks and Cristian Riveros and Nestor Ortigoza bossing the middle.
While Ortigoza is a fantastic player with a lovely touch and a passion for tackling, he is no athlete and unable to press all game. It is possible that Martino switched strategies at the last minute when a pair of more mobile midfielders Victor Caceres and Jonathan Santana were ruled out with injuries. Without one of those two partnering Riveros, it became difficult to employ the pressing game as planned.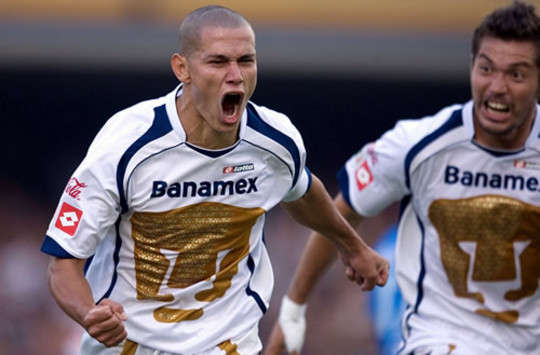 Tough tackler | Dario Veron is a fearsome competitor in the heart of defence
With Paraguay winning the ball deeper on the playing field and without two midfielders arriving late into the box, as would be expected if they had three in central midfield, they lost a lot of attacking threat.
There is no doubt that against Brazil, the Paraguayans must remain as organised at the back as they have been in recent games, something reiterated by Gerardo Martino in his press conference on Thursday. A greater emphasis on pressing is vital, not just in midfield to rush the inexperienced Ganso (something Venezuela did excellently) but also up front to peg back Brazil's forward thinking full backs.
One possibility for Martino is to opt for a mobile and energetic front three, with Nelson Haedo Valdez having a key role (Dani Alves was given a tough time by him in La Liga last season). But yesterday he sounded more pragmatic, stating that his formation will depend on how the Brazilians line up. Martino commented "If Brazil attack with three, we'll defend with four. If they attack with two we'll defend with three". That means he is likely to play a 4-3-3 formation or a 5-3-2 with Alcaraz moving in at centre-back to replace Ivan Piris and Enrique Vera coming in for the injured Edgar Barreto as a right wing back.
With Vera in the team Paraguay are more fluid as he could also move into the midfield if they decide to revert to a flat back four with Veron filling in at right back, something he has done frequently in the past. With Victor Caceres back from injury they are likely to have more verve in midfield than last Sunday and should be able to harry and unsettle Brazil's midfield.
There is no doubt the Guarani outfit have the quality to live up to their self-assessment that they are serious Copa America challengers and this is the acid test. Venezuela have already proved that the Brazilians can be tamed, Paraguay now have the chance to go one better.