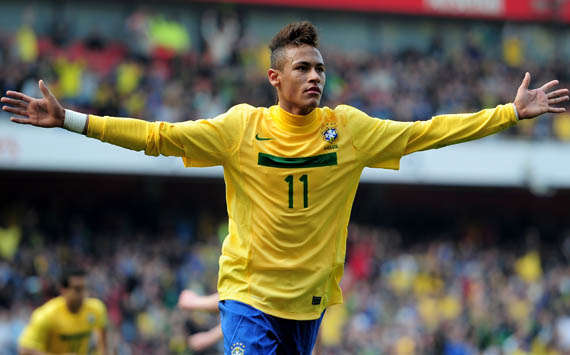 Full name- Neymar da Silva Santos Júnior
Date of birth - 5 February 1992 (1992-02-05) (age 19)
Place of birth - Mogi das Cruzes, Brazil
Height - 1.74 m (5 ft 8 1⁄2 in)
Playing position - Forward
As Brazil begin their Copa America campaign, hoping to make it a hat-trick of trophies, we take a look at their star striker, 19 year old Neymar, who is expected to lead the line for the Selecao. We find out what the fuss is all about with this young striker, who is expected to seal a move to Europe shortly, which should fill the Santos coffers with more than 30 million Euros.
1. Early Years :-
Neymar joined the Santos youth setup as a young eleven year old hopeful. There he honed his natural skills and improved his technical ability. He stayed in the youth setup for just 4 years, after which he was promoted into the senior squad.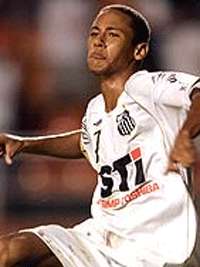 The Budding Starlet.........
2. Santos Debut :-
The youngster finally made his first team bow against Oeste on 7th March 2009, a game which Santos won 2-1.
He didn't take much time to settle into the squad and opened his senior goal-scoring account the very next week against Mogi Mirim.
3. Early Career :-
The very next month of making his senior debut, Neymar grabbed attention across Brazil when he scored the winner against Palmeiras in the semi-final first leg of Campeonato Paulista. He though couldn't stop his team from losing the final to Corinthians.
He however made up for it next season when Santos won the crown and he was felicitated as the player of the competition.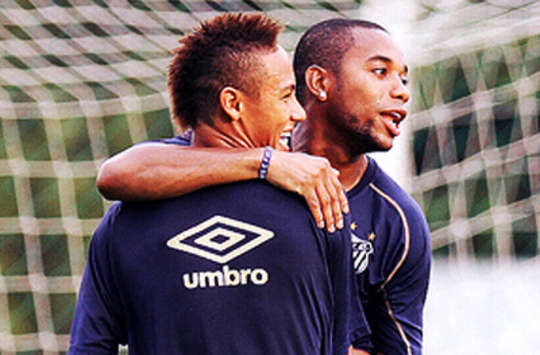 The Next...............Robinho?
4. A Bit Like…….Robinho(Yes, that's a compliment Manchester City fans!!)
Neymar's trickery and dribbling skills, which combined with his pace see him regularly leave defenders for dead, close control, balance as well as build saw him quickly being labeled as the next Robinho. Include his cocky attitude as well as the habit to dive and the similarities only increase.
5. ……though better
However the more Neymar played, it became obvious that although his playing style was similar to Robinho, the nineteen year old is a much better finisher, equally lethal on either foot. Also unlike Robinho, who is often accused of hiding when the going gets tough, Neymar leads by example and likes to take up responsibility.
6. Still Needs To Mature….
The youngster, though has also got an ugly side to his game. Not only does he dive, but he can be unpredictable and moody on the pitch.
Infact once when playing for Santos, after not being allowed to take a penalty he earned, Neymar sulked for the rest of the game, not only refusing to join in celebrations after the penalty was dispatched, but also refusing to pass to any of his teammates for the rest of the game.
If he truly wants to be a world class star then he will have to mature into a team player.
7. Brazilian Star :-
The youngster first joined the Brazil setup in the U-17 category. After scoring once in three appearances, he soon joined the U-20 fold where he scored an astounding nine goals in just seven appearances.
Snubbed by Dunga, he however didn't have to wait long to star for the senior squad, being named in Mano Menezes squad to face USA. He didn't wait long to make his mark in the international arena, scoring via a header in the 28th minute. He has since made five appearances for the senior team and scored a brace against Scotland.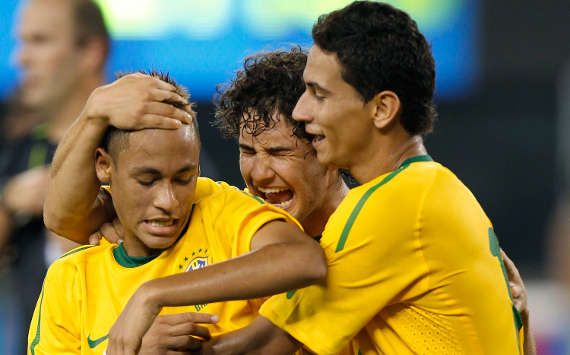 The Holy Trinity?
8. What To Expect At The Copa America……
Neymar forms a part of Mano Menezes youthful but deadly attacking quartet of attackers, others being Robinho, Alexandre Pato and Paul Henrique Ganso.
Neymar is a very vital cog of an impressive attacking force, usually coming in from the wings, inter-changing positions with his fellow attackers to drag the defenders all over the place.
If Brazil are to see off the strong challenge of home favourites Argentina and other rivals like Uruguay and Colombia, then Neymar has to be at his best.
9. You May Next See Him At……
You may next get to see the youngster at one of the top clubs in Europe, where with his skills and swagger, he might bring the Full Mohican hairstyle back into fashion!
Neymar, fresh from starring in Santos's Copa Libertadoes triumph, is not short of offers across Europe. He has constantly been linked with a move to either of the Milan-based giants, as well as Juventus. Also Barcelona and Real Madrid have been joined by clubs like Chelsea, Manchester City, as well as Russian club Anzhi Makhachakla in a tussle for his signature.
However, whoever ends up signing the nineteen year old will be set-back by a figure of above 30 million Euros. Though it might well be worth the money, if Neymar fulfills his potential.
10
.
What The Legends Say :
Pele, in his typical style, feels that Neymar will one day be a better player than Lionel Messi.
"Neymar can score as easily with his left foot than with his right, unlike Messi, who does not have as much trust in his right foot," he told Globoesporte.
Cafu though, has warned that the youngster needs to improve his behavious on the field. He stated " Neymar needs discipline. He must realise that if he is unpleasant, he will receive the same unpleasantness from others"
Ronaldo, one of Brazil's greatest ever striker though is glowing in his praise of the nineteen year old.
He was quoted as saying
"Neymar is my successor; He has immense talent"
What are YOUR views on Neymar ? Do YOU think he will be a hit in this edition of the Copa America? Have YOUR say below.....

Follow Goal.com on

. Get the latest football news direct... Check out Goal.com's

page; be part of the best football fan community in the world!