The Copa America was first organised by Argentina in 1916, and Brazil, Chile and Uruguay also took part in the inaugural tournament. The latter eventually emerged as winners, as the hosts had to settle for the runners-up spot.
That same year, Conmebol was founded and South America's football governing body ran the competition again one year later. As the years passed, more and more countries participated, with Paraguay, Bolivia and Peru all making their debuts before 1930.
However, problems between the various football associations prevented the event from being held on a regular basis in the 1930s and only three Copa Americas were held in the decade.
In 1975, the showpiece officially acquired the name Copa America, but the tournament had no fixed venue for several editions. By then, Colombia, Ecuador and Venezuela had already made their maiden appearances at South America's official championship for national sides.
In 1986, Conmebol decided to return to having one country host the tournament and to dispute it every other year. Since the 1987 Copa America, the event was hosted every two years in rotation by the 10 members of the confederation, which was then changed to every four years since the 2007 event.
The first rotation was completed following the 2007 Copa America which took place in Venezuela, and a second rotation has been agreed to begin in 2011, with host countries rotating in alphabetical order, starting with Argentina.
This year's tournament will be the 43rd edition, with Argentina, Brazil and Uruguay as favourites to lift the trophy. Both Argentina and Uruguay have so far won the tournament 14 times, while Brazil have emered as victors on eight occasions.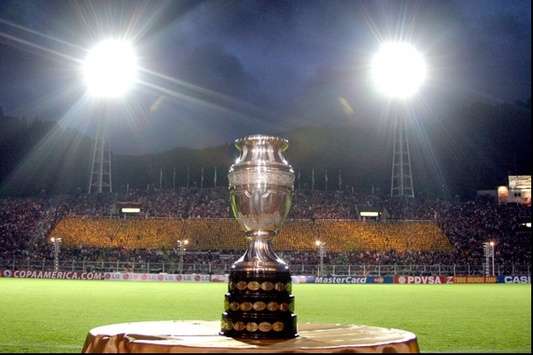 Full list of past champions
| | | | | | |
| --- | --- | --- | --- | --- | --- |
| Nº | Year | Host | Champion | Runners-up | Third |
| 1 | 1916 | Argentina | Uruguay | Argentina | Brazil |
| 2 | 1917 | Uruguay | Uruguay | Argentina | Brazil |
| 3 | 1919 | Brazil | Brazil | Uruguay | Argentina |
| 4 | 1920 | Chile | Uruguay | Argentina | Brazil |
| 5 | 1921 | Argentina | Argentina | Brazil | Uruguay |
| 6 | 1922 | Brazil | Brazil | Paraguay | Uruguay |
| 7 | 1923 | Uruguay | Uruguay | Argentina | Paraguay |
| 8 | 1924 | Uruguay | Uruguay | Argentina | Paraguay |
| 9 | 1925 | Argentina | Argentina | Brazil | Paraguay |
| 10 | 1926 | Chile | Uruguay | Argentina | Chile |
| 11 | 1927 | Peru | Argentina | Uruguay | Peru |
| 12 | 1929 | Argentina | Argentina | Paraguay | Uruguay |
| 13 | 1935 | Peru | Uruguay | Argentina | Peru |
| 14 | 1937 | Argentina | Argentina | Brazil | Paraguay |
| 15 | 1939 | Peru | Peru | Uruguay | Paraguay |
| 16 | 1941 | Chile | Argentina | Uruguay | Chile |
| 17 | 1942 | Uruguay | Uruguay | Argentina | Brazil |
| 18 | 1945 | Chile | Argentina | Brazil | Chile |
| 19 | 1946 | Argentina | Argentina | Brazil | Paraguay |
| 20 | 1947 | Ecuador | Argentina | Paraguay | Uruguay |
| 21 | 1949 | Brazil | Brazil | Paraguay | Peru |
| 22 | 1953 | Peru | Paraguay | Brazil | Uruguay |
| 23 | 1955 | Chile | Argentina | Chile | Peru |
| 24 | 1956 | Uruguay | Uruguay | Chile | Argentina |
| 25 | 1957 | Peru | Argentina | Brazil | Uruguay |
| 26 | 1959 | Argentina | Argentina | Brazil | Paraguay |
| 27 | 1959 | Ecuador | Uruguay | Argentina | Brazil |
| 28 | 1963 | Bolivia | Bolivia | Paraguay | Argentina |
| 29 | 1967 | Uruguay | Uruguay | Argentina | Chile |
| 30 | 1975 | No fixed venue | Peru | Colombia | Brazil |
| 31 | 1979 | No fixed venue | Paraguay | Chile | Brazil |
| 32 | 1983 | No fixed venue | Uruguay | Brazil | Paraguay |
| 33 | 1987 | Argentina | Uruguay | Chile | Colombia |
| 34 | 1989 | Brazil | Brazil | Uruguay | Argentina |
| 35 | 1991 | Chile | Argentina | Brazil | Chile |
| 36 | 1993 | Ecuador | Argentina | Mexico | Colombia |
| 37 | 1995 | Uruguay | Uruguay | Brazil | Colombia |
| 38 | 1997 | Bolivia | Brazil | Bolivia | Mexico |
| 39 | 1999 | Paraguay | Brazil | Uruguay | Mexico |
| 40 | 2001 | Colombia | Colombia | Mexico | Honduras |
| 41 | 2004 | Peru | Brazil | Argentina | Uruguay |
| 42 | 2007 | Venezuela | Brazil | Argentina | Mexico |