 A decade back, all Sir Alex Ferguson wanted to know from his old friend Harry Redknapp, who was the West Ham United manager then, was "How's Joe?" – relating to Joe Cole, who, at the time, was the hottest young talent in English football. But irrespective of how many times Sir Alex inquired about the young talent, the current Tottenham Hotspur manager always had his protective arm around the prodigy in order to keep him at Upton Park. Years after Cole had quit West Ham for a rejuvenated Roman Abramovich's Chelsea, Redknapp revealed that Cole was 'too precious' to sell.
Ten years on, Harry Redknapp is stuck in a similar situation as the Scot once again has his eye on another of Harry's stars – Luka Modric. Would the Croat as well head to Chelsea or would Ferguson acquire the services of the man who - as said by Gary Pallister, would make Manchester United the best team in Europe?
Why would Modric sign for United?
1. Need:
What Manchester United are in dire need of is of a playmaker who could make things happen - a creative heartbeat. As compared to Wesley Sneijder, who is also known to be a target for the Manchester club this summer, Modric plays in a less attacking role and is more inclined to track back and defend while also making forward movements into the opponent's box, a quality that Ferguson really appreciates.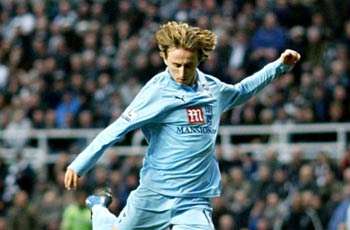 Although, he may not score as many goals but he plays a massive part in most of Tottenham's goals. Also, if you see, scoring goals hasn't really been a problem for the Red Devils this season, having netted 78 (highest) in the league, the real difficulty has been the vulnerability and lack of presence in central midfield when away from home – that is what Modric offers.
2. Desired Role: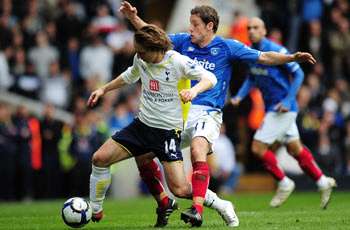 Luka Modric has settled in well playing in the role of a deep-lying playmaker since Rafael van der Vaart's arrival at Spurs; that very position seems tailor-made for his vision, creativity, passing and his ability to set the tempo. Modric dictates the play for Spurs' with his two footed (long as well as short range) passing. His pass success rate was reported to be 86% this season, with most of the passes made in the opposition's half. This ability is what makes him look even better for a midfield player having an exceptional talent to get forward enough, unlike Michael Carrick or Darren Fletcher.
Playing at United, he wouldn't have to do much different; Rooney has started to play that Van Der Vaart role and with Hernandez on top, he will have more quality to play with. On the contrary, at Chelsea, due to their lack of right sided players, he may well be seen playing on the right – a role that Deco was made to play so often - with a responsibility to make Ivanovic or Bosingwa operate in a lot more space, thereby, not letting him play his natural game. Thus, giving him a chance to play his desired role in his desired position, he would complete this United team and will give him have a better chance to lead himself and the club to greatness.
3. Manager: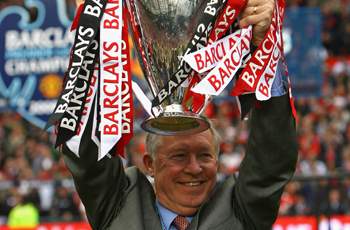 Unlike Chelsea, who till date, are manager-less, United are managed by Sir Alex Ferguson, who is the most decorated manager in British football having won 19 league titles. Sir Alex, in the past, holds an accolade of bringing in players – Keane and Cantona – similar to Croatian in terms of age, attributes and as well as skill, and developing them into absolute legends. Almost every player in the world would dream of playing under such a manager, who will win you titles year after year and make you one of the best in your position. For sure, even Luka Modric wouldn't mind having a shot.
But in spite of the above points, the little Croat seems to be intent on a move to Chelsea. Speaking recently to a British newspaper, he said, "I want to leave Tottenham as friends. I have enjoyed my time there, but now it is right for me to look at another club. I have an arrangement with the chairman. When I signed my new contract, he said that, if another club came to sign me, they would consider the offer. Chelsea are a big club with an ambitious owner. I want to stay in London. I am very happy here and so are my family. I like the city."
On the base of what he said, he would move to Chelsea for:
1. Family Happy In London: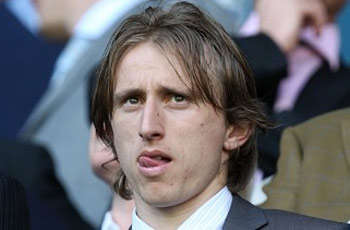 Luka Modric recently got married on June 13, 2011 to his girlfriend - Vanja Bosnic. As the Spurs' star claims, the couple love the city of London and are well settled, and have no intention of moving. Thus, this would certainly put Chelsea ahead of Manchester United in his preference list and so, the Blues will fancy themselves to land the former Dynamo Zagreb player.
2. Roman Abramovich:
The midfielder has stated that he would prefer a move to Stamford Bridge because they have an 'ambitious owner'. Now, if we talk of the owners, Manchester United are owned by the Glazer family. Although United are a big club and the American tycoons have made necessary money available to the club when needed, their business just can't seem to please the fans. Frustrated with the lack of money spent on transfers, even a fan favourite in Wayne Rooney once thought against signing a new deal with the club, calling the owners as one 'lacking ambition.'
Thus, for a player, Abramovich certainly leads Glazers in that aspect. Furthermore, it doesn't help when you consider that United are currently £1.1 billion in debt and the Russian Billionaire is doing everything possible to bring the title back to London.
And for,
3. Developing Versatility: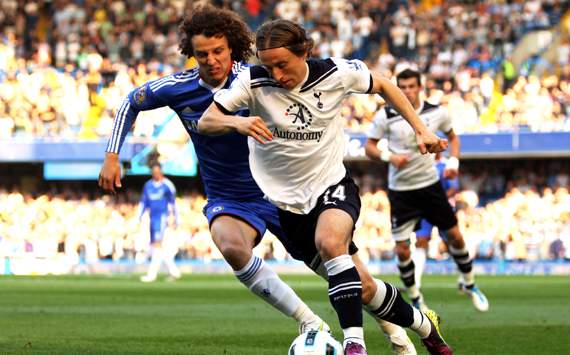 As mentioned above, Modric may well be forced to play on the right flank. The 25-year old isn't an orthodox right-winger, but neither were Deco or Nicolas Anelka, both of whom have lined up as right-wingers. Luis Felipe Scolari started his term making Chelsea play with a 4-4-2 formation but then, had to revert back to the Mourinho diamond formation - 4-3-2-1 which when going forward would shape into 4-3-3. Because of Chelsea's quality box-to-box midfielders, several managers have used the right-wing spot as a way to get some creativity through the middle while still keeping the 4-3-3 shape. Thus, making Modric play on the right flank may work well with Lampard always occupying the left side of midfield and operating more as a playmaker, just like Deco.
Or on the other hand, he can also be made to play the 'Ballack role' in the diamond formation. Lampard was the main catalyst in the Chelsea midfield over the past seven years stretching back to the Jose Mourinho era where the midfielder turning 33 next week was the main man in the middle of the park with the former German captain playing alongside him for the Blues. But since Michael Ballack's departure, the English international needs a playmaker alongside him to give him the freedom to roam forwards, a role of a disguised playmaker which was previously played so well by Ballack, who created space for his team mates to bomb forward by occupying a deep midfield role alongside Claude Makelele and later on Michael Essien.
Thus, although these two positions may not be Modric's natural but it will give him a chance to unveil his creativity. Chelsea may also have plans on him replacing the Legendary Lampard in the future.
Let Us Know What YOU Think? Which Club Shall Luka Modric Opt For - Manchester United Or Chelsea?
Our

provides the best breaking news online and our

football fan community is unmatched worldwide. Never miss a thing again!